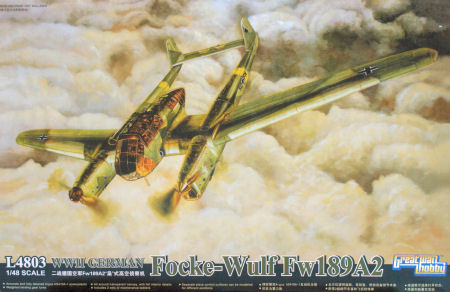 Great Wall Hobby 1/48 Focke Wulf Fw 189A-2 Kit First Look
| | | | |
| --- | --- | --- | --- |
| Date of Review | October 2010 | Manufacturer | Great Wall Hobby |
| Subject | Focke Wulf Fw 189A-2 | Scale | 1/48 |
| Kit Number | 4803 | Primary Media | Styrene/Photo-Etch |
| Pros | Beautifully done model of this distinctive aircraft | Cons | See text |
| Skill Level | Basic | MSRP (USD) | $41.95 |
First Look
In 1937, the RLM issued a requirement for a reconnaissance and observation aircraft that could support Luftwaffe and Wehrmacht intelligence requirements. This design would replace the Henschel Hs 126. Arado, Blohm and Voss, and Focke Wulf all entered designs with the Arado Ar 198 becoming the initial favored option. The Arado's high wing and single engine offered simplicity, but flight test revealed poor performance.
Focke Wulf put forward a twin-engined design as the Fw 189. This aircraft was a twin-boomed monoplane that was powered by a pair of Argus As 410 engines rated at 459 horsepower each. The Fw 189 could take a crew of three up to over 27,000 feet and its light wing loading allowed it to out-maneuver Soviet fighters out for an easy kill.
The Fw 189 was used extensively on the Eastern Front to provide Wehrmacht commanders a commanding view of what the Soviet Armies were up to around the vast Russian landscape. The design was so successful that the Fw 189 would remain in production throughout the war at factories in Bremen, Bordeaux-Merignac (now Dassault) in France, and Aero Vodochody in Czechoslovakia.
Over the production span of the Fw 189, a number of variants were produced including the Fw 189A-0 prototypes, the Fw 189A-1 armed with two MG15 machine guns, the Fw 189A-1/Trop for desert operations, the Fw 189A-2 that replaces the MG15s with MG81Z, the Fw 189A-3 trainer, the Fw 189A-4 light ground attack version, the Fw 189B series built in very small numbers as 5-seat training aircraft, and Fw 189C series as a heavily armored ground attack variant that wasn't produced, the Fw 189D floatplane that wasn't built, the Fw 189E with a pair of Gnome Rhone radial engines not produced, and the Fw 189F series which were updated Fw 189As that were re-engined with larger Argus powerplants and other enhancements.
Great Wall Hobby is a kit manufacturer from China that recently started producing model kits initially focused on armor subjects. This kit is their first aviation subject and all I can say is wow! If you're an armor builder, you should know Great Wall Hobby's sister company, Lion Roar, which produces outstanding aftermarket detail sets for the armor and ship modeling markets. Let's take a look at this first aircraft kit:
This Fw 189 release is molded in light grey styrene and presented on five parts trees, plus a single tree of clear parts. The kit also includes a fret of photo-etched parts and a set of window masks.
Construction starts (of course) in the cockpit, but here we start with the nicely detailed cameras that aim down through the bottom of the fuselage. Each of the crew seats receives photo-eched seat belts while the pilot has a photo-etched shoulder harness as well. This kit captures the unique seating arrangements of this aircraft as well as the crew station functionality with the pilot's station set with detailed control yoke, photo-etched rudder pedals, and an out-of-the-way instrument panel that doesn't obstruct the magnificent view out of that glass nose. The middle crew station has a jump seat next to the pilot, but in-flight this crewman moves between managing the cameras and firing the dorsal guns. The rear crewman is also in a less-than-comfortable jump seat while he tends that tail guns.
The completed glass cockpit enclosure mounts atop the center wing section. The glass is provided in sections so that you have the option of building this model closed-up or with any one (or all) of the access panels open.
One very nice feature of this kit is the open cowling option. This kit provides the Argus engines which can be clearly seen with the separately molded cowling panels left off. You can of course build this model ready for flight with these panels closed up.
The landing gear is nicely done with the main tires molded with weighting.
The kit has separately molded flight control surfaces so you can pose the ailerons, elevator and rudders as you wish. These flight control surfaces were fabric covered on the real aircraft, and these are a bit over-emphasized in this kit's molding. Most modelers won't really care about this after it is painted, but the AMS modeler can do a few minutes of work to de-emphasize the rib detail on these flight control surfaces.
The flaps are also positionable and the insides of the flap wells are rendered as photo-etch. The main gear doors are also rendered in photo-etch.
This kit also provides a workstand and a boarding ladder to provide the basics for a diorama or vignette to show off those open engine and cockpit access panels.
The kit provides underwing bomb racks with a pair of bombs as an option. The kit does list a number of parts that aren't used in this release hinting that at least one more variant of this subject will be coming in the future.
At first glance, this looks like an amazing kit until you look at all of the glass on that cockpit. Trying to mask this beast would be daunting, but thanks to some foresight from Great Wall Hobbies, a set of window masks are provided to keep this model as an enjoyable project.
Markings are provided for two examples:
Fw 189A-2, 5D+FH, Russia, 1942
Fw 189A-2, 5D+CK, Russia, 1943, winter scheme
Swastikas are provided in this kit though they are broken up in segments to keep this kit compliant with certain European laws.
Painting instructions are provided in the new Gunze Creos color standard though RLM numbers are also identified so you can use what paints are convenient wherever you are.
This is clearly the nicest Fw 189 produced in any scale to date and offers the modeler a nice array of options, all for an extremely reasonable price. If this model builds as nice as it looks, it will indeed be quite a bargain. We will definitely have a go with this project soon.
My sincere thanks to Great Wall Hobbies for this review sample!