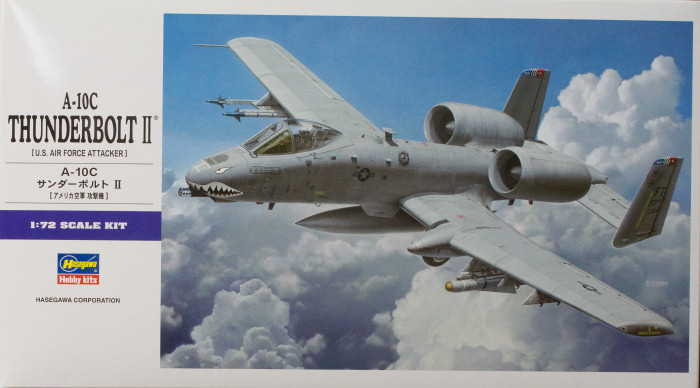 Hasegawa 1/72 A-10C Thunderbolt II Kit First Look
| | | | |
| --- | --- | --- | --- |
| Date of Review | July 2014 | Manufacturer | Hasegawa |
| Subject | A-10C Thunderbolt II | Scale | 1/72 |
| Kit Number | 01573 | Primary Media | Styrene |
| Pros | Easy build, nice details | Cons | Nothing serious noted |
| Skill Level | Basic | MSRP (USD) | $29.99 |
First Look
The Republic A-10 Thunderbolt II is easily the most effective close air support aircraft in history. Designed as a tank killer during the Cold War, the A-10 is armed with the 30mm GAU-8 Avenger gatling gun which can fire a 30mm round with a spent uranium core which will defeat nearly any armored adversary on the battlefield. The aircraft has ten pylons under the wings/fuselage which can carry a wide range of weapons and stores.
Even though the aircraft has never had to deal with the major tank assault it was designed to blunt, the A-10 has obliterated Iraqi armor in two wars despite efforts by some in the Pentagon to make the aircraft obsolete. After an aborted attempt to replace the A-10 with the A-16 (F-16 painted green/gray and armed with the GE 30mm GEPOD), updates to allow the A-10 to fly night missions were withheld. Even so, a squadron of experienced A-10 drivers flew night combat with the basic A-10 using an infrared Maverick missile as a 'poor man's' LANTIRN pod. (The NY ANG took the GEPOD to Desert Storm and after less than a day's use, the pod has not been flown in combat since).
In counter-insurgency operations, the A-10 has provided effective close air support to troops in contact with hostile forces and there are many YouTube videos (like this one) taken by those soldiers demonstrating the awesome firepower of the Warthog. There is still a push to eliminate the A-10 by some in the Pentagon believing that the F-35 is somehow going to replace the Warthog in the CAS mission. Even so, the A-10 finally received it's long overdue update to render the A-10C Thunderbolt II.
Hasegawa has released this A-10 kit for many years and despite other A-10 kits coming on the market, this kit is still arguably the best in this scale. Molded in light gray styrene, this kit is presented on nine parts trees plus a single small tree of clear parts. First and foremost, Hasegawa did update the tooling to provide the distinctive GPS antenna fairing and UHF SATCOM 'mushroom' antenna as well as providing the multi-MFD instrument panel (in decal form) under a new coaming.
Among the other features and options in this kit:
Simple but effective cockpit with decals for A-10C instrument panel and side consoles
Positionable canopy
Positionable boarding ladder
GPS and UHF SATCOM antennas aft of cockpit
New antennas/sensors on wingtips and tail
Positionable landing gear
External stores included:
2 x AIM-9L/M Sidewinder
6 x AGM-65 Maverick
2 x Mk.83 slick (1000lb) bombs
2 x laser guided bombs
12 x Mk.82 slick (500lb) bombs
2 x MERs
1 x 600 gallon external fuel tank
Markings are provided for two aircraft:
A-10C, 81-0964, 74 FS/23 WG, Moody AFB, 2011
A-10C, 81-0966, 81 FS/52 FW, Spangdahlem AB, 2013
Looking though this kit provides some interesting forensic history. I believe this tooling predates the 1980 LASTE updates as there is an old antenna stub atop one vertical stabilizer that I remember from the 1970s (which the instructions have you remove). The six Mavericks are mounted in the kit on two LAU-88 triple rail launchers, but the LAU-88 had reliability problems leading to the use of the LAU-117 single rail launcher. You can simply remove one rail from the LAU-88 and mount it and your Maverick on the appropriate weapons station(s). This tooling has the various LASTE bumps on the airframe which are the radar altimeter antennas added for safer low-altitude operations (among other LASTE updates).
Another artifact added over time was the AIM-9 Sidewinders and dual-rail adaptor. One Air National Guard unit was tired of not having Sidewinders on the A-10 after repeated denials for such a capability from the Air Force. With a little quiet engineering, they obtained AIM-9s and dual rail adaptors from a sister (non-A-10) squadron and wired them into station 10. Seeker audio was routed to a spare channel on the radio/intercom panel in the cockpit. It didn't take long for this mod to get 'out' and after some initial resistance, this update was applied to all A-10s in the fleet. Hasegawa added this tooling in one of their interim releases.
So here we have the airframe update parts for the A-10C in the box. While Hasegawa provides a nice array of armament, you'll need to obtain a LITENING or SNIPER pod as well as JDAMS and other newer weapons added to the A-10C capabilities from other sources including Hasegawa's own optional weapons sets.
For a look at this kit built-up, look here.
My sincere thanks to Hasegawa USA for this review sample!