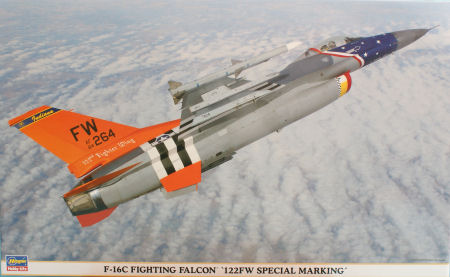 Hasegawa 1/32 F-16C Fighting Falcon Kit First Look
Date of Review
September 2009
Updated November 2010
Manufacturer
Hasegawa
Subject
F-16C Fighting Falcon
Scale
1/32
Kit Number
08913
Primary Media
Styrene, White Metal, Photo-Etch
Pros
Easy build, nice details
Cons
Raised panel lines
Skill Level
Basic
MSRP (USD)
$133.00
First Look
For a quick history of the F-16C, look here.
For a look at the differences between F-16 blocks, look here.
The Hasegawa 1/32 F-16 was released quite a few years ago and until late 2004, it was the best F-16 available in this scale. First released as an F-16A early block Viper, the kit was a good kit of the aircraft for the day. One of the biggest complaints was over the external fuel tanks as they were not at all representative of the externals in use by the USAF and NATO. Like most kits developed when this kit was first released, this kit has raised panel lines.
Over the years that followed, Hasegawa updated the tanks and then released a version dubbed F-16A+ that really equated to the standard Block 15 Viper and most of the earlier-block F-16s were updated to that standard. The most visible difference being the enlarged horizontal stabilizers which Hasegawa incorporated in their F-16A+ kit.
As the F-16 continued to evolve, so did Hasegawa's tooling. The next update was the F-16C which really was nice combo kit that had both the F-16C and F-16A+ parts in the box. The additions in this release added the F-16C's distinctive new vertical stabilizer, the GE F110 compressor face and exhaust nozzle, and updates to the cockpit layout. Until now, this would be the last tooling update to the kit, and what you had in the box was:
F-16A Block 15
F-16C Block 25
F-16C Block 30 (early)
F-16C Block 32 (early)

With this release, you still have the same variants, but you now have the ability to add some details that didn't find their way into the original F-16 tooling as well as some airframe updates that have been added over the years to keep these aircraft operational. We'll get into these details a little later.
To recap the features of the 'stock' F-16A+/F-16C kit:
Nice cockpit (though many have replaced this with aftermarket resin cockpits with more details)
Fair ACES II ejection seat (one of the first things in this kit to be replaced by resin whether you update the rest of the cockpit or not)
Pilot figure (not wearing lightweight helmet and a good candidate to be left to the spares box)
Boarding ladder (not the standard F-16 boarding ladder, but one you might find on a transient ramp at a non-F-16 base)
Nicely detailed wheel wells (for the time it was released, Aires has developed some outstanding new wheel wells for this kit)
NSI inlet (narrow-mouth) used on all Pratt-powered Vipers and the early GE-powered Block 30s)
Removable panels to reveal the M61 Vulcan 20mm cannon and ammo drum
Positionable radome with radar set inside
Clear canopy (this kit, like the real Viper, went from clear canopy with the F-16A/B to gold-tinted canopies on the F-16C/D until the updates to use night vision goggles, then all the canopies went back to clear again)
Movable horizontal stabs
Choice of F-16A or F-16C tail
Positionable speed brakes
2 x wing external fuel tanks
1 x centerline fuel tank
4 x AIM-9J/P (not representative of the real J/P and typical loadout is the AIM-9L/M anyway)
2 x AIM-7 (only carried by the F-16A ADF and not by any variant represented by this kit)
Lots of Mk.82 slicks (these are keepers, save 'em if for another project if you don't bomb up this kit)
2 x Paveways (not used in this release)
Okay, that lays out what you'll find in the standard F-16A+ / F-16C box. In this release, Hasegawa has updated the model with the following additions:
White metal ACES II ejection seat
White metal nose antennas
White metal leading edge RWR antennas (donkey dildos)
Updated missile rails for stations 1/2/8/9 that are rated for AIM-9 and AIM-120
ALE-40 Chaff/Flare dispensors (photo-etch)
Airframe scab plates (photo-etch)
Radome ribs for lightning protection (photo-etch)
These new parts don't render a newer variant of the F-16, but these parts bring the Block 25 and Block 32 up to contemporary configurations. You'll need an aftermarket widemouth inlet to render a later Block 30. In other words, these parts will allow you to render a current Air National Guard or Air Force Reserve Viper.
Markings are provided for four examples:
F-16C Block 25, 84-1264, 122 FW, Fort Wayne, IN, 2008
F-16C Block 25, 85-1415, 111 FS/147 FW, Houston, TX, 2007
F-16C Block 25, 83-1147, 111 FS/147 FW, Houston, TX, 2007
F-16C Block 25, 84-1274, 111 FS/147 FW, Houston, TX, 2007
The 122 FW example is the subject of the box art photo, and I remember the first time I saw this airplane on the ramp as we taxied by, I saw that bright orange tail and D-Day stripes and it was eye-catching. The 122nd has since turned in their Block 25s for newer old Vipers.
Update
When we reviewed this kit last year, HobbyLink Japan offered this kit at just under $90 USD (before exchange rates went bad for the US Dollar). I was a bit surprised when the kit did arrive in North America that someone had given this model a suggested retail price of $133.00. I believe in British-speak that 'someone was having a laugh'. While this kit is dated compared to the Tamiya F-16C kits and even Academy offerings, nobody has produced the A-model in 1/32 scale other than Hasegawa (ignoring the crude Revell kit and the Hasegawa copy-cat kits 'out there').
The reason we're brining this subject up again is because even after a year, these kits have not sold and the sale prices are starting to show up if you hurry. This kit does build into a good A-model Viper (the A-model and Block 25/30/32 narrow-mouth C-model parts are in this box) though an AMS modeler could take the key parts out of this kit and backdate the Tamiya kit if they wanted to.
Keep your eyes open, the sales are happening now!
Kudos to Hasegawa for updating this kit. While the Tamiya F-16C kits are now the best Viper kits in any scale, they haven't released an A-model variant to date. The additional details and the nice selection of Indiana and Texas markings make this a nice addition to the Viper flightline.
My sincere thanks to HobbyLink Japan for this review sample!