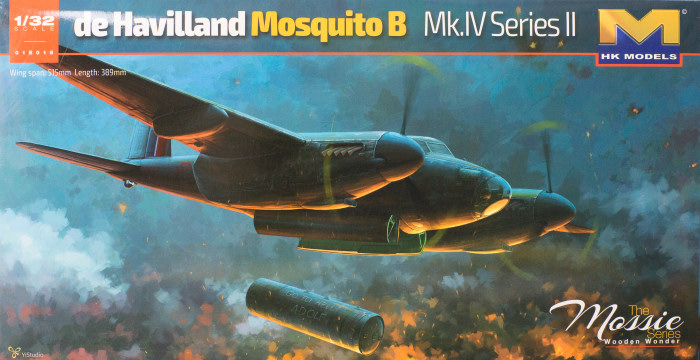 HK Models 1/32 de Havilland Mosquito B.IV Series II Kit First Look
| | | | |
| --- | --- | --- | --- |
| Date of Review | July 2015 | Manufacturer | HK Models |
| Subject | de Havilland Mosquito B.IV Series II | Scale | 1/32 |
| Kit Number | 01E15 | Primary Media | Styrene, Photo-Etch |
| Pros | Impressive kit engineering, great details | Cons | See text |
| Skill Level | Experienced | MSRP (USD) | $169.95 |
First Look
For a brief history on this aircraft, check out our first look at the Revell 1/48 Mossie B.IV here.
What a great year to be a large scale modeler AND a Mosquito lover! Within weeks of one another, we have the HK Models 1/32 Mosquito B.IV and the Tamiya 1/32 Mosquito FB.VI. What's the difference? The B.IV is a tactical bomber with a clear nose for the bombardier to aim. The FB.VI has the gun nose with four .303 machine guns with four 20mm cannons below.
If you've read some of my Mosquito write-ups, you'll know that my son's godfather was Jim Luma, an Air Berlin 707 pilot when I knew him in Berlin, but during WWII, he was an American that volunteered to fly with 418 Sqn (RCAF) and operate under the RAF in the UK. During his time with 418 Sqn, he had been credited with six air kills, and numerous ground kills. Also during his time with 418 Sqn, the US had entered the war and as the USAAF was gearing up operations in the UK, they attempted to bring Pilot/Officer Luma into the USAAF. In a stir that went to 10 Downing Street, the USAAF agreed to let Jim complete his tour with 418 Sqn BUT he had to wear a USAAF uniform. So if you've seen photos from 418 Sqn, he is the one smoking a pipe and wearing the USAAF uniform. For his time in 418 Squadron, I need Tamiya's FB.VI kit.
While Jim didn't talk much about his missions after moving over to the USAAF, he did fly reconnaissance Mosquitos and he had some interesting tales about flying the lighter, faster, Mosquito reconnaissance aircraft. It was by luck that I found an image from the Imperial War Museum archives of Mosquito PR.XVI while it was assigned to the 25th Bomb Group and there is Jim Luma with his pipe. Now I have a starting point for an aircraft he flew for his special OSS missions over Germany.
To render a PR.XVI, I can use this HK Models B.IV as a starting point. before we go any further, let's take a look at what we have to work with. This kit is an engineering marvel with its (literally) one-piece wing (they've molded the top and bottom of the wing as one piece and you simply slip the movable landing flaps in place before closing things up). The two wing images to the right show the top and bottom of that one-piece wing.
The kit is molded in light gray styrene and presented on 24 parts trees (duplicates not shown), four trees of clear parts, and one fret of photo-etched parts. This initial release also includes two beautifully sculpted gray resin flight crew figures posed standing in full gear ready to fly. The molding of the kit is very nicely done with no signs of flash and when you can find them, minimal ejector pin marks.
Among the features and options in this kit:
Nicely detailed cockpit with decals for instrument faces
Photo-etched Sutton harness crew restraints
Nicely detailed bombardier nose
Cockpit transparencies are modular (important - more on this below)
Positionable cockpit entry door
Movable elevators
Positionable rudder
Positionable ailerons
Movable flaps
Two Merlin engines with nice detailing
Cowling panels can be installed, partially removed, or completely removed to display Merlins
Detailed radiators
Detailed fuel cells in bomb bay
Choice of standard or bulged bomb bay doors
Choice of four bombs or one large bomb in bomb bay
Positionable landing gear
Detailed main landing gear wells
Detailed main landing gear wheels and struts
Optional slipper tanks
This kit has markings for three examples:
B.IV, DK296, 305 FTU, Errol AB, Soviet AF, 1943
B.IV, DZ637, 692 Sqn, P3-C, Graveley, RAF, 1944
B.IV, DZ637, 627 Sqn, AZ-X, Woodhall Spa, RAF, 1944
The decals are printed by Cartograf and include a set of airframe stencils. And yes, DZ637 does appear in two different units at different times in 1944.
It's obvious by the design of this kit that HK Models will be releasing other variants of the Mosquito and some of those parts are in the box. Not mentioned in the instructions are the inclusion of both the narrow and wide-chord propellers as well as those modular parts in the cockpit transparency. If you look carefully at the clear parts, you see the flat side windows of the FB.VI and other fighter-bomber versions as well as the bulged side windows used in this version. More importantly (for me), the kit also has the bulge in the overhead escape hatch that was used on several variants including the reconnaissance Mossies.
So in this box, I have almost everything I need to buid the PR.XVI except one key detail, the two-stage Merlin cowlings. If you look behind Jim's head in the photo above, the carburetor intake is there which is common to all of the Merlin-powered Mosquitos. It is the air intake over his head, immediately under the spinner that distinguishes the two-stage Merlin. That detail isn't in the box, but I have found a solution here.
HK Models clearly sent an advanced copy to Eduard as they have given this kit some love including:
Eduard also has 32376 Bomb Bay and 32377 Exterior/Engine Set coming next month.
Finaly, HK Models provides a paint guide featuring Gunze, Tamiya, and AK Interactive paints. Here is an expansion of the table with the other colors in our database:
AMMO
AV
GSI
HAT
LC
MIS
MRP
REV
TAM
TES
XTRA
Yellow
0048
71.078
C004
H004
N004
A290
B290
C290
UA042
MMP007
386
32112
LP08
X08
Silver
0195
70.790
C008
H008
N008
A003
B003
C003
LC074
MMM006
003
32190
36190
AS12
LP11
X11
X038
Flat White
71.001
C062
H011
N011
LC001
LP04
XF02
Flat Black
0046
71.057
C033
H012
N012
A041
B041
C041
LC002
017
LP03
XF01
Flat Red
71.269
H013
N013
A132
C132
LC006
32131
36131
XF07
2733
Gelbraun
0013
71.272
C044
H027
N027
US203
MMP017
XF57
2099
Olive Drab
71.016
C012
H052
N052
AS06
X112
XA1112
Black Green
0232
71.021
C018
H065
A015
B015
C015
UA501
MMP088
060
A044
32140
XF27
2080
X204
XA1204
Tire Black
0033
71.315
C137
H077
N077
UA733
MMP040
LP65
XF85
Dark Green
0206
71.324
C361
H073
N073
UA053
MMP077
110
AS09
XF81
2060
X001
XA1001
Clear Red
70.934
C047
H090
N090
MMP167
LP72
X27
Clear Blue
70.938
C050
H093
N093
MMP168
LP68
X23
Clear Green
70.936
C138
H094
N094
MMP169
X25
Ocean Gray
0245
71.273
C362
A032
B032
C032
MMP093
115
AS10
XF82
2057
X006
XA1006
Medium Sea Gray
BSC 637
0246
71.307
C363
A141
C141
UA028
MMP094
112
AS32
XF83
2058
X003
XA1003
Aircraft Gray Green
0219
71.126
C364
A025
UA522
MMP079
111
2062
X010
XA1010
Dark Brown
0015
71.041
H406
A147
B147
C147
UA205
MMP012
036
A021
XF10
2096
X807
XA1807
Aluminum
0194
71.062
C218
A078
C078
MMM003
009
32199
36199
LP70
XF16
1781
Brass
0197
71.067
C219
MMC002
150
32193
36193
1782