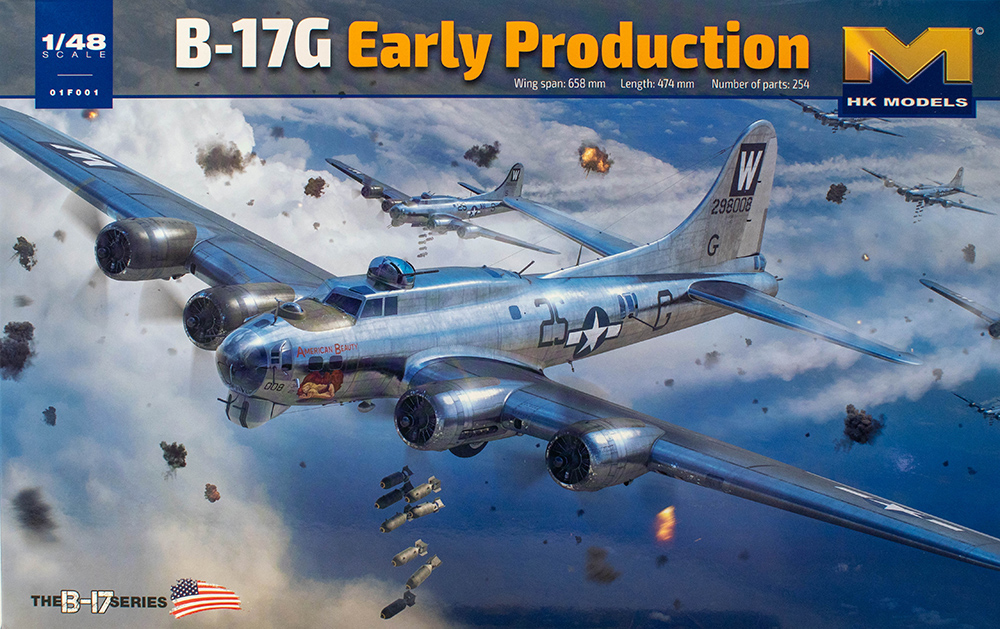 HK Models 1/48 B-17G Flying Fortress Kit First Look
| | | | |
| --- | --- | --- | --- |
| Date of Review | December 2019 | Manufacturer | HK Models |
| Subject | B-17G Flying Fortress | Scale | 1/48 |
| Kit Number | 01F01 | Primary Media | Styrene, Photo-Etch |
| Pros | Impressive kit engineering, great details | Cons | See text |
| Skill Level | Experienced | MSRP (USD) | $139.95 |
First Look
HK Models has released their first kit in 1/48 scale, and what better subject than the Boeing B-17G Flying Fortress. Before we dive into this new kit, let me put a few details into perspective to better understand what's in the box. From the first prototype through the B-17F, Boeing was the only manufacturer of the aircraft. As new capabilities and design improvements were made in the early days of the Flying Fortress, those changes would be bundled into a new production model. With war underway during B-17F production, changes came much faster as lessons from combat experience, new capabilities, and improvements to speed up production were brought out to the production line. For example, the introduction of the astrodome over the nose compartment came in mid-production of the B-17F, so early models like the famous 'Memphis Belle' didn't have that feature. As the Luftwaffe was pressing head-on attacks against bomber formations, the B-17F (and earlier models) didn't have forward-firing guns unless the top and ball turrets were used, and they were generally busy engaging other targets. A depot was established in the UK to fit B-17s with forward-firing gun mounts in the nose blister in different configurations, trying to find the most effective solution. When the YB-40 gunship was developed and tested, that design introduced a chin turret as well as other noteworthy concepts. When the chin turret was adopted on the B-17, that design change marked the B-17G-1-BO. The early-block B-17Gs still retained the removable waist windows and flush-mounted compartment windows in the nose.
As the B-17G entered production in 1942, the USAAF was all-in on obtaining as many of these aircraft as possible. Boeing was joined by Douglas Aircraft's facility in Long Beach as well as Lockheed's Vega facility to produce the B-17G. Design changes made on one line didn't always happen on other lines, but it did make it interesting to see aircraft side-by-side with those production differences visible. As noted above, early production aircraft retained the removable side windows in the waist gunner positions, which were removed to fire their guns. later production aircraft made the windows permanently closed with a gun mount that allowed the guns to be fired in that configuration. In the early production blocks, the waist gunner windows were in the same position on both sides of the aircraft as they were on earlier B-17 models. Combat experience found the gunners crashing into one-another while trying to track attacking enemy aircraft. This was resolved in later production models by staggering the windows so that both gunners had a clear arc of movement in combat. Some aircraft in early production had flush-mounted side windows in the nose while others featured the 'cheek' positions that allowed the .50 caliber machine gun mounted there to fire forward as well as to the oblique angles. Early and mid-production aircraft retained the 'standard' tail gun position used on the B-17E and F models, while late production aircraft received the Cheyenne turret which improved that gunner's range of motion. There are many other such details that denoted different production blocks of the B-17G from all three production lines.
So here we are with HK Model's first B-17 in 1/48 scale. Where their first 1/32 example was a late production B-17G with the staggered waist positions and Cheyenne turret, this one is noted as 'early production' but it isn't initial production. In this case, we have the cheek positions in the nose, the symmetrical waist positions and the 'standard' tail position. This configuration was produced by both Boeing and Lockheed/Vega, so there are numerous subjects that can be made from this kit. The kit is molded in gray styrene and presented on eight parts trees plus fuselage halves, nose halves, tail section halves, and wing halves. In addition, there are four trees of clear parts and one fret of photo-etched parts. Among the features and options in this kit:
Detailed flight deck
Pilots' seats have photo-etched crew restraints
Detailed bomb bay with a six-bomb payload
Bomb bay doors are positionable
Detailed radio operator's compartment
Detailed waist gunner compartment
Instructions have you remove the gun mount frame from the bottom of each side window (see text below)
Detailed tail gunner compartment/station
Detailed bombardier and navigator stations in nose compartment
Detailed top turret and ball turret assemblies
Detailed main wheel wells
Nice engines with separately molded supercharger assemblies
Cowl flaps are molded in the open position
Landing gear can be posed up or down
Flaps can be positioned up or down
Ailerons, elevators, and rudder are all molded in neutral position
This kit has markings for two examples:
B-17G-15-BO, 42-31353, 322 BS/91 BG(H), LG-Q, Bassingbourn, UK, 1944, 'Queenie'
B-17G-40-VE, 42-98008, 834 BS/486 BG(H), 25-G, Sudbury, UK, 1944, 'American Beauty'
The decals are printed by Cartograf and look nice.
So out of the box, this kit provides some great details and options, but what of the future. Here are my notes:
Like the 1/32 kit(s), the kit is designed to be modular, so there may be other variants in our future. The clear parts have three different top turret options (only one used here) giving a hint of future releases.
The nose is modular, so you could easily have an E or F model coming, just like the 1/32 versions. You could have an F with or without the astrodome or featuring some of the interesting gun mount options through the clear nose.
The tail section is modular, and we'll likely see the Cheyenne turret here.
I'm sure they've got a second fuselage half ready to feature the staggered waist positions.
The ledge in the side windows indicates an E/F is possible along with the clues above.
Doing this kit in 1/48 was a good move for HK Models as building multiple B-17s in 1/32 is a hard sell to many modelers, but 1/48 scale is more reasonable in terms of space and cost constraints. But that begs another question - does this kit replace the Monogram kit? The Revell-Monogram kit is still in production and is available at a fraction of the cost. MSRP of the Revell-Monogram kit is still around $30 USD. At over four times the cost, the HK Models kit is expensive and really doesn't offer any variation from the Revell kit - same nose, same tail gun, same waist windows, and many of the same internal details. There are aftermarket detail sets to improve the Revell-Monogram kit and even after purchasing many of them, you've still spent less than buying a stock HK kit. While there are some nice details inside the HK kit, the windows are such that you won't see many of them after assembly unless you do a cut-away display version of your aircraft. Only you can decide whether to add one (or more) of these new kits to your stash. At least there is a wealth of aftermarket products out there for the Revell-Monogram kit that can be adapted for this kit as well.
Here is a list of paint colors called out by HK Models for use in this kit:
AMMO
AV
GSI
HAT
LC
MIS
MRP
REV
TAM
TES
XTRA
Silver
0195
70.790
C008
H008
N008
A003
B003
C003
LC074
MMM006
003
32190
36190
AS12
LP11
X11
X038
Flat Black
0046
71.057
C033
H012
N012
A041
B041
C041
LC002
017
LP03
XF01
Steel
0191
71.065
C028
H018
N018
MMM002
030
32191
36191
LP40
X10
X502
Neutral Gray
71.122
C013
H053
X133
XA1133
Tire Black
0033
71.315
C137
H077
N077
UA733
MMP040
LP65
XF85
Olive Drab
0237
70.889
C038
H078
N078
UA219
MMP026
32146
36146
XF62
Sandy Dark Yellow
0222
70.901
C039
H079
N079
A014
B014
C014
UA137
MMP119
A056
32382
XF78
2088
X209
XA1209
Clear Red
70.934
C047
H090
N090
MMP167
LP72
X27
Clear Green
70.936
C138
H094
N094
MMP169
X25
Deep Green
0238
71.124
C302
H302
A056
B056
C056
UA008
235
32363
XF26
XA1114
Dark Sea Gray
C331
H331
Aircraft Gray Green
0219
71.126
C364
A025
UA522
MMP079
111
2062
X010
XA1010
Aluminum
0194
71.062
C218
A078
C078
MMM003
009
32199
36199
LP70
XF16
1781
Brass
0197
71.067
C219
MMC002
150
32193
36193
1782
Burnt Iron
0187
77.721
C061
H076
N076
MMM001
147
LP54
XF84
X508