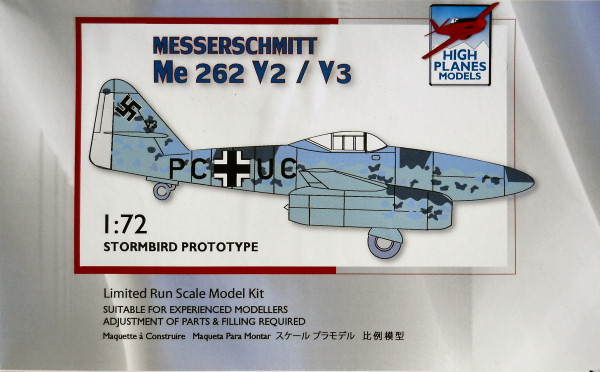 High Planes 1/72 Me 262 V2/V3 Prototype Kit First Look
| | | | |
| --- | --- | --- | --- |
| Date of Review | August 2014 | Manufacturer | High Planes |
| Subject | Me 262 V2/V3 Prototype | Scale | 1/72 |
| Kit Number | 72042 | Primary Media | Styrene |
| Pros | Detailed cockpit | Cons | Limited run, fit issues |
| Skill Level | Experienced | MSRP (USD) | $24.12 |
First Look
The Messerschmitt Me 262 was first conceived in late 1938 as Projekt 1065 (P.1065) by Dr. Wilhelm Emil "Willy" Messerschmitt with designer and aeronautical pioneer Ludwig Bölkow.  P.1065 outlined an all-metal low-wing cantilever monoplane with a fully retractable tailwheel undercarriage, and two BMW P 3302 (BMW 003) turbojets buried in the wing roots. A mockup was constructed and inspected by representatives of the Technischen Amt in January 1940, and some weeks later, on March 1, 1940, a contract was awarded and the construction of three airframes for flight testing, the official designation Me 262 being allocated to the project.
The three flight testing aircraft where Me 262 V1 (PC+UA), Me 262 V2 (PC+UB), and Me 262 (PC+UC).  Me 262 V1 the first prototype was temporarily fitted with the Junkers Jumo 210G 12-cylinder liquid-cooled engine in the fuselage nose to permit airframe testing, pending availability of the BMW 003 turbojets.
The Me 262 V1 was finally fitted with a pair of BMW-003 turbojets, each with 1,200 lb. thrust, in November 1941. The Jumo 210G piston engine was retained, which was fortunate, since the turbojet engines were hopelessly unreliable. On 25 March 1942, Messerschmitt test pilot Fritz Wendel took off and suffered immediate failures of both engines. He managed to make a go-round on the piston engine and land, damaging the aircraft but suffering no injury himself.  The BMW 003 engine was abandoned for the Me 262, being replaced by the Junkers Jumo-004 which seemed more promising.
The third prototype Me 262 V3 was fitted with two Jumo 004A pre-production engines with 1,850 lb. thrust each.  Wendel took the V3 into the air on 18 July 1942 and found the aircraft extremely impressive.  Work on the BMW 003 continued at BMW, and by late 1942 it had been made far more powerful and reliable. The improved engine was flight tested under a Junkers Ju 88 in October 1943 and was finally ready for mass production in August 1944.
Fritz Wendel and Karl Baur continued flying the piston-engined Me 262 V1 and on October 1, 1942 the Me  262 V2 had been fitted the Jumo 004A turbojets and was ready for its initial flight tests, this took place at Lechfeld and lasted 20 minutes.  Generalluftzeugmeister Erhard Milch doubted the tests a success and authorized the order for two further prototypes (V4 and V5) and 15 pre-production aircraft, the latter to be powered by the improved Jumo 004B turbojet.
In early 1943, Me 262 V3 was flown by Hauptmann Wolfgang Späte at Lechfeld, during his second flight, Späte experienced a flame-out in both turbojets after throttling back during a steep banking turn at 9,840 ft.  The aircraft lost altitude rapidly and was down to 4,900 ft. before Späte attempted to restart the engines.  At 1,500 ft. the port turbojet re-started and shortly afterwards the starboard unit also started.  After this incident, the turbojets of Me 262 V3 were thoroughly overhauled, and Spätes place was taken for the next test flight by Wendel's assistant Wilhelm Ostertag.  Shortly after take-off from Lechfeld, the aircraft entered a steep dive from an altitude of some 1,600 ft., crashing at Schwabmünchen and Ostertag losing his life.
The Me 262 V4 and V5 aircraft were further tested and later V5 was fitted with fixed tricycle type landing gear, with the tail wheel omitted.  The first pre-production Me 262 V6 was fitted with retractable landing gear and further testing continued.  Prototype aircraft continued all the way to Me 262 V12.
Dubbed unofficially the Schwalbe "Swallow", the first production sub-type of the new warplane, Me 262A-1a single-seat interceptor fighter entered service at Lechfeld in July 1944.
High Planes Models, HPH Hobbies PTE LTD from Singapore issued the 1/72nd Stormbird Prototype Messerschmitt Me 262 V2 / V3 limited run scale model kit in 2011.  Being it's a limited run kit as like the Classic Airframe kits its assembly is more suitable for experienced modelers.   Adjustment of parts and filling will be required.  The kit is comprised of three light blue styrene trees with white metal landing gear a two clear vac-u-form canopy's, just in case the modeler damages one.  Additional parts for the Me 262 V1, upper wing and propeller, which is available as a separate kit from High Planes Models.
The fuselage, wings and turbojet nacelles have recessed fine detailed panel lines with moderate raised details and rivets, just right for 1/72 scale.
The single seat cockpit and instrument panel along with the seat are nicely represented, however you will have to make your own seat belts.
The limited run tooling will require some flash clean-up but that's to be expected, no noticeable sink marks nor are there any assembly alignment pins.
The tail dragger type landing gear is well detailed and made from white metal.  The weighted tires look very good.
The vac-u-form canopy has very light framing so masking will be difficult.
A small sheet of decals include the markings for Me 262 V2 (PC+UB) and Me 262 V3 (PC+UC), they are in good register and are a glossy finish.
The instructions is a two pager with a brief history, before you begin tips, construction, and black and white paint profiles with RLM color requirements as well as Me 262 book reference.
This kit is still available however the vendors I checked it was out of stock, however you can still find with kit at swap meets and online auctions.
If you're looking for the first Me 262 turbojet powered prototype them this kit is for you.
References: