Italeri 1/48 C-130H Hercules Kit First Look
| | | | |
| --- | --- | --- | --- |
| Date of Review | April 2016 | Manufacturer | Italeri |
| Subject | C-130H Hercules | Scale | 1/48 |
| Kit Number | 0843 | Primary Media | Styrene |
| Pros | Huge classic kit | Cons | See text |
| Skill Level | Basic | MSRP (USD) | $OOP |
First Look
The C-130 Hercules was developed for the United States Air Force in the early 1950s by Lockheed to serve as a tactical transport aircraft replacing airlifters like the C-46 Commando, C-47 Skytrain, and C-119 Flying Boxcar. The first prototype first flew in mid-1954 and the Hercules remains in service today, nearly 62 years later. In addition to airlift, the C-130 serves or has served in the airborne command post, electronic warfare, psychological warfare, drone controller, gunship, special operations, airborne recovery of satellite payloads, electronic reconnaissance, weather reconnaissance, bomber, and air refueling roles. In addition to standard runways, the Hercules has flown from unimproved (dirt or grass) fields, ice, and even an aircraft carrier. In addition to the USAF, the C-130 is operated by the US Navy, USMC, and the air forces of over 70 nations.
For those of us who've been modeling a while, you'll remember the variety of Italeri kits released in Testors boxes. Some of those kits remain the best of kits of their subjects in a given scale to date including the 1/72 and 1/48 C-130E/H, AC-130A, DC-130; the 1/48 SR-71 and YF-12; the 1/72 C-119 and AC-119; 1/72 B-57G; and many more. It is hard to believe that after more than two decades, nobody has attempted to update/replace these kits.
Italeri has made a few improvements to the original release of the C-130E/H kit to add missing details needed to render the C-130H including the dorsal SKE (station-keeping equipment) dome and the inertial navigation avionics cooling fairing added to the forward starboard fuselage on later C-130H models. The kit was later updated to replicate the C-130J with new engine nacelles and propellers. Yet with all of these updates, some opportunities were missed. More on this later.
The kit was highly detailed when it was first released and still offers some nice detail and possibilities straight out of the box. Among the features and options:
Raised panel lines
Detailed flight deck**
Detailed cargo compartment
Positionable forward crew entry door
Positionable rear ramp and door
Positionable side paratroop doors
Positionable landing gear
Optional air refueling probe (RAF version)
Optional dorsal SKE dome (USAF airlift version)
Optional LORAN antennas
You'll see in the images to the right that there are views of the outside and inside the front and rear fuselage halves. There is some nice details to work with here. When you assemble the cargo bay, this is one of the first kits I can recall that provides an overhead structure that nicely replicates the aircraft's interior. Most kits provide deck/floor and side details but skip the overhead parts.
As you can imagine, this kit is decades-old and this example was first released in 1989 with new decals, but dates back to 1984. The tooling is in fair condition though you will be cleaning mold flash on various parts, most notably on the fuselage halves.
The cockpit is nicely done though there is one simple correction needed - the kit provides seats for two navigators which was accurate for the AC-130A but not used in any other Hercs that I know of at this point. Before the advent of missile detection and countermeasure systems that are now common on contemporary C-130s - our only recourse in case of a missile attack was to douse the navigator with lighter fluid and light him as we drop him out a paratroop door to draw the missile away. Two navigators would have been better. (That was one of our squadron jokes which the navigators didn't seem to appreciate at the time). Use only one seat centered on the navigator's station.
Another inheritance from the AC-130 kit were the engine nacelles. The C-130A was powered by the T56-A-9 which had shorter nacelles than the T56-A-7 in the C-130B/E as well as the T56-A-15 that powers the C-130H. Here's a photo of a resin correction for the errant nacelles from Attack Squadron that contrast the short Italeri nacelle with the longer -7/-15 nacelle: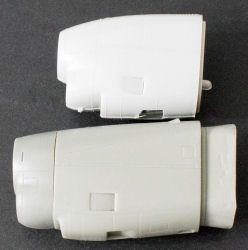 Some other details that have been overlooked in this kit include the ventral SKE dome (used with the dorsal dome) and a proper C-130H APU fairing ahead of the left wheel well. Italeri tooled that fairing to be a separate part, but this C-130H kit still has the GTC (gas turbine compressor) details as used in earlier C-130s. This can be fixed with some minor modifications.
This kit provides the following decal options:
C-130H2, 85-0042, 357 AS/USAFR, Maxwell AFB
C-130H, 61-PB, ET 2/61, French AF, Orleans AB
C-130H, MM62001, 46 Sqn/AMI
C-130K, XV205, RAF
CC-130H, 130337, 435 Sqn/8 Wing, CAF, Trention AB
One final note on the kit as you see it here. I found this on sale at garage sale and you can see that it has suffered from the usual effects of storage - a slightly compressed box and many of the parts broken away from their sprue trees. The kit appears to be complete and perfect for my intentions. I've recently seen various boxings of the Testors/Italeri 1/48 C-130 variants at IPMS contests from private sellers (not hobby shops) ranging between $20 and $40 USD. That's far better than the current reissue prices when you can find them. Since I've logged 'a few' hours in the Herc during my active duty years, I've been wanting to build one and I've had one or two move in and out of my collection over the years. Now it is time to get serious and you'll be seeing more about this in the coming weeks.
That leaves us with the status of the C-130 in scale. Counting the Amodel and Minicraft C-130s in 1/144, the Airfix and Italeri/Testors kits in 1/72, and the Italeri/Testors kits in 1/48, we need some accurate kits of this aircraft! The Hasegawa 1/200 C-130s are nice, but too small for my projects. Nobody has gotten the C-130 right in 1/144 to date. Given that the 1/48 C-130 might be too large for some modelers, that leaves 1/72 scale. Both the Testors/Italeri and Airfix kits were not bad in their day, but they will take a great deal of work to bring them to contemporary standards before we even start the modifications for any special mission aircraft.
What would be great to see from one (or more) of the kit makers is a new C-130 in 1/72 that has:
equal or better details inside the cockpit and cargo compartment as the Italeri 1/48 kits
accurate engine nacelles and propellers for the versions being presented
accurate external fuel tanks for the versions being presented (no holes under the wing for C-130B)
accurate GTC or APU presentation
accurate SKE domes for the USAF airlifters
options for current missile detection/countermeasures modules for the nose and sides of the aircraft
options for air refueling receiver (USAF) or probe (RAF)
positionable flaps
positionable flight control surfaces
positionable entry door/paratroop doors/rear ramp and door
With a modular kit that can render the C-130A through J, you can then add the unique details for the interesting subjects like the multiple AC-130, DC-130, EC-130, HC-130, KC-130, LC-130, MC-130, RC-130, and WC-130 variants as they appeared across the 60+ years of Hercules operations. I can justify the price of a nice new-tool C-130 kit, what I have a problem justifying is the price being put on reissues of a decades-old tooling in need of serious work!