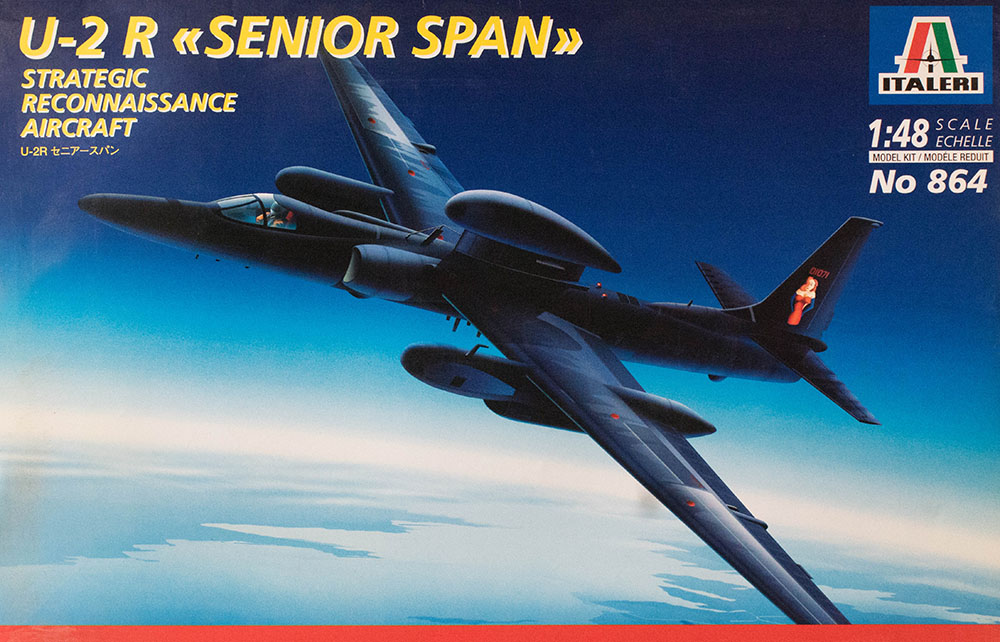 Italeri 1/48 U-2R Senior Span Kit First Look
| | | | |
| --- | --- | --- | --- |
| Date of Review | January 2017 | Manufacturer | Italeri |
| Subject | U-2R Senior Span | Scale | 1/48 |
| Kit Number | 0864 | Primary Media | Styrene |
| Pros | Best molds in this scale | Cons | Only molds in this scale |
| Skill Level | Basic | MSRP (USD) | OOP |
First Look
Here is the aircraft that changed aviation in so many ways. Designed by Kelly Johnson of the Lockheed Skunkworks, the U-2 was to be the first high-altitude reconnaissance platform designed to penetrate hostile airspace well above the air defenses of the day. These original aircraft were so secret in fact that Johnson established a remote outpost in the Nevada desert to test these aircraft before the CIA began operations. This facility was built on a dry lakebed inside what is now known as Area 51. On one such CIA flight, the aircraft was sent to check on military installations deep within the Soviet Union but was shot down by a new air defense capability - the Surface-to-Air Missile (SAM). It's pilot, Gary Francis Powers, was captured and imprisoned before being exchanged for captured Soviet spies.
The original U-2 was a manned spy satellite before man had put anything into orbit. As air defenses became more robust, the U-2 was redesigned to carry a larger payload and be capable of operating a wider array of sensors. Even after capable spy satellites were put into operation, the U-2 distinguishes itself by being able to stay in an area for extended periods where a satellite was limited in its duration over target by its orbit. Among the variety of sensor advances adopted on the U-2, the Senior Span, which is distinguished by its large pylon-mounted dorsal dome, provided operators with real-time access to sensor data. Even though these later U-2s remain in service, many of these same capabilities are now employed by Unmanned Aerial Vehicles (UAVs) which have similar datalink communications and sensor capabilities.
Many, many years ago, Hawk released the first kit of the U-2 in 1/48 scale which represented the U-2A and followed this with the U-2C with larger intakes. After Hawk went out of business, these molds were used by UPC before winding up with Italeri. In the meantime, Italeri produced the U-2R as one of the kits produced for Testors before being released in their own boxings. You'll see a variety of detail differences on U-2 airframes over time as avionics and sensors evolved. The U-2R and TR-1 (a redesignated U-2R with SLAR) were powered by the Pratt & Whitney J75, and a number of the F-105s in storage at MASDC were liberated of their J75 engines to provide power (after modifications) to the U-2 fleet. When these aircraft were finally re-engined with the F118 (same engine type as the B-2 bomber), they became the U-2S.
I was going through my stash looking at projects that I had collected over the years and saw the U-2R on the shelf. I was momentarily surprised when I picked it up due to the weight of the box. The kit itself weighs less than a pound, but I think I have close to five pounds in the box with all of the aftermarket items I've collected. Before we go there, let's look at the basic kit.
The Italeri kit is molded in black styrene and presented on four parts trees plus one tree of clear parts. Among the features and options in this release:
Basic cockpit
Basic ejection seat
Positionable canopy
Basic wheel wells
Shallow tail pipe
Senior Span datalink dome
Positionable speed brakes
Early superpods
Nice array of mission antennas
Markings are provided for U-2R 80-1071 while it wore the 'Jessica Rabbit' artwork on its tail.
What is surprising is that while the U-2 has also been produced by DML in 1/144 and several companies in 1/72, nobody has tackled the U-2 in 1/48th in all of the decades that this Italeri tooling and its Hawk cousin have existed. Thankfully, we had Meteor Productions around to take care of this oversight at one time. I had acquired the following Cutting Edge sets for my 'project':
Wing correction set which provides beautiful shape corrections to the pods, positionable flaps, and positionable spoilers
Tailpipe correction which provides a scale-depth tailpipe with integral aft centerline wheel well complete with missing details not found in the kit
ASARS II nose to convert the front end of the stock kit
U-2R/S/TR-1 Super Detailed Cockpit which is as the title describes
Replacement horizontal stabilizers
These items were designed with the help of David Aungst and you can see his excellent build of this kit with all of these details over at Hyperscale. Also shown is a replacement cockpit set similar to the Cutting Edge set produced by Pavla Models, so you do have alternatives available.
Meteor (Cutting Edge) also produced a few decal sets for this kit as well as the Hawk kit (one of which is shown in the images above) and provide seven distinctive subjects.
While Meteor Productions is long out of business now, the Cutting Edge sets can still be found at kit swaps and other venues if you keep your sensors tuned. While some of the Cutting Edge sets have been duplicated by other companies over the years, I'm not aware of anyone tackling the U-2 beyond Pavla's own design for a U-2R cockpit.
Every now and then, you'll hear a rumor of someone producing the U-2, but so far, none have materialized. Fortunately I have my project box, and I am betting that many of you have similar sets set aside for that future project!