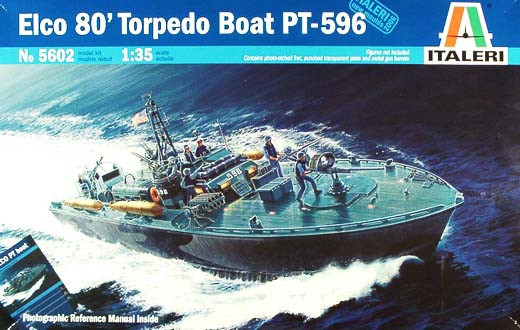 Italeri 1/35 Elco 80' Torpedo Boat PT-596 Kit First Look
| | | | |
| --- | --- | --- | --- |
| Date of Review | Jan 2007 | Manufacturer | Italeri |
| Subject | Elco 80' Torpedo Boat PT-596 | Scale | 1/35 |
| Kit Number | 5602 | Primary Media | Styrene, Photo-Etch |
| Pros | The nicest kit Italeri has ever produced!!! | Cons | Drop shadow decals for boat hull number incorrect |
| Skill Level | Intermediate | MSRP (USD) | $149.95 |
First Look
The US Navy's experience with Motor Torpedo Boats (aka PT Boats) started in the 1930s after examining the effectiveness of the Fast Torpedo Boats developed and employed by the British, French and Italian navies during World War I. The first eight PT Boats developed for the US Navy were less than impressive.
The Electric Boat Company (ELCO) acquired a British torpedo boat which impressed the Navy enough to put ELCO under contract to develop PT Boats based upon the British design but featuring a number of changes, including power from three navalized Packard Liberty V-12 aircraft engines rated initially at 1100 horsepower, but reaching 1500 horsepower each by war's end.
Initially deployed as a torpedo boat, early PTs were armed with torpedo launch tubes that were powered by a gas charge. These were later replaced with simple racks that were powered by gravity. As the war progressed, the PT Boat's mission changed to an interdiction role where Japanese supply boats and barges were sunk. As this role became more successful, PT Boats were reconfigured from torpedo launch platforms to gun boats, some of which also carried rocket launchers.
The Elco 80' boats were the most numerous in US Navy service with 326 examples built. These were numbered in groups: 103-196, 314-367, 372-383, 486-563, 565-622.
What would you get if DML's and Trumpeter's top model designers all defected to Italy and went to work for Italeri? You would get a masterpiece of a model. If I didn't know better, I'd swear there were defections, because Italeri's latest release is easily the best model they've ever produced. Take a look at the long-anticipated 1/35th scale Elco 80' PT Boat!
The box is huge at 28" x 18" x 4". The parts trees are placed in protective bags housing a maximum of two trees each. A cardboard divider separates the trees from the main hull.
Molded in light gray styrene, this kit consists of 322 parts and is presented on six parts trees, plus the one-piece hull. The kit also includes a fret of photo-etch parts, two turned aluminum barrels for the main armament, a sheet of pre-cut acetate windows, a section of wire and two lengths of thread for different rigging details, and a bag of screws to help mount the main deck to that one-piece hull.
Given the number of flashed-over holes in the main deck alone, I suspect we'll be seeing a variety of configurations from the history books of the 80' Elco boat. Representing PT-596, this kit features lots of details found on the later class boats including updated communications antennas, radar, twin 5-inch rocket launchers, 20mm cannon, 37mm cannon, 40mm BOFORS gun, two twin-50 caliber machine gun mounts, and four Mk.13 torpedoes that feature photo-etched fins.
What really starts to set this kit apart from previous Italeri releases are the metal parts. The photo-etch details are nicely done but don't cross the line into over-engineering which would make the model too complex for the average modeler. Then there are those two turned aluminum barrels, one for the 40mm BOFORs and the other for the ex-P-39 Airacobra cannon - the 37mm automatic cannon. Nice work Italeri!
Not pictured here are the acetate windows, a section of screen for the engine room vent, the thread and screws.
Also not pictured here but an excellent touch are the instructions and the 48 page reference booklet. The instructions are laid out very much like a Trumpeter kit. They are in the same page format and are easy to follow. Then there is that reference. It is a great blend of black and white photos from World War Two and full-color photos of PT-617 on display at the PT Boat Museum in Battleship Cove, Fall River, Massachusetts. You won't need to go far for good references if you're modeling the late-model boats.
Markings are included for one example:
PT-596, RON 39, Samar, Philippines, 1945
The drop shadows for the boat's hull number should actually be under and to the side of the white numbers. There are some aftermarket replacements available.
Given that Italeri has provided all of this outstanding detail in this first release, modelers will have an easier time of backdating the model to earlier configurations. I'm sure we'll be seeing a wealth of aftermarket parts coming for this kit as well to render any number of individual boats.
According to the US importer, the number of backorders on this kit are already piling up, so this will certainly encourage Italeri to undertake projects like this in the future.
In the meantime, it almost seems anticlimactic to tell you that I highly recommend this kit, so instead let me offer this point of view. If this kit isn't awarded 2007 Kit of the Year by the various hobby publications, there is something seriously wrong. This is Cybermodeler Online's choice for 2007 Kit of the Year.
Check out the build-up review of this kit here.
My sincere thanks to MRC for this review sample!
Resources