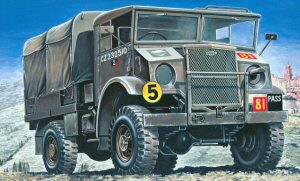 Italeri 1/35 Chevrolet 15 CWT Truck - Limited Edition Kit First Look
| | | | |
| --- | --- | --- | --- |
| Date of Review | August 2007 | Manufacturer | Italeri |
| Subject | Chevrolet 15 CWT Truck - Limited Edition | Scale | 1/35 |
| Kit Number | 6233 | Primary Media | 168 parts (155 in olive drab styrene, 10 in black styrene, 3 in clear styrene) |
| Pros | Old friend makes a welcome reappearance; molds appear to have been cleaned up a bit | Cons | Expensive kit for value received |
| Skill Level | Basic | MSRP (USD) | $35.00 |
Italeri is re-releasing some of their better old favorites that have not been seen for some years as "Limited Editions" this month. This kit is of a WWII Canadian-built Chevrolet 15 CWT 4 x 4 GS truck (even though the directions and box blurb have it as a "4 x 2" it is a 4 x 4.) For anyone not familiar with British-style rating systems the truck is rated as having a capacity of 15 hundredweight in cargo cross country, or about 1,680 pounds (762 kg.) The US Army would simply have called it a 3/4 ton 4 x 4 truck.
Ah, the joys of oft-traveled kit molds and their reappearance. I recall when this kit came out back in 1975 from Peerless Max that it was head and shoulders above many other kits on the market at the time, and actually better in many respects than the Tamiya Ford "Quad" which came out at the same time with their 25 lb Gun set. Over the years the molds have moved around a lot – first to Airfix, then Italeri, then Bilek in Poland and now back to Italeri where they have been cleaned up and show they still produce a very nice kit.
Compared to the first release, the molds as noted look very clean and the kit is relatively free of ejection pin marks. Some are cleverly concealed (such as the one in the center of the "starburst" stiffener pattern on the inside of the doors but some are in truly awful places – two of the five wheel/tire parts have them right on the mold line for the side wall right above the size markings on the tire, so will be nearly impossible to cleanly remove. Most are relatively well designed but the then typical for its day erected tilt has a nasty mold line that runs around the front end, but anyone wanting to use it should be able to clean it up without too much grief. Missing from the kit are "Curley, Larry and Moe" – three rather portly and unimpressive figures that were apparently supposed to represent a Commonwealth solider, an Australian with ANZAC campaign hat, and a Sikh in a turban. No loss.
I recall this kit as being a joy to assemble other than Peerless had a truly nasty mold release agent which took a lot of scrubbing to remove. The latest Italeri version has none of that and the parts are crisp and clean.
The chassis does not come with an engine but has many very nicely done parts to it, and the front wheels may be posed if the modeler is careful about assembly and has some modeling experience. The tie rod ends, shocks and drag links are all separate parts. The leaf springs have a centerline seam and some minor sink marks, but these aren't bad for a 32-year-old kit. Oddly the kit comes with a full radiator, even though the solid grille makes it sort of redundant.
The cab is the Canadian Military Pattern (CMP) No. 13 ("backward slant windshield") type and is nicely done; this feature was shared with two other kits using this basic chassis and produced by Peerless, with one having a full cab and the other a "Quad" type body. The new one is identical to the original and has a false hood, turn signals, mirrors, separate seat brackets and seats, and control levers in the cab; pedals are "molded on" and should be added. Clear windows are provided for the windshield and side vents, but the rear window here has a pass-through panel (part 90B) which appears to be correct. The windows are fixed and will take work or replacement to move if desired, and the screened vents are solid.
The body is a British "GS" (General Service) type or cargo body in American parlance, and comes with four padded seats, three top bows, four stowage bins with separate lids, a spare tire mount and holder, and the aforementioned plastic tilt. The tail gate may be made to work with care as may the spare tire brackets.
Three finishing schemes are included, and what I believe to be new decals (or at least redone ones) are provided for them. One version is Australian Army (the box art for this release) with an early war roundel on the roof listed to be in sand yellow, but oddly enough (and with many recent Italeri kits!) the box art shows it in khaki drab; one is British in a two-tone camouflage scheme of dark green and sand yellow; and one is Canadian Army in dark green and black (not "Mickey Mouse") camouflage. I am not sure on the units but the selections seem far more complete than most Italeri offerings.
Overall this was a nice kit when it came out and it does not appear to be too badly dimmed with age. The price of course is now a lot more, but then again it would seem a good deal over some of the earlier re-pops as it has been cleaned up.
My sincere thanks to MRC for this review sample!