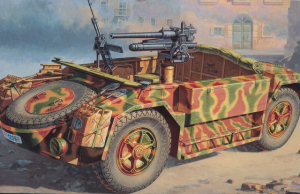 Italeri 1/35 ABM 41/42 with 47/32 AT gun Kit First Look
| | | | |
| --- | --- | --- | --- |
| Date of Review | June 2007 | Manufacturer | Italeri |
| Subject | ABM 41/42 with 47/32 AT gun | Scale | 1/35 |
| Kit Number | 6455 | Primary Media | 271 parts (247 in tan styrene, 12 etched brass, 10 vinyl, 1 clear styrene, 1 turned aluminum) |
| Pros | First kit of this vehicle in this scale in styrene; clear, crisp details; beautifully rendered 47mm antitank gun | Cons | References are scarce |
| Skill Level | Basic | MSRP (USD) | $45.00 |
Two things which tend to be irresistible to armor modelers are "ugly" and "fancy paint job", and for all of the beautiful auto styling that has come from Italy over the years, this vehicle certainly qualifies as the former and wears the latter well. Modelers have always liked the Italian armored vehicles used in North Africa due to their completely unique nature and shape. This one, an upgraded version of the "Sahariana" light armored desert vehicle, is well done and captures the vehicle nicely.
Lately we have been subjected to "Jekyll and Hyde" products from Italeri (such as their awful M923 with Shelter, still on my list of misbegotten kits) but this one is definitely one of their "Jekyll" kits. Very nicely and completely rendered, it shows a greater deal of planning than many recent kits. (One could note that Italeri has tried harder in recent years with its Italian armor kits, sort of playing to the home crowd.)
Take for example the 47/32 47mm antitank gun. In their unfortunate LVT(A)-5 kit, Italeri basically pulled a "Hyde" and rendered the complex 75mm pack howitzer installation as a single piece; not so here, as they pull a "Jekyll" with a 16 piece basic gun assembly for a very simple gun, topped off with a choice between a two-piece (muzzle and tube) or single-piece turned aluminum barrel. It also has an ammo box with six rounds to compliment it.
Even the mass jerry can installation has a respectable amount of detail. While the cans are molded in blocks of five, each has a separate three-bar handle and spout.
Based on the previous AB 41 armored car and Sahariana kits, this model has the same basic structure and shared parts. Construction begins with the chassis pan and suspension, and then progresses to the body. Note that three different versions may be built from the kit, so care must be taken as to which one the modeler has selected as the various features are called out as the model progresses. Variant A is one serving in Rome during September 1943 and has bins, spare fuel tanks, and different stowage; Variant B is in Sicily 1943 with a similar arrangement, and Variant C is in Tunisia 1943 with sand channels and double the jerry can fit.
Options are plentiful. A and B get tactical tires, C gets desert tires; all are provided in vinyl and nicely done. On the body sides, A gets bins and racks, B gets bins and jerry cans, and C gets double jerry cans. Alternate position jump seats are provided inside the body.
Etched brass parts are provided for both the Variant C sand channels as well as the rear jerry can racks (one per side with two cans) and straps for the main racks. The rear racks are very involved and I suggest you have either a Hold and Fold or Etch-Mate before tackling them.
As noted, the model comes with three finishing options: Regio Esercito, 123a Compagnia Arditi Camionettisti, Rome September 1943 (Variant A - tricolor scheme); Regio Esercito, 113a Compagnia Arditi Camionettisti, Sicily July 1943 (Variant B - sand); and Regio Esercito, Raggrupamento Sahariano, Tunisia 1943 (Variant C - sand). At least Variant C has a flag to indicate it changed sides as well!
Overall this is one of the nicer kits to come out from Italeri in recent years and looks to be a fun built. Wish they would have paid this attention to some of their other kits!
Thanks to MRC for the review sample.
Sprue Breakout
A 9 Chassis and belly pan
B 30x2 Wheel mounts, details
C 48 Body components
E 5 Desert pattern tires
E 5 Tactical pattern tires
F 30 47/32 antitank gun and mount
G 43x2 Jerry cans, details
H 14 Stowage bins
1 Clear styrene square
MGB 1 Turned aluminum barrel
PH 12 Etched brass