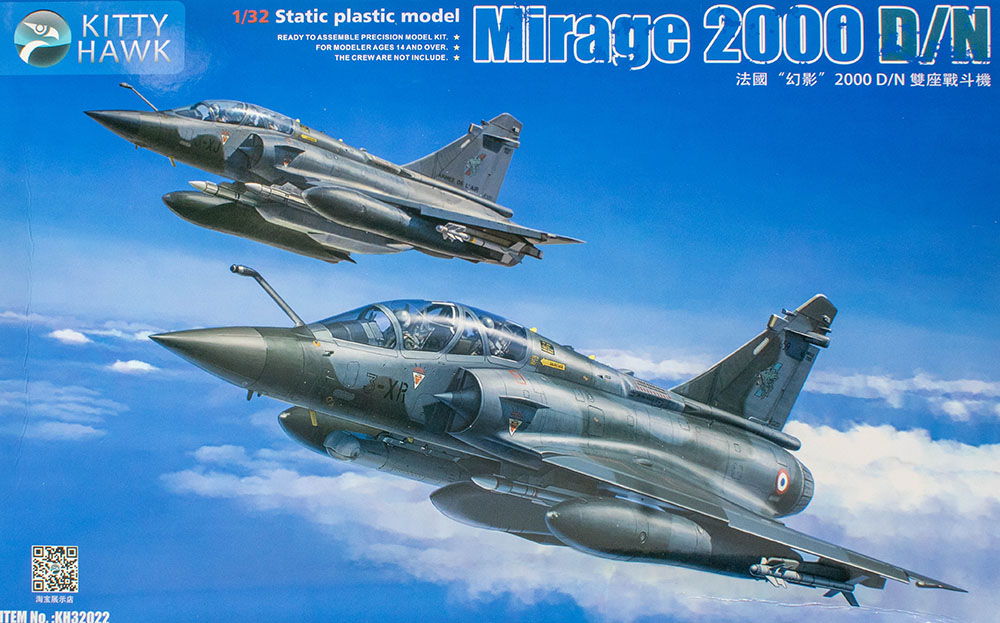 Kitty Hawk Models 1/32 Mirage 2000D/N Kit First Look
| | | | |
| --- | --- | --- | --- |
| Date of Review | April 2020 | Manufacturer | Kitty Hawk Models |
| Subject | Mirage 2000D/N | Scale | 1/32 |
| Kit Number | 32022 | Primary Media | Styrene, Photo-Etch, Resin |
| Pros | Nice details and options | Cons | See text |
| Skill Level | Experienced | MSRP (USD) | $129.99 |
First Look
During the Cold War, many folks would think of two major players in the development of fighter aircraft: the United States and the Soviet Union. While for some years after the end of World War II this was true, Marcel Bloch rebuilt his own fighter company after the war as Dassault Aviation (named for his brother's codename who had perished during the war fighting the Germans). Dassault was able to get access to captured German engineering after the war and began a path to develop relevant fighter aircraft. By the end of the 1950s, Dassault had caught up with the introduction of the Mirage III, bringing France into the Mach 2 fighter world at the same time as the other two nations. In those days, combat aircraft were fairly specialized with the F-104, MiG-21, and Mirage III all being initially developed as fighters/interceptors. Dassault developed the derivative Mirage V for air-to-ground capabilities and this design was as successful as the Mirage III. By the end of the 1960s, Dassault had developed the Mirage G-series as a multi-role aircraft with variable geometry wings while the Soviets ironically produced the MiG-23 about the same time. While the MiG-23 did enter production, the French Air Force wanted a fighter that could perform air-to-ground missions, not an air-to-ground aircraft that could do intercept missions. Neither the Mirage G series nor the MiG-23/MiG-27 were very maneuverable in a dogfight. We won't even talk about the F-111. By the end of the 1970s, Dassault had introduced a new family of multi-role aircraft with the Mirage 2000.
The Mirage 2000 was a light-weight single-seat, single-engine fighter that was equally comfortable in a dogfight as well as putting iron on target. Dassault had also developed a larger, twin-engine version as the Mirage 4000, but there was little interest in the design unfortunately. Nevertheless, the Mirage 2000 has been seen combat operations in a variety of coalition actions in the middle east and Europe and has proven itself. The type is also very adaptable with the two-seat Mirage 2000N which replaced the Mirage IV in the nuclear strike mission, and the two-seat Mirage 2000D which mirrors the F-15E Strike Eagle and F/A-18D Hornet (USMC) in their precision strike capabilities. By the time production ceased in 2007, over 600 Mirage 2000 variants were produced, many of which have been updated with glass cockpits, improved avionics and weapons under the Mirage 2000D/N-5 program.
Here's a kit that many have anxiously awaited from Kitty Hawk, the Mirage 2000D/N in 1/32 scale making this the first production kit of this subject in this scale. The kit is molded in gray styrene and presented on 13 parts trees plus one tree of clear parts, one fret of photo-etched parts, and one resin afterburner nozzle Among the features and options in this kit:
Nicely detailed cockpits and ejection seats with photo-etched restraints
Positionable canopies
Detailed landing gear and wheel wells
Nicely detailed M53 engine with resin afterburner nozzle
Nice doppler radar antenna under a positionable radome
Choice of radomes: with and without lightning arrestors
Wing slats are posed open
Positionable trailing edge flaps
Positionable flaperons
Positionable rudder
Choice of vertical stabilizer tips with different antenna configurations
Positionable speed brakes
External store options include:
2 x CC 630 gunpods
2 x RP 541/542 2000 liter external tanks
2 x RP 522 1300 liter external tanks
2 x SCALP/APACHE cruise missiles
2 x AUF-2 vertical ejector racks
2 x R550 Magic 2
2 x R550 Magic training rounds
2 x MICA missiles
2 x Super 530 missiles
2 x AS-30L laser guilded missiles
2 x LRF-4 rocket pods
1 x ATLIS II targeting pod
1 x PDL-CT targeting pod
1 x PDL-CTS targeting pod
Markings are included for eight options:
Mirage 2000D, 3-XR, EC3/3, French AF
Mirage 2000D, 3-XN, EC3/3, French AF
Mirage 2000D, 3-XD, EC3/3, French AF
Mirage 2000D, 3-IS, EC1/3, French AF
Mirage 2000D, 188-XD, French AF
Mirage 2000N, 4-BA, French AF
Mirage 2000N, 4-CF, French AF
Mirage 2000N, 4-BP, French AF
As you can see in the decal image, There is a nice set of airframe and weapons stencils provided with the various subject options.
Notes:
The kit itself looks really nice out of the box, but you'll need some good reference photos to make your kit. The weakness in this kit is the instructions - they tell you how to build the model well-enough, but they don't tell you which parts to use for a given decal subject/aircraft version.
While there is a weapons load-out table in the back of the instructions, there is no indication of which external stores apply to which of the eight subjects.
The kit provides the AUF-2 two-bomb vertical ejector racks but no bombs.
The color call-outs are all Gunze/GSI colors though there are some interesting errors here: Mr.Color C42 is called for Mirage blue-gray though C42 is really Mahogany. It really meant Mr.Hobby H42 Blue-Gray. The brown color for the desert camo subject (5-OP) calls for Mr.Color C66 though C66 Bright Green. This should be Mr.Hobby H66 Sandy Brown which can be found in the Mr.Color range as C19. The color call-outs in the kit are shown below.
Aside from the minor issues above, this is a great-looking kit with lots of interesting options in the box plus I'm sure we'll see some nice aftermarket decals and details coming soon. While I've seen the Mirage 2000 (along with the Mirage 4000) at the Paris Airshow, as well as seeing them on the ramp during one of the Red Flag exercises we flew in, I am by no means an expert on the subject, so like you, I'll be digging through my own references to get the right combination of details together for my own chosen subject. Check out our modeler's online references for photos of many of these subjects!
My sincere thanks to Kitty Hawk Models for this review sample!
Here is a list of paints Kitty Hawk identifies for use with this kit and the equivalent colors from other brands:
AMMO
AV
GSI
HAT
LC
MIS
MRP
REV
TAM
TES
XTRA
Black
0032
70.950
C002
H002
N002
A125
B125
C125
LC002
MMP047
005
A012
32107
36107
LP01
X01
Red
0049
71.269
C003
H003
N003
A276
B276
C276
LC006
MMP003
002
32131
36131
LP07
X07
Yellow
0048
71.078
C004
H004
N004
A290
B290
C290
UA042
MMP007
386
32112
LP08
X08
Blue
0103
71.004
C005
H005
N005
A220
B220
C220
LC010
MMP048
384
32152
LP06
X03
2031
Silver
0195
70.790
C008
H008
N008
A003
B003
C003
LC074
MMM006
003
32190
36190
AS12
LP11
X11
X038
Orange Yellow
C058
H024
N024
2118
IJN Dark Green
0264
71.322
C015
H059
AS01
XF11
Burnt Iron
0187
71.072
C061
H076
N076
LP54
XF84
Tire Black
0033
71.315
C137
H077
N077
UA733
MMP040
LP65
XF85
Clear Red
70.934
C047
H090
N090
MMP167
LP72
X27
Gunship Gray
0204
71.097
C305
H305
A031
B031
C031
UA022
MMP084
040
A066
32174
AS27
Tan
0200
71.327
C313
H313
A090
B090
C090
226
XF59
Gray
C315
H315
MMP069
White
71.279
C316
H316
A049
B049
C049
MMP104
099
A062
AS20
X141