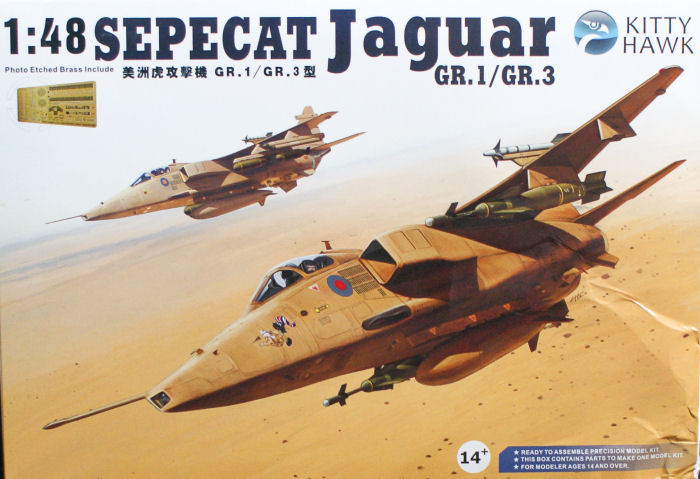 Kitty Hawk Models 1/48 SEPECAT Jaguar GR.1/GR.3 Kit First Look
| | | | |
| --- | --- | --- | --- |
| Date of Review | April 2013 | Manufacturer | Kitty Hawk Models |
| Subject | SEPECAT Jaguar GR.1/GR.3 | Scale | 1/48 |
| Kit Number | 80106 | Primary Media | Styrene, Photo-Etch |
| Pros | New-tool kit of this subject | Cons | See text |
| Skill Level | Experienced | MSRP (USD) | $59.95 |
First Look
The SEPECAT collaboration is one of several Anglo-French joint efforts that have developed some advanced aircraft including Concorde and SEPECAT's own - the Jaguar. The Jaguar was designed to be a strike fighter with tactical nuclear delivery, reconnaissance, and delivery a wide range of conventional weapons within the RAF and Armee de l'Air inventories. Those who've flown the Jaguar as exchange pilots between the RAF and USAF considered the aircraft like a 'mini-Thud' (F-105) as it was tough, supersonic, and its high wing loading made it a stable platform in high-speed/low-level flight. Unlike the Thud, the Jaguar has two engines so the loss of one would still allow the aircraft to limp home.
The RAF operated the Jaguar S (single-seat RAF configuration) and the Jaguar B (twin-seat trainer). Designated as Jaguar GR.1 and T.2 (respectively), the aircraft entered service in the early 1970s and would equip nine squadrons plus a training squadron. Intended for use in the defense of Europe from a Soviet/Warsaw Pact invasion, the Jaguar stood watch until the fall of the Berlin Wall. They would see their first hostile action with Operation Desert Storm in 1991 followed by Operation Deliberate Force in 1994. The RAF Jaguars were tasked to support the 2003 Operation Iraqi Freedom operations but were not given permission to operate from Turkey's runways to cover their northern assignments and had to sit out that action. The RAF retired the Jaguar by 2007.
Kitty Hawk Models produced the first new-tool Jaguar (since the venerable Airfix/Heller kits) with the release of their Jaguar A kit last year and has now followed up with this Jaguar GR.1/GR.3. The kit is molded light gray styrene and presented on niine parts trees plus one small clear tree and one fret of photo-etched parts. Among the features and options in this kit:
Detailed cockpit with early and late instrument panel options
Positionable nose bay door to reveal avionics bay details
Detailed landing gear
Positionable gun breech doors with gun breech inside each bay
Positionable speed brakes
Positionable leading and trailing edge flaps
Positionable spoilers
Positionable stabilators
Positionable rudder
Optional overwing pylons and missile rails
The kit also provides a generous selection of external stores:
2 x BGL-480 laser guided bombs
2 x BGL-1000 laser guided bombs
2 x BGL-1000 laser guided bombs
2 x Matra 155 rocket pods
2 x AIM-9L Sidewinders
1 x Phimat dispenser
1 x External Fuel Tank
There are additional stores in this kit used in the Jaguar A release. Unfortunately the laser designator pod included in this kit is the French ATLIS and no TIALD is provided for this RAF version. Only one external tank is included so you won't have the option of two underwing tanks and an LGB on the centerline as flown in the first Gulf War. If you do use Phimat, it is typically carried on the starboard outboard pylon with an ECM pod (not included) on the port outboard pylon. The typical ECM pod is the same form factor as the ALQ-119 so you can raid your spares and have the defensive kit loaded on your aircraft.
The kit provides decals for three examples:
Jaguar GR.1, XZ364, Gulf War, 1991
Jaguar GR.1, XX732, 54 Sqn, RAF Coltishall, 1979
Jaguar GR.3, XX725, 54 Sqn, RAF
The decals include an enlarged graphic of XZ364's nose art and oddly enough, the instructions state: "please feel free to use the bonus decal WARNING: DO NOT TAKE ORALLY" Really?
The two glitches in this kit:
The instructions are missing steps 20 and 21 - assembly of the vertical stabilizer and rear tail section details. Step 22 is in there twice.
The canopy on my example has a flaw in the molding that looks like a big scrape but is actually in the plastic itself during the molding and can't be polished or 'Future'd out.
This is a nice-looking kit of a great subject that up until now could only be done from the Airfix kit. What is nice is that many of the aftermarket items made for the Airfix GR.1 can be adapted for this kit including TIALD and ECM pods. There is an abundance of information and images online to help you select how you will want to finish your Jag.
My sincere thanks to Kitty Hawk Models for this review sample!