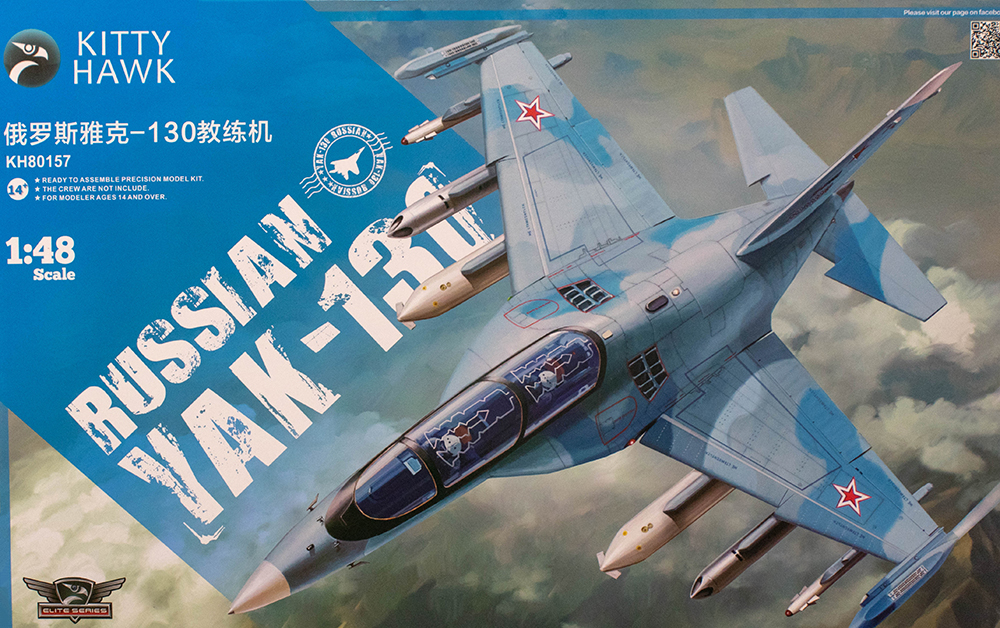 Kitty Hawk Models 1/48 Yak-130 (Mitten) Kit First Look
| | | | |
| --- | --- | --- | --- |
| Date of Review | November 2018 | Manufacturer | Kitty Hawk Models |
| Subject | Yak-130 (Mitten) | Scale | 1/48 |
| Kit Number | 80157 | Primary Media | Styrene, Photo-Etch, Resin |
| Pros | First injection-molded kit of this subject in this scale | Cons | See text |
| Skill Level | Experienced | MSRP (USD) | $54.95 |
First Look
You've probably heard the saying that 'synergy is defined as achieving your goals with someone else's money'. Here is one good example. The Yakovlev OKB embarked upon a new trainer design designated the Yak-130 (NATO Codename: Mitten) about the time of the collapse of the Soviet Union. Designed to replace L-29 and L-39 trainers, the Yak-130 was one of several concepts competing for a 1,000 aircraft purchase from the Russian Air Force. With the new Russian Federation suffering from money problems, Yakovlev could not secure the resources for development of the Yak-130. Instead, they partnered with Italy's Alenia Aermachhi to co-develop the design in 1993 and the first prototype, the Yak-130D, first flew in 1996. The joint Russian/Italian partnership ended in 2000 leaving Yakovlev OKB to continue their development of the Yak-130 alone.
While Alenia Aermacchi secured the rights to develop their own version of the aircraft designated M-346, the Yak-130 continued its own development using Russian-sourced materials including the Ivchenko Progress AI-222 engines, K-36D ejection seats, the latest 'glass cockpit' avionics, and the ability to operate a range of Russian and NATO armaments. Externally, the current Yak-130 and M-346 look very similar, but each of the M-346's F124 engines produce 750lbs more thrust than the Yak's AI-222 engines giving the M-346 the ability to fly supersonic (neither aircraft have afterburners). The leading edges of the Yak-130's horizontal stabilators have a dogtooth similar to the wings' leading edges while the M-346 has straight leading edges on its stabilators. The standard M-346 does not have wingtip weapons stations (that is a recent development) while the Yak-130 has wingtip stations that can carry chaff/flare dispensers or lighter weapons.
Here is Kitty Hawk's 1/48 Yak-130 kit, the first of this subject in this scale (Zvezda was first overall with their 1/72 scale kit). Molded in gray styrene, this kit is presented on seven parts trees (duplicate trees not show), one tree of clear parts, one fret of photo-etched details, and a pair of resin figures. Technically there are two kits in this box, the Yak-130 with three gray trees and the Modern Russian Aircraft Armament Set (KH80151) with four gray trees.
Among the features and options in this kit:
Nicely detailed K-36D ejection seats with photo-etched crew restraints
Nicely detailed cockpits
Positionable canopy
Positionable boarding ladder
Canopy has optional det-chord traces provided as decals
Intake ducts down to compressor faces (see notes)
Turbine faces at ends of exhaust ducts
Nicely detailed wheel wells
Positionable speed brake
Positionable leading edge and trailing edge flaps
Positionable ailerons
Positionable stabilators
Positionable rudder
2 x external fuel tanks
Optional centerline GSh-23 gun pod
Optional wingtip countermeasures dispensers
Weapons set includes:
KAB-500KR
KAB-500KL
KAB-1500KR
KAB-1500KL
KAB-1400SE
Kh-29L
Kh-29T
Kh-31
Kh-58
Kh-25
K-27ER
K-27ET
K-27R
K-27T
R-60
R-73
R-77
Markings are provided for a variety of subjects:
Yak-130, Bort 01/130, company demo aircraft
Yak-130, Bort 02/131, company demo aircraft
Yak-130, Bort 04/133, company demo aircraft
Yak-130, Bort 134, company demo aircraft
Yak-130, Bort 53, Russian AF
Yak-130, Bort 63/RF-44578, Russian AF
Yak-130, Bort 63/15112, Bangladesh AF
Notes:
The generous weapons set has a variety of options that are not valid with this kit, so you'll have some nice weapons for other projects.
The aircraft loading diagram on page 39 shows the R-27R/T and R-27ER/ET can be loaded on the inboard weapons stations. Please check your references as the R-27 series are carried by the MiG-29 while the R-27E (extended range) is designed for the Su-27 family. The R-27E is too large for the MiG-29, so I don't think you'll see these on a Yak-130. The radar on the Yak-130 isn't currently set up to guide radar missiles, so even if the R-27s can be carried, only the IR-guided R-27T would be used. Ditto on the R-77 also listed on the chart.
The gunpod shown in the instructions is referenced in company literature, but so far, the photos aren't there yet for this pod to be in use. Again, check your references.
The kit has inserts (B46/B47) that go onto the upper fuselage over the intakes. The instructions don't show that these can be positioned hinged down to close off the intakes and open the auxiliary intakes to avoid FOD ingestion, like a MiG-29.
You'll note that current Russian military aircraft now have a blue outline between the red star and white border. The kit decals have that detail nicely captured.
The decals provide the Russian Air Force notation on the tail (VVS Rossii) which is accurate through 2015. In late 2015, the Russian Air Force became the Russian Aerospace Force (VKS Rossii), so you'll need aftermarket decals if you're doing a really current subject.
This is a really nice looking kit and so far, there don't appear to be any surprises, tiny parts, over-engineering, or details in areas we'll never see after assembly. This kit looks like Kitty Hawk is finding its stride in good design and execution of its subjects. We'll see how well it goes together soon.
My sincere thanks to Kitty Hawk Models for this review sample!