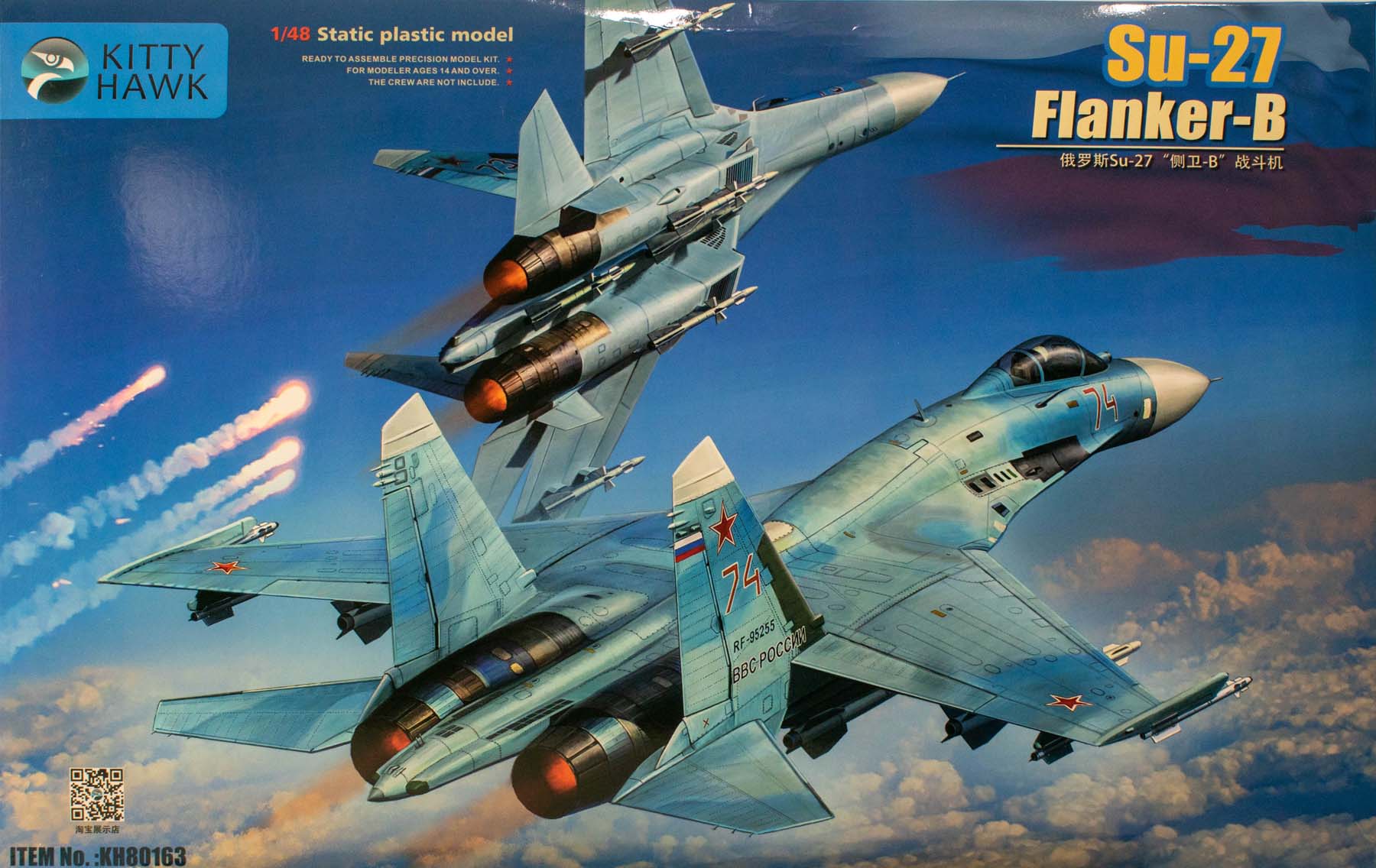 Kitty Hawk Models 1/48 Su-27 Flanker B Kit First Look
| | | | |
| --- | --- | --- | --- |
| Date of Review | July 2020 | Manufacturer | Kitty Hawk Models |
| Subject | Su-27 Flanker B | Scale | 1/48 |
| Kit Number | 80163 | Primary Media | Styrene, Photo-Etch |
| Pros | Many possibilities | Cons | See text |
| Skill Level | Experienced | MSRP (USD) | $TBA |
First Look
Many moons ago, U.S. intelligence anaysts spotted new aircraft prototypes at Ramenskoe airbase (Soviet's Edwards AFB) and were amazed how much they resembled the new fighters entering service in the U.S. One of the designs was given the preliminary identification of RAM-K and was the largest of the fighter designs observed. What they were seeing was Sukhoi OKB's T-10 prototype that evolved into the Su-27 (NATO Codename: Flanker). Since the T-10 was designated Flanker A, the initial production single-seat aircraft became the Flanker B. Designed as a long-range interceptor to replace service aircraft like the Tu-28 Fiddler, the aircraft had significant internal fuel capacily which eliminated the need for external fuel tanks (and their associated drag). The aircraft could also carry an arsenal of missiles on six underwing pylons, two wingtip pylons, two under-intake pylons, and two centerline stations. The Su-27 was also extremely maneuverable and could easily hold its own in aerial combat. One distinguishing feature of the standard interceptor is the centerline IRST sensor ahead of the windscreen. When the Su-27 received in-flight refueling capability, the retractable probe was located on the left side of the nose and the IRST was shfted to the right side to keep it out of harm's way. The Su-27 was exported to China as the J-11, and it didn't take long for the Chinese to 'fix' the aircraft by giving it the capability of deploying air-to-ground stores. Not to be outdone, the Sukhoi OKB introducted the multi-role Su-27SM which included avionics upgrades, in-flight refueling, and a much greater variety of air-to-ground and air-to-air weapons capabilities.
It has been interesting to read many of the posts online claiming Kitty Hawk/Panda Hobby are no longer in business. As Mark Twain once wrote: "The reports of my death are greatly exaggerated." If you prefer Monty Python and the Holy Grail: "I'm not dead yet...I'm getting better!" The Wuhan virus basically shut down the planet, and production ceased for many companies including Kitty Hawk/Panda Hobby, but throughout their shut-down, the owner continued designing future projects. Once the shut-down was lifted, they began to produce new kits and five of those have come across the pond. Surely five new kits is a reliable sign of life!
We looked at the Panda Hobby German self-propelled howitzer and the Su-30MK kits a few days ago. This is one of three Flanker variants in this batch, which follow the Su-35S kit released three years ago. While some of these parts trees are used in the other two new Flanker kits, none of these trees are out of the Su-35 kit. Molded in gray styrene, this kit is presented on 12 parts trees plus one tree of clear parts and one small fret of photo-etched details.
Among the features and options in this kit:
Nicely detailed cockpit
Choice of early (analog) and later (MFD) instrument panels (not mentioned in the instructions)
Nicely detailed K-36D ejection seat which provide photo-etched crew restraints
Detailed AL-31F engines
Positionable ventral intake shutters
Intake ducts to the engine faces
Starboard gun bay with positionable access panel
Detailed forward avionics bay
Positionable avionics bay/radar access
Choice of early (dish) or later (phased array) radar antennas (not mentioned in the instructions except the color guide)
Positionable dorsal speed brake
Detailed landing gear and wheel wells
Positionable leading and trailing edge flaps
Positionable stabilators
Positionable radome
Positionable parachute door
Weapons included:
GSh-30 internal cannon in gun bay
2 x R-27ER/ET (AA-10 Alamo)
2 x R-27R/T (AA-10 Alamo)
2 x R-60 (AA-8 Aphid)
2 x R-73 (AA-11 Archer)
2 x R-77 (AA-12 Adder)
The weapons trees also include bombs which can be carried on the Su-27SM.
Markings are provided for five subjects:
Su-27SM, bort 04, Russian VVS
Su-27SM, bort 74, Russian VVS
J-11, 11137, PLAAF
Su-27, bort 01, Soviet VVS, sharkmouth nose art
Su-27S, bort 10, 'Sokoly Rossii' aerial demonstration team
Notes:
Out of the box, this kit will build into a number of nice examples
While the kit has parts to render the early Su-27 (Su-27P) and the updated Su-27SM, it doesn't have all of the parts to do either version. To do an early Su-27, you need the windscreen for the centerline IRST, while you need the hole in the port side fuselage and retractable air refueling probe to render the Su-27SM. While the correct windscreen for the Su-27 can be found in the Su-30MK kit, the air refueling probe is included in the Su-27 kit on C tree but not mentioned in the instructions. You're on your own to open up the port side nose for the probe
If you follow the Kitty Hawk group on Facebook, they're observing additional glitches and fixes in near real time
I dry-fitted the fuselage halves and the fit is exquisite. The layout of the kit is very straightforward, but the proof will be in the building. I'll be doing a quick-build of one of these three Flanker kits so we can see if this beauty builds as nice as it looks. Stay tuned!
For a look at the builder's guide we've prepared for this kit, look here.
Here is a list of paints Kitty Hawk identifies for use with this kit and their equivalent colors from other brands. Also included are the 'standard' colors for the Su-27 camouflage:
AMMO
AV
GSI
HAT
LC
MIS
MRP
REV
TAM
TES
XTRA
Su-27 Blue
71.337
A095
B095
C095
196
X601
Su-27 Pale Blue
0249
71.334
A328
B328
C328
197
X602
Su-27 Light Gray
71.335
A038
B038
C038
198
X603
Su-27 Cockpit
Gray-Blue
C392
MMP096
049
Brass
0197
71.067
C219
MMC002
150
1782
Black
0032
70.950
C002
H002
N002
A125
B125
C125
LC002
MMP047
005
A012
32107
36107
LP01
X01
Red
0049
71.269
C003
H003
N003
A276
B276
C276
LC006
MMP003
002
32131
36131
LP07
X07
Blue
0103
71.004
C005
H005
N005
A220
B220
C220
LC010
MMP048
384
32152
LP06
X03
2031
Silver
0195
70.790
C008
H008
N008
A003
B003
C003
LC074
MMM006
003
32190
36190
AS12
LP11
X11
X038
Steel
0191
71.065
C028
H018
N018
MMM002
030
32191
36191
LP40
X10
X502
Sky Blue
C034
H025
N025
X14
Aircraft Gray
C073
H057
N057
Interior Green
0220
71.137
C027
H058
N058
A211
B211
C211
UA004
MMP059
131
32360
X117
XA1117
Air Superiority Blue
0271
71.332
C074
N017
A155
B115
C155
UA037
240
Burnt Iron
0187
71.072
C061
H076
N076
LP54
XF84
Tire Black
0033
71.315
C137
H077
N077
UA733
MMP040
LP65
XF85
Olive Green
0084
71.093
C054
H080
N080
A152
C152
UA303
MMP034
078
LP58
XF67
Clear Red
70.934
C047
H090
N090
MMP167
LP72
X27
Clear Green
70.936
C138
H094
N094
MMP169
X25
Smoke Gray
70.939
C101
H095
N095
MMP170
LP67
X19
Russian Green
71.022
C136
XF05
White
71.279
C316
H316
A049
B049
C049
MMP104
099
A062
AS20
X141
Light Gray
C324
H324
Dark Sea Gray
C331
H331
Medium Sea Gray
0246
71.307
C335
H335
A141
B141
C141
UA028
MP094
112
AS11
XF83
2058
X003
XA1003
Black Gray
0218
71.055
C116
H416
A040
B040
C040
UA133
MMP089
059
A005
32109
2079
X203
XA1203
My sincere thanks to Kitty Hawk Models for this review sample!