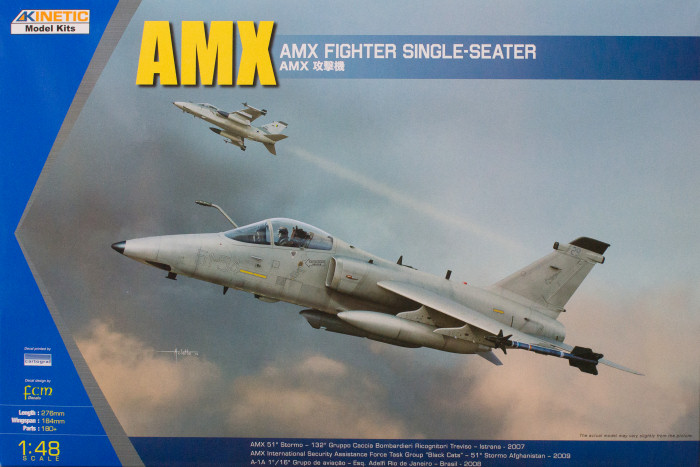 Kinetic 1/48 AMX Kit First Look
| | | | |
| --- | --- | --- | --- |
| Date of Review | April 2015 | Manufacturer | Kinetic |
| Subject | AMX | Scale | 1/48 |
| Kit Number | 48026 | Primary Media | Styrene, Photo-Etch |
| Pros | First plastic kit of this aircraft in this scale | Cons | See text |
| Skill Level | Experienced | MSRP (USD) | $39.95 |
First Look
When the Italian Air Force needed to replace its fleet of Fiat G.91 attack and reconnaissance aircraft as well as its RF-104G Starfighter reconnaissance aircraft in the late 1970s, Aeritalia and Aermacchi teamed up to offer a solution. When the design was accepted in 1980, the Brazilian Air Force sought to join the project so it could replace its own fleet of aging MB-326 aircraft. The resulting consortium became AMX International and this new single-seat attack and reconnaissance aircraft became the AMX.
The production AMX became the A-11 Ghibli in Italian Air Force service while the Brazilian AMX became the A-1. The key distinguishing difference between the two aircraft is the A-11 is armed with the M61 Vulcan cannon in the port side nose while the A-1 is armed with two 30mm cannons in the nose. The AMX can carry a wide array of air-to-ground ordnanace on its five weapons stations as well as a pair of AIM-9L Sidewinders on the wingtip rails.
It is interesting to see how Kinetic Models has evolved its kit production processes. With their first releases, the plastic had a textured surface similar to limited run kits but this has given way to smooth surfaced styrene found in all other mainstream kits. Kinetic Models always offered finely scribed surface details, but this kit shows how they are listening to their customers. In this release, there is a nice mix of scribed panel lines and rivet detail around most of the airframe but also provides raised rivet details around the tail section. A good look at some reference photos show raised rivets in the tail section of the full-scale aircraft. Nice touch!
Molded in light gray styrene, this kit is presented on eight parts trees plus two trees of clear parts and a single fret of photo-etched parts. Duplicate parts trees are not shown in these images. Among the features of the kit:
Nicely detailed cockpit
Detailed ejection seat with photo-etched restraints
Positionable canopy
Choice of Italian A-11 or Brazilian A-1 noses
Detailed landing gear wells
Detailed landing gear
Positionable leading edge slats
Positionable trailing edge flaps
Positionable stabilators **
Positionable rudder
There is one minor glitch to note. The instructions show that the stabilators are positionable but they also show the installation of trailing edge elevators which are also hinged. In other words, if you hinge the elevators, you can't move the stabilators from neutral position. On the full-scale aircraft, the designers use the stabilators for pitch control AND the elevators. The elevators are designed to move up or down when the stabilators move accordingly providing additional pitch authority. When you build your AMX, you rarely see the stabilator deflected more than a few degrees up or down after shut-down. If you don't set your stabilator at neutral, the you'll need to set the elevators at slight up or down deflection to match the relative deflection of the stabs. Check your references to see what I'm referring to. Note that neither ailerons nor spoilers are positionable.
This kit provides the following external stores options:
2 x AIM-9L Sidewinder
2 x 580 liter external fuel tanks
2 x 1100 liter external fuel tanks
1 x tactical reconnaissance pod (centerline station)
You'll note that the weapons sprues have laser-guided bombs and AIM-120 AMRAAMs included but are not used with this subject. You'll have some nice weapons for your spares box.
This release has three distinctive marking options for this release and two for the next subject:
A-1A, 5506, 1º/16º Gruppo de aviacao, Rio de Janeiro, Brazil, 2008
A-11, 51-32, 51º Stormo/132º Gruppo Caccia Bombardieri Ricognitori, Treviso, 2007
A-11, 51-75, Task Group 'Black Cats', 51º Stormo, Afghanistan, 2009
A-1B, 5652 (to be used on the AMX-T release)
AMX-T, 32-64 (to be used on the AMX-T release)
The decal sheet was designed for Kinetic by FCM Decals and printed by Cartograf. The sheet provides a three complete sets of maintenance and warning stenciling to match each of the three color schemes/subjects above. There are two additional aircraft
Paint callouts are provided using Humbrol, Mr. Color, Italeri, Tamiya, and Vallejo paints. An Ammo Mig color column is also included but is mostly blank given that they don't produce aircraft colors.
Kudos to Kinetic for this beautiful model. Straight out of the box, this should build into a beautiful model and with some of the colorful schemes carried by this aircraft, you will have a nice addition to your scale flightline. Of course AMS modelers will have fun with this given all of the details already in the box, just a little time and patience will really set this model apart on the contest table!
My sincere thanks to Lucky Model for this review sample!