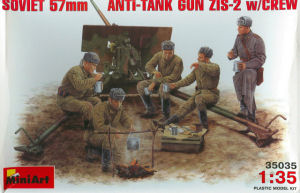 MiniArt 1/35 Soviet 57mm Anti-Tank Gun ZIS-2 w/Crew Kit First Look
| | | | |
| --- | --- | --- | --- |
| Date of Review | April 2008 | Manufacturer | MiniArt |
| Subject | Soviet 57mm Anti-Tank Gun ZIS-2 w/Crew | Scale | 1/35 |
| Kit Number | 35035 | Primary Media | 168 parts in grey styrene |
| Pros | Complete kit of this legendary gun from scratch, not a "rebarreled" ZIS-3 kit; figures use very casual poses and should be popular as well | Cons | Some damage and warping of the main gun barrel |
| Skill Level | Basic | MSRP (USD) | $25.50 |
First Look
In 1940 the Soviets decided to create a new light antitank gun to supplement their light 45mm Model 1932/1938 series guns. The main reason for this was German "disinformation" of the "10 x 10 tank" – a tank with 10 cm armor protection and mounting a 10 cm gun – which they had no way to defeat. (This later emerged as the Tiger I, but at this time it was still just false intelligence to scare the Soviets.) Legendary artillery designer V. G. Grabin then set to work on three parallel projects: a 107mm heavy gun for heavy tanks and divisional field artillery, a 95mm gun for heavy tanks and divisional field artillery, and a new long-barreled 57mm antitank gun.
The new gun made use of the components of the 76.2mm F-24 field gun. The major changes were that Grabin had to reverse the positions of the recoil mechanism and the compensator on the carriage in order to get good performance from those devices: the former stops rearward movement, and the other pushes the gun back into battery.
The new gun achieved a muzzle velocity of 1000 meters per second with a 3.14 kilogram penetrator by using a necked down 76mm casing and a 73 caliber long barrel; this provided armor penetration of 100mm at 500 meters at that time. (They were eventually able to tweak this up to 155mm by the end of the war.) The new gun was light, even graceful, and very effective. During the course of WWII the Soviets built 9,645 ZIS-2 guns, and even continued in production through 1949 with a total run of more than 13,300 guns.
The ZIS-2 was light enough to be towed by trucks like the GAZ-AA and GAZ-MM "one and a half tonners) and could also use the same limber from the ZIS-3 which carried six cases of four rounds each ready ammunition. After the war it was provided to many other nations and saw service in Korea and the Middle East.
Previously the only kit available in plastic of a ZIS-2 was a Maquette effort which provided the sprues from a Zvezda-injected Italeri ZIS-3 with a single sprue of badly cut injected parts to include a "stick-on" replacement barrel. The limber was provided but was really crude in its design and molding (that was later released separately after its molds were totally revamped.)
Happily now MiniArt has continued with its production of Soviet era items by following up on its excellent ZIS-3 kit (No. 35032) but other than the basic research shares no sprues with the former kit. Like all MiniArt "with crew" kits this one is available separately as No. 35028.
The kit basically is laid out on two sprues, one of which contains the parts for the carriage and one which contains the parts for the barrel and trails. This is a standard production ZIS-2 with the ZIS-3 style trails; they are round whereas the original trails were rectangular in shape.
The gun comes with its wheels and tires split out with a separate hub and five sections to form the tire - two sidewalls and three inner ribs to give the tires tread pattern. (If you don't like them, they are standard GAZ-AA wheels and those found with any of the Eastern Express armored cars or Toko GAZ trucks should replace them.) Construction is pretty straightforward beginning with the trails and then the axle, carriage cradle ("l'yulka" in Russian) and locking levers,wheels, barrel and recoil cylinders, muzzle brake, gun shield, ammo crates, breech, and on to final assembly and then the crew.
Parts are fragile and some of the smaller pieces were broken on the sprues, but due to internal bagging all parts were still present so no long-term harm was done. The worst problem was that the long and thin 57mm barrel halves suffered some bending and warpage; but since MiniArt cut the molds hollow a section of suitable metal or plastic rodding should stiffen the barrel up and solve this problem.
Again, the figure set provided is very nicely done and here comes in very casual poses. It consists of one officer in a greatcoat and four enlisted men in quilted uniforms, all wearing the winter "ushanka" caps. The crew is enjoying a hot meal and as such the kit provides an improvised spit, spoons, cans and a mat for turning the ammunition crate provided into an improvised table. Each figure comes in seven parts (legs, arms, torso, head and cap) with the officer having a separate coat skirt. No personal weapons are provided except for the officer's pistol holster. (Fans of DML's Ron Volstad will note that the MiniArt artist obviously likes Ron's style and presentation!)
Two different finishes are offered for the gun, a three-color "patch" scheme and a two-color winter pattern with white sprayed over 4BO green. Colors are flagged for Tamiya, Revell, Humbrol and Model Master paints. A photo of a finished kit in a vignette by Vladimir Demchenko is provided, but he has added rifles not found in the kit.
Overall this is another excellent effort by MiniArt and as seems to be the norm a bargain, as it provides a five man crew for the same basic price levels of some kits with just the guns.
Sprue Layout:
A 51 Cradle, one wheel, ammunition
B 62 Barrel, one wheel, trails, ammunition
35028 55 Five figures, accessories