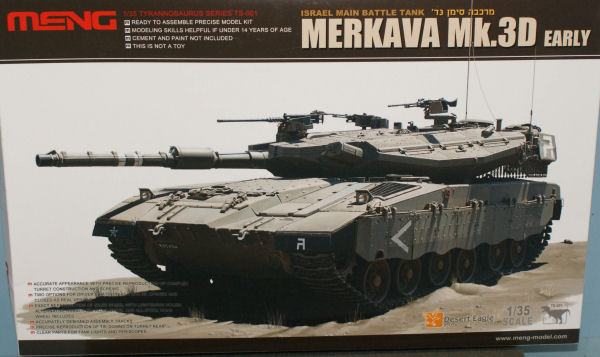 Meng 1/35 Merkava Mark 3D (Early) Kit First Look
| | | | |
| --- | --- | --- | --- |
| Date of Review | May 2012 | Manufacturer | Meng |
| Subject | Merkava Mark 3D (Early) | Scale | 1/35 |
| Kit Number | TS001 | Primary Media | Styrene, Photo-Etch |
| Pros | Interesting subject | Cons | Nothing noted |
| Skill Level | Basic | MSRP (USD) | $69.99 |
First Look
Ever since its establishment in 1948, the State of Israel was dependent upon other countries to provide the weapons it needed to defend itself from neighboring nations that didn't want them there. These sources would come and go depending upon the changes in international political climate. After the Yom Kippur War in 1973, Israel aggressively sought the capability to develop its own defense industry to produce the weapons it needs to continue its survival.
One of those weapons was a tank that can counter the variety of Soviet-produced tanks equipping Israel's neighbors. In the Yom Kippur War, the newest tank available was the American-made M60 which fared well in the north against Syrian forces, but was not effective against the Egyptians.
Based upon the lessons learned from 1973 and previous armor battles, Israel developed the Merkava (Hebrew for Chariot) tank which has many design features not found in other main battle tanks.
The Merkava has sharply sloped frontal armor on its main hull and turret to provide a difficult target to hit and penetrate. The engine and transmission were located in the front of the hull to provide additional protection should the frontal armor be breached. The rear of the Merkava is set up as an armored personnel carrier that can carry a squad of soldiers who can enter/egress through a large armored rear door. Like the US-made M1 Abrams, the main gun on the first Merkavas was the 105mm cannon and subsequent versions are armed with the 120mm smooth bore gun. While the Merkava is much slower on paved roads than the M1 Abrams, it is equipped with very effective off-road suspension system which not only allows the Merkava to negotiate areas that would hang up other tanks, it can do so faster than the Abrams.
The Merkava Mk.I first saw combat during the 1982 Lebanon War where one of the vehicle's design weaknesses were uncovered - its brakes. Once the Israeli Army pushed off to the north, they couldn't get the Merkavas stopped before they reached the outskirts of Beirut. With each subsequent version of the Merkava, new capabilities and design improvements are added to the tank to incorporate combat lessons learned.
Meng is a model company based in Hong Kong, China and has released a new kit in their diverse line-up. This is a completely new-tool Merkava Mk.3D developed completely from 3D CAD design technology. The kit is molded in dark tan styrene and presented on a 11 parts trees plus two turret parts, upper and lower hull halves, and a clear tree with the periscopes and lenses. A sheet of light metal is included for the turret basket ID signs. A bag of 220 individual track links rounds out the kit.
The kit represents the early configuration of the Mark 3D tank and offers some nice features and options:
Choice of rubber road wheels or combination of rubber and steel road wheels
Detailed drive sprockets and return rollers
Detailed suspension system
Individual track links go together nicely and are not complex
Rear clamshell door assembly nicely rendered
Each crew hatch has choice of clear periscopes or closed covers
Choice of two types of driver's hatch
Ball and chain armor rendered in styrene so assembly is quick and easy around rear of turret
Turret modular armor nicely rendered
Lots of external details captured with individual parts but not over-engineered
All crew hatches can be posed oped or closed (though there is no interior)
Nicely detailed .50 caliber machine gun and two MAG machine guns
Markings are provided for two examples:
Mark 3D, Tank Gimel, 2nd Company, 2nd Batallion, Barak Brigade, Lebanon, 2006
Mark 3D, Tank 10 Gimel, 2nd Batallion, Barak Brigade, Operation Cast Lead, Gaza, 2009
A nice array of identification and tactical markings are provided for the hull and the metal signs affixed to turret basket.
This is one of the nicest Merkava kits I've seen and it isn't surprising given the great tools and engineering being used by Meng Models. The detailing is quite nice and will look even more impressive with some suitable aftermarket resin crew figures manning the vehicle.
My sincere thanks to Stevens International for this review sample!