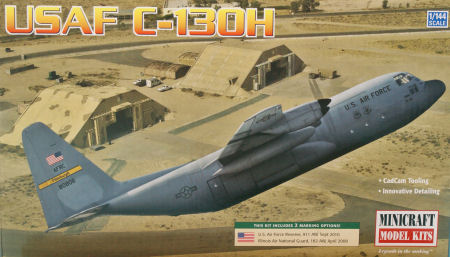 Minicraft 1/144 C-130H Hercules Kit First Look
| | | | |
| --- | --- | --- | --- |
| Date of Review | July 2011 | Manufacturer | Minicraft |
| Subject | C-130H Hercules | Scale | 1/144 |
| Kit Number | 14649 | Primary Media | Styrene |
| Pros | Beautiful kit | Cons | Outboard tank holes will need to be filled for this version, no SKE, see text |
| Skill Level | Basic | MSRP (USD) | $36.99 |
First Look
The Lockheed C-130 arose out of a requirement for a more capable airlifter after combat experience in Korea revealed serious airlift shortcomings with the existing World War Two vintage transports. In 1954, Lockheed first flew the YC-130 and in the decades that followed, more than 2000 examples have been built.
The C-130 is such a versatile airframe, it was adapted into a variety of special missions from gunship (AC-130), drone mothership (DC-130), electronic warfare (EC-130), airborne command post (also EC-130), tanker (HC-130), ski-equipped arctic airlifter (LC-130), special missions (MC-130), and hurricane hunter (WC-130). In 2006, the aircraft marked its 50th anniversary in military service and it is clear that it has another decade or two of service (at least) left in her.
The C-130 is also the principal airlifter for 66 other countries as well as equipping a number of commercial operators as the L-100. The current production version of the venerable C-130 is the J-model featuring six-bladed propellers turned by Rolls Royce engines. This is a bit of a departure since the primary power for the C-130 prior to the J-model was the Allison T56A.
Minicraft produced the first styrene kits of the C-130 in 1/144 scale in a number of decades. Revell had the first kit in this scale, but that kit is a collector's item and was simplistic at best. Hasegawa produced the Herc in 1/200, Airfix and Italeri in 1/72, and Italeri again in 1/48. So how much detail is lost in this scale? Not much from what you can see in these photos!
The kit is molded in light graystyrene and presented on six parts trees, plus a single tree of clear parts. The kit was designed to be able to replicate quite a few of the Hercules family, which is all-the-more reason to keep it in 1/144, as a die-hard Herc nut wouldn't have room for many variants in the larger scales.
Detailing is scribed and will look nice after painting. Fit will be critical in this particular kit since this is a bare metal scheme and we all know how bare metal finishes telegraph any flaws. In experienced hands, this will look great in the provided early airlifter scheme.
So what features are in here anyway?
External tanks for the A-model or the later E/H models
Pre-drilled holes under the wings for the tanks of your choice, though you'll need to fill the holes you don't use
Positionable ramp and door
Cargo deck and station 245 forward bulkhead
Nicely detailed landing gear
There is no interior in the cockpit, so you may want to scratch-build the crew seats for the pilots and flight engineer, as that will be about all you'll see through those tiny windows.
If you do leave the ramp and door open, you'll need to add hydraulic actuators for the ramp, open the accessway through the forward bulkhead (station 245), and add a few details in the interior. A main cargo deck is provided.
The instructions are a bit misleading regarding the external fuel tanks as they seem to indicate that it is okay to use the outboard fuel tanks. This is incorrect as the only Hercs to use the outboard pylons are the C-130A for fuel tanks and the special mission birds for different gear like air refueling pods, antenna pods, chaff/flare dispensers, etc. As there are no special mission pods included in this kit, those outboard tanks are only for the C-130A.
Another minor glitch in this kit is the missing SKE. This is a dome that should be mounted on top of the fuselage aft of the cockpit. This system is used for stationkeeping to allow C-130 airlifters to fly precision formations into drop zones. You won't find the SKE on the C-130A, C-130B, USN/USMC Hercs, or C-130s operated by non-US customers. The SKE on the C-130E/H is a prominent dome whereas it is not quite as high atop the C-130J.
One other minor point is that both of the aircraft depicted here should have the auxiliary cooling scoop coming out of the starboard side of the nose, just below the navigator's station. This is easily fixed with a small piece of scrap plastic sanded to shape and glued into place.
Markings are provided for two examples.
C-130H, 93-7312, 169 AS/182 AW/IL ANG, 2008
C-130H, 78-0806, 911 AW/AFRC, 2010
This is still a nice kit in 1/144 scale and it offers some nice possibilities for other variants based upon this airframe. With all of the different color schemes and special mission configurations, one could easily buy several cases of these kits and still not run out of subjects. With the nice detail in this box, you won't lack for some beautiful models on your shelf!
My sincere thanks to Minicraft Models for this review sample!