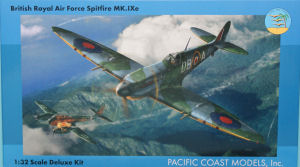 Pacific Coast Models 1/32 Spitfire Mk.IXe Kit First Look
| | | | |
| --- | --- | --- | --- |
| Date of Review | February 2009 | Manufacturer | Pacific Coast Models |
| Subject | Spitfire Mk.IXe | Scale | 1/32 |
| Kit Number | 32006 | Primary Media | Styrene, resin, photo-etch |
| Pros | Beautiful molding, relatively simple build, lots of options | Cons | See text |
| Skill Level | Experienced | MSRP (USD) | $59.95 |
First Look
The Supermarine Spitfire Mk.V ruled the skies over Great Britain during the early years of the Second World War. It was able to match the Luftwaffe's best fighter of the day, the Messerschmitt Bf 109E. With the appearance of the Focke Wulf Fw 190A in the skies however, it was quickly apparent that the Spit had finally been outclassed.
Recognizing that a major upgrade to the Spitfire was necessary, the RAF set out to develop the Spitfire beyond the anticipated capabilities of the Luftwaffe. Also recognizing that such a major upgrade would take time, time that the RAF could ill afford, an interim solution was needed. That interim solution would become the Spitfire Mk.IX.
By taking the existing Mk.V airframe under production, installing the new Merlin 61/63 series (which added 100-200hp and an improved supercharger) which turned a four-bladed propeller, and adding such refinements as a gyro gunsight, additional fuel tanks and (later) the E-wing, the new Spitfire was able to regain its superiority in the skies over Europe. The Mk.IX was the second-most produced version of the Spitfire, with some 5600+ examples built. The most numerous version was the Mk.V.
One thing we've lacked in 1/32 scale is a good Spitfire Mk.IX. Hasegawa produced their 1/32 Spitfire Mk.V a decade or so ago and I remember building one not long after it arrived in the US. The kit was simply laid out and assembled with ease. While numerous aftermarket sets arrived on the scene, the basic kit was just fine straight out of the box.
One of the many detail sets and conversions for the Hasegawa kit were several dedicated to convert the basic Hasegawa kit into a Mark.IX. With the exception of conversions like these, nobody had tackled a Mark IX in 1/32 scale - until now.
Pacific Coast Models decided to break with their theme of World War 2 Italian fighters and render their first Spitfire Mk.IX which was a C-wing version (Mk.IXc). This is their second release depicting the Mk.IXe.
This is a beautifully molded kit done in medium gray styrene and presented on four parts trees, plus a single tree of clear styrene parts. One fret of Eduard color-printed photo-etch rounds out the kit.
So what's the difference between this kit and the previous Mk.IXc release? Not much. This kit has just about all of the options you could ask for in one box:
Standard wingtips
Clipped wingtips
Short carburetor scoop
Long carburetor scoop
Standard (Mk.V) rudder
Tall rudder
Late tailplanes and elevators
C-Wing configuration
E-Wing configuration
Positionable canopy
Resin cockpit
Two styles of main wheel hubs
Two styles of Merlin exhaust stacks
Detailed (and scale depth) main wheel wells
About the only thing you won't find in this box are the early Mk.V type tailplanes and elevators, but you can rob a Hasegawa kit for that. I don't know if these are included in the previous Mk.IXc release.
The color-printed photo-etch will really add to the beauty of this resin cockpit interior. As with other color-printed cockpit sets from Eduard, this one features a three-layer instrument panel to replicate the depth and structure of the real panel. The seatbelts and shoulder harness are also pre-colored so they just need to be posed on your resin seat.
So what is the real big difference between this kit and the early Mk.IXc release? Clearly the decals!
This kit comes with two large sheets of decals to render your choice of six subjectsL
Spitfire Mk.IXe, PL187, 331 Sqn (Norwegian), FN-Z, Sept 1945
Spitfire Mk.IXe, PT672, 40 Sqn (SAAF), WR-RR
Spitfire Mk.IXe, SL628, HLM-4, Czech AF, 1945
Spitfire Mk.IXe, NH609, 4D-W, 74 Sqn (RAF), 1945
Spitfire Mk.IXe, TE554, 57, Israeli AF, Ezer Weizman's aircraft, late 1970s
Spitfire Mk.IXe, SM622, Unknown Sqn, Soviet AF
I've see Ezer Weizman's gloss black Spitfire rendered in a few smaller scale kits, but I think this is the first kit I can recall that will be perfect for the job - to get a good gloss black surface requires a glass-smooth styrene surface and this kit definitely is glass smooth!
The decals provides sufficient stenciling for your project and will have lots of extras left over for future projects.
When this kit first came out, I wasn't really that interested at the time, but since this kit is produced by the same kit makers in the Czech Republic that produce Classic Airframes kits, and since I have the 1/32 Ta 152H also on pre-order, I decided to give this one a look. I am definitely not disappointed!
Resources