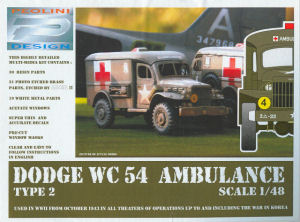 Peolini Designs 1/48 Dodge WC54 Ambulance Type 2 Kit First Look
| | | | |
| --- | --- | --- | --- |
| Date of Review | February 2008 | Manufacturer | Peolini Designs |
| Subject | Dodge WC54 Ambulance Type 2 | Scale | 1/48 |
| Kit Number | - | Primary Media | 88 parts (31 etched brass, 30 creme colored resin, 19 white metal, 6 acetate, 2 straight pins) |
| Pros | First kit of this vehicle in this scale; nicely thought out and laid out kit uses all of the materials to their best advantage; outstanding directions (!); very useful for both ground and air displays or dioramas | Cons | Pour plugs will have to be trimmed off; few transport compartment fittings |
| Skill Level | Intermediate | MSRP (Euro) | €54.50 (about US$80.66 at current exchange rates |
First Look
One of the most enduring vehicles from the Second World War was the basic and modified versions of the Dodge WC series 4 x 4 trucks that followed on the success of the VC series pre-war vehicles. Increasing their payload from ½ ton to 3/4 ton, the trucks were sturdy, handy, very useful, and in their postwar updated versions – the base version being the M37 truck – they served with the US Army into the 1980s and with foreign armies right up to the present day.
The WC series chassis came in three basic sizes: a short (98 inch) wheelbase version which was used for the WC-51/WC-52 weapons carrier, the WC-56/WC-57 command car, the M6 37mm gun motor carriage; a longer (114 inch) body used for the WC-53 carryall and WC-60 field repair truck; a long version (121 inch) for the WC-54 ambulance and WC-64 "knock-down" ambulance, and a 6x6 version for the 1 ½ ton WC-62/WC-63 trucks. (In the case of two numbers the second one came with a winch.) Postwar the basic models were combined and given a hardtop cab to become the very popular Dodge "Power Wagon" pickup trucks.
The ambulance was a universal vehicle, serving with all elements of the United States armed forces and in all theaters. Between 1942 and 1945 29,502 WC-54 ambulances were built by Dodge and its subsidiary Fargo Motor Corporation. There were two basic versions that were built: one, which Peolini designs designates as "Type 1" used parts list D-10534; the other, of which this model is representative, is dubbed "Type 2" and used parts list D-10583. The differences have to do with product improvements, such as protruding fuel filler nozzles and indented ones and radiator shells with and without "DODGE" stamped in them.
Peolini Designs is a new company from the Netherlands and announces that this is their first kit. With the resurgent popularity of 1/48th scale military vehicles and the enduring attraction of 1/48th scale aircraft, the choice of this kit is a great one and the model is a very well done representation of the vehicle. The kit's part layout does not show a great similarity to the only major kit previously issued, the much-traveled 1/35 scale WC-54 from Peerless Models (later Peerless/Max, Italeri, Testors, Bilak, and now Italeri again) which had the most annoying selection of part separation in any kit, a massive crosswise joint in the front of the roof.) It comes with most major parts in one piece, and here that thankfully includes the entire roof assembly.
The kit uses four materials – a cream-colored light resin, white metal castings, etched brass (provided by Aber) and pre-printed acetate windows. The latter are – aircraft kit style – provided with masks for painting, which is a nice touch. All of the resin parts use pour plugs, but the attachment points are well thought out and demarcation lines obvious so cleanup, while tedious, is not difficult. The use of white metal parts is something I normally dislike in a resin kit, but due to the smaller size of this model and the choice of items for casting in white metal they make sense and are less prone to breakage or damage (or lost for the clumsy of fingers among us, like me) during shipping and installation. Note that this kit comes packed in a sturdy cardboard box with internal plastic wrapping, which proved impervious to the USPS attempts to crush it!
One of the most outstanding things about this kit is its directions: other manufacturers, even mainstream injection molded kit manufacturers, should pay attention to this! The directions are a very nice 8-page booklet in black and white with clearly laid out parts identification, assembly order and location of parts, use of specific drill bits for cleanup callouts, and finishing directions. Two pages can even be dedicated to identifying the model and advertising of forthcoming products, and the directions STILL beat those of others for detail and aid. There are a couple of minor errors in them. One is the fact that apparently the original bumper was to be from white metal (part 12) but the production version came in resin (part 22); there is a big X through the white metal part as indicated but the directions still give it as an option in Step 19.
Assembly follows a set format: floor plate to chassis, interior and cab elements, body, fenders, suspension, chassis details, front end, wheels, and external details. The doors are all separate parts; however, the transport compartment doors are one piece. They are seemingly thick, but then again these had partially insulated doors which were thicker than sheet metal ones so this is not a problem. There is a well-aligned seam in the center so they may be opened up with a few strokes of a razor saw or resin cutting tool (I have one from Show Modeling; it looks like a sickle with the sharp face of the blade pointing inward.)
However, the kit provides only a minimal interior in the transport compartment (e.g. the seats are folded up and only the side stretcher hooks are present; none of the hangers or lower racks are provided.) Creating one in 1/48th scale should not be too hard for the average modeler, as the stretchers are simple and the parts can be simulated with brass or styrene strip and rod.
There are few decisions made in producing this kit I could quibble with: the only major one, which appears to be done for the sake of sturdiness, is the solid white metal headlights. Since like many modelers I prefer to use MV Lenses or similar products, drilling these out to take a lens will be a bit tricky due to the small size.
One option is given in the finishing directions, and waterslide decals are included to match. The vehicle's finish is based on a preserved and restored vehicle which appears to represent a vehicle from headquarters, C company, 1st Battalion 33rd Armored Regiment, 2nd US Armored Division. It is missing the second "Delta" behind the 33 on the bumper codes, but the serial number is correct from the third batch of WC-54 ambulances ordered in 1942 in which more than 11,000 were built.
Overall this is a very nice little vehicle and the kit does it up right. I expect somebody will do some additional decal or markings sheets for it, especially for the USAAF and USAF units as well as Army units. For those modelers with a B-17 or B-24 kit who wanted to do up a diorama, this model should prove the catalyst to get them started! (Note: while this kit may seem expensive at first, the prices are proportional to the same factors in 1/35 scale for armor kits with a factor of about 2.5-3:1 for resin to plastic.)
Thanks to Dennis from Peolini Designs for the review sample. Available from Peolini Designs, Vierkerweg 42, 7532 RX Enschede, The Netherlands.