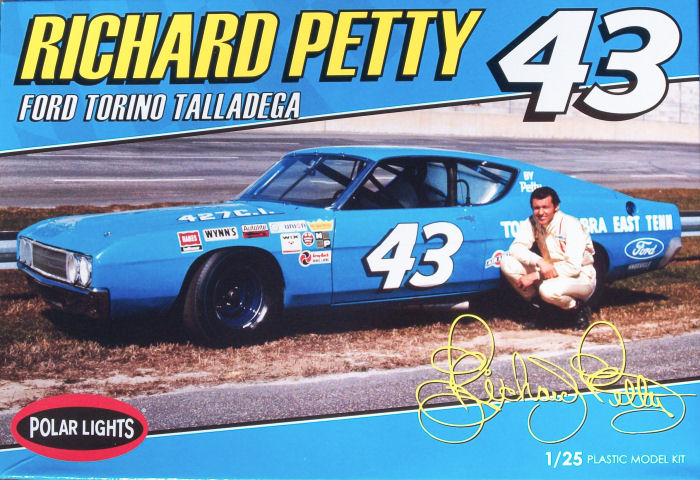 Polar Lights 1/25 Richard Petty Ford Torino Talladega Kit First Look
By Jeff Conrad, Front Range Auto Modelers (FRAM)
| | | | |
| --- | --- | --- | --- |
| Date of Review | December 2011 | Manufacturer | Polar Lights |
| Subject | Richard Petty Ford Torino Talladega | Scale | 1/25 |
| Kit Number | 896 | Primary Media | Styrene |
| Pros | Nice kit | Cons | See text |
| Skill Level | Basic | MSRP (USD) | $28.95 |
First Look
Late in 1968, Plymouth didn't have much in the way of new technology (new car models) or in aerodynamic performance improvements to offer Richard Petty for 1969. Dodge was developing the Charger 500, an improved aero version of the standard Charger model, and Petty wanted to drive one for 1969. When Chrysler refused his request, Ford stepped up and offered Richard the chance to drive their new aero car, the Torino Talladega. The new Talladega was created by using the longer front fenders of the Mercury Montego and a flush front grill, creating a tight, aerodynamic long nosed version of the regular Torino model. Creative rocker panel changes allowed the front of the car to sit even lower to the ground so that, when combined with a raised rear end, it created a wind cheating aerodynamic wedge capable of reaching 200 mph on NASCAR's superspeedways.
It didn't take long for Petty to score a win in his new nameplate, as his first race, the Motor Trend 500 at Riverside raceway, resulted in a win over A.J.Foyt . It wasn't until April at Martinsville though that his Crew Chief, Maurice Petty, mastered the new engines enough for Petty to pick up his second win. Overall Petty won 10 races for Ford in 1969 – ironically though none were on any of the superspeedways for which the Talladega was created to dominate. Not surprisingly Plymouth didn't fare well in 1969, and came to Richard to see what it would take to get him back in the Mopar camp for 1970. A Plymouth Superbird and an agreement that made Petty enterprises the exclusive distributor of all Mopar racing parts was all it took!
Scale: 1:25
Skill Level: None given
Assembly: Glue
Paint: Required
Molded in: White and clear styrene and black vinyl
Decals: Waterslide
This kit consists of 127 parts and includes a chromed tree of 19 parts. The kit includes all the parts to build 2 different engines – the FE 427 and the Boss 429. Both engines share the same transmission as well as fan belts, carburetor, fuel pump and coil, so you'll need to source these from your parts box if you choose to use the extra engine in another project. One note – to be completely accurate both breather caps (part #97) should be mounted on the driver's side valve cover, rather than one on each side. (If the cars were configured that way the centrifugal force from high speed left turns would force most of the oil out of the block before the race was over.)
The chassis and roll cage are nicely detailed and are excellent representations of the typical 1960's era Ford stock car chassis, so if you've build a stock car model before it should all look familiar to you. As per the norm none of the plumbing or wiring is present in the kit, so this is very fertile ground for super detailing. Molding and detail on the chassis is pretty good and the tires are serviceable – though hyper detailers may want to replace them with some aftermarket units. The interior and roll cage are well designed and pose no assembly problems. I recommend the builder check clearances between the body and the roll cage, front firewall and rear chassis panel to insure that the body will sit at the proper (very low) height.
The only flaw with this kit – and it's a sizeable one – is with the orientation of the front fenders. When looked at from the side, the fenders have a significant warp upwards at the top of the front wheel arch. This is clearly wrong, as the entire purpose of the real car was to create a race car with a very low nose – down in the weeds in fact. Fortunately this is a simple fix – one way is to dip the front of the body in hot water and carefully bend the nose down again to straighten it out. You'll need to bend the hood slightly as well to make sure it matches up with the fenders again. Rounding out this nice kit is the decal sheet, which is nicely printed and registered. Very little carrier film is present, and polar Lights has given us some extra decals to work with, including both engine displacement markings, a wide array of contingency decals for the fenders and a pair of "7Up The Uncola" markings. Each Talladega was different, and each race often saw different markings on the driver's car, so these extra decals are very much welcome.
Originally released in the late 1990s this kit still looks a good today as it did back then. Polar Lights has captured the distinctive look of this iconic race car so important to the aero wars period of NASCAR history. As I mentioned before, each team's Talladega was different, from chassis configurations, roll cage orientations and especially markings as driver would pick up different sponsors on and off during the season, so research is essential to create an accurate car for a particular car during the season – but with this kit you have nearly all you need to create not only Richard Petty's rides during 1969 but many other drivers as well when paired with aftermarket decals. This kit will make a great addition to anyone's NASCAR model collection - highly recommended!
My sincere thanks to Round 2 Models for this review sample!