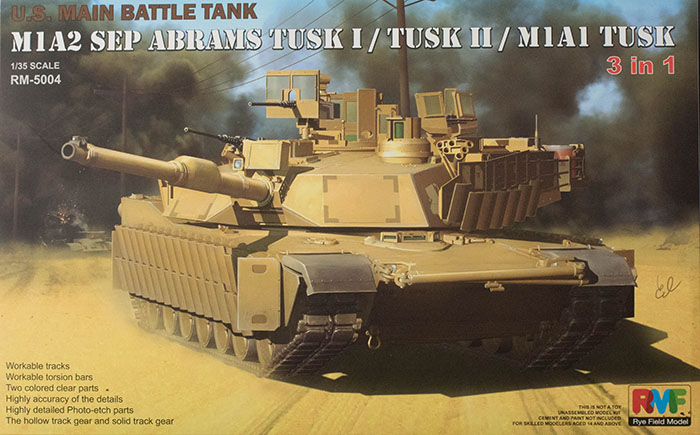 Rye Field Model 1/35 M1A1 TUSK/M1A2 SEP TUSK I/TUSK II Kit First Look
| | | | |
| --- | --- | --- | --- |
| Date of Review | September 2016 | Manufacturer | Rye Field Model |
| Subject | M1A1 TUSK/M1A2 SEP TUSK I/TUSK II | Scale | 1/35 |
| Kit Number | 5004 | Primary Media | Styrene, Photo-Etch |
| Pros | New tooling | Cons | See text |
| Skill Level | Experienced | MSRP (USD) | $75.00 |
First Look
The M1A2 Abrams program incorporated improved frontal armor protection, improved mission electronics on a digital data bus, and implementation of the independent thermal sight (ITS) (M1A1s had the mount in place but was never used until the M1A2 upgrade). While 77 new-build M1A2s rolled off the production line, most were upgrades for remanufactured Abrams. The next round of improvements came as the System Enhancement Package (SEP) which added navigation and situational awareness. The additional mission electronics required improvements to the cooling system, both of which increased the electrical load on the tank. In order to operate the tank without the main engine operating constantly, an auxiliary power unit was added to the rear turret basket.
Further enhancements came with SEP v2 (version 2) which added improved mission electronics, improved transmision, and the capability to install the Common Remotely Operated Weapons Station (CROWS). The external APU was supposed to be relocated inside the hull but the APU was replaced by batteries which provided extended power with the engine shut down. SEP v3 is underway which replaces the batteries with a diesel generator in the hull and additional mission system updates.
In parallel with the tank systems improvements, combat experience with the Abrams in urban counter-insurgency missions dictated that the tank needed effective side, rear, and underside protection from anti-tank weapons and improvised explosive devices (IEDs). The Tactical Urban Survival Kit (TUSK) was developed to protect tank and crew from urban insurgent threats. These improvements included explosive blocks added to the side skirts and turret sides, slat armor added to the rear, SAG-type shields for the loader's and tank commander's hatches, and a call box on the right rear of the hull so ground troops could communicate directly with the tank crew. In addition, V-shaped 'boat-hull' armor could be attached to the underside of the tank for blast-wave protection from IEDs. TUSK II introduced a curved explosive block in place of the flat explosive blocks used with TUSK I.
This is a great time to be a scale modeler. After years of neglect, we suddenly have a number of options for a truly modern M1A1/M1A2 Abrams with all (or at least most) of the improvements. A new company (to me) called Rye Field Models (their logo is RMF) released two new-tooled kits, a 1/35 Tiger and this 1/35 Abrams. Since I've seen enough Tiger kits in any scale, I wanted to take a closer look at this Abrams to see how it compares to the recent SEP v2/TUSK/TUSK II releases from Meng, Rye Field Model, and etc.
The kit is molded in tan styrene and presented on 13 parts trees (duplicates not shown) plus one tree of clear parts, 11 trees of gray parts, one tree of clear green parts, and one fret of photo-etched parts.
Among the features and options presented in this kit:
'Long' turret with anti-slip surfaces molded into the top surfaces
Lower hull with no holes for motorization
Upper hull with anti-slip surfaces molded into the top surfaces (appears to be in the correct areas)
Options to build M1A1 AIM TUSK, M1A2 SEP v2 TUSK I or TUSK II versions
Road wheel hubs are hollow with clear caps
Optional boat hull ventral armor plate
Choice of TUSK I or TUSK II side skirts
Positionable doors for gunner's thermal sight
Optional coaxial M2 machine gun over main gun
Choice of M1A1 or M1A2 commander's cupola/hatch
Optional commander and gunner gun shields over hatches
Choice of APU (M1A1) or VCU (M1A2 SEP V2) in turret basket
Optional stowed tow bars
Optional drink coolers and ammo stowage
Color profiles and decals for three subjects are included:
M1A1 TUSK, 1st Bn, 35th Armored Regt
M1A2 TUSK I, 68th Armored Regt, 1st Bde, 4th ID, US Army, Iraq
M1A2 TUSK II, 1st Bn, 22nd Inf Regt, 1st Bde, 4th ID, US Army, Iraq, 2008
The instructions show how to build the tank up with the TUSK kits but you can build this model without TUSK as the parts are there as well. Some missing items from the TUSK upgrade include no engine exhaust deflector, no CROWS II, and a few other details. Each track link is six pieces (with hollow guide horns) which is workable (if you're careful with the glue) and the kit includes a jig to build up the track assemblies.
If you follow the Abrams reviews online, one source that is useful is from Vodnik (you can find his notes via Google) and he has provided in-depth notes on earlier Abrams kits. You can see his thoughts on the various new SEP v2 and TUSK I/II Abrams kits to help you with the details.
Rye Field Models has also announced another version of this kit with a full interior which will be a first on the market but I doubt that this will be the only kit with such options.
While I'm glad I've acquired one of these kits, I'm not thrilled with the price. The MSRP of this kit is $75 USD while the Meng kit is $72 USD. Vodnik has said that Meng and RFM have unforunately emulated some details from the latest Tamiya version ($92 USD) while the Rye Field Model kit ($59 USD) is the most accurate among the current offerings. As I said in the beginning, it is a great time to be an Abrams modeler as we finally have some choices.