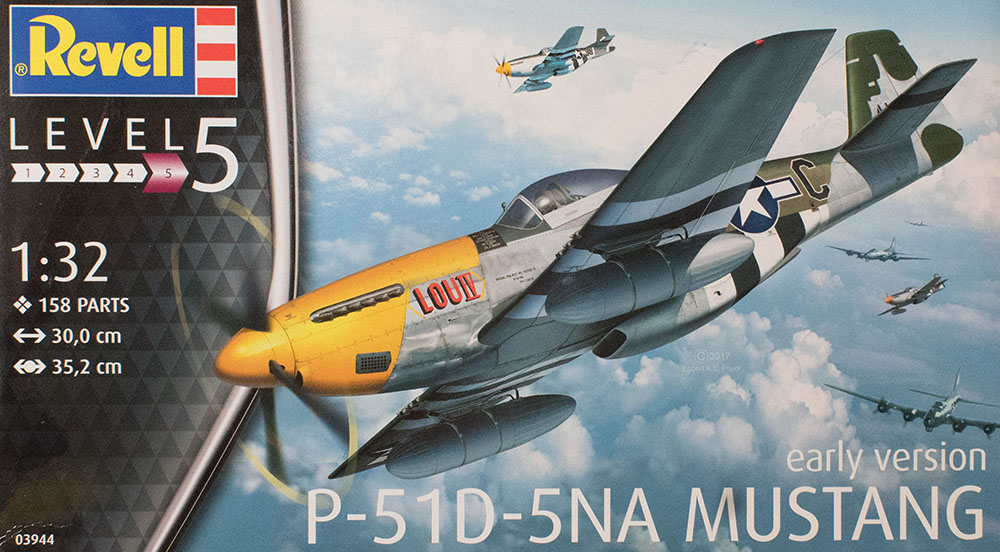 Revell 1/32 P-51D-5-NA Mustang Kit First Look
| | | | |
| --- | --- | --- | --- |
| Date of Review | April 2018 | Manufacturer | Revell |
| Subject | P-51D-5-NA Mustang | Scale | 1/32 |
| Kit Number | 3944 | Primary Media | Styrene |
| Pros | Lots of details | Cons | See text |
| Skill Level | Experienced | MSRP (USD) | $30.00 |
First Look
North American's Mustang fighter was a huge success once the Allison engine of the early Mustangs was replaced by the license-built Packard Merlin. The P-51B/C Mustangs were a formidable threat to the Luftwaffe. Like most fighters of the early war, the P-51B/C had the standard hood design of the day which was more of a greenhouse type that was streamlined into the rear fuselage. Aerodynamically, this wasn't a bad thing, but combat experience with this type of cockpit enclosure revealed a fatal rear aspect blind spot. The Americans, British, and Germans all set to work on the problem.
North American addressed this visibility issue with the next version of the Mustang, the P-51D. The rear fuselage was cut down and the canopy enclosure replaced with a teardrop canopy. Additional improvements included the addition of two more 50 caliber machine guns, bringing up the total to six, additional fuel tanks, and a new gunsight.
The P-51D became the principal fighter for the US Army Air Force and could hold its own against the Luftwaffe until the advent of the next generation of Luftwaffe fighters including the Ta 152, Me 262, etc. Even then, the Mustangs (and other allied types) outnumbered what was left of the Luftwaffe and retained air superiority over the continent. The P-51 was the first fighter that had sufficient range (with external tanks) to escort bombers all the way to Berlin and back.
Revell AG (Revell/Germany) released this kit late last year as a completely new-tooled model of this famous fighter. On the cover of the instructions, Revell/Germany rightly identify themselves as a subsidiary of Hobbico, but that was then. Early this year, Hobbico filed for bankruptcy protection and in April, the company was broken up and sold at auction. Revell/Germany, Revell USA, and Revell Global were all purchased by a German-based international investment group. The company we knew as Revell USA is now closed and its assets are part of Revell/Germany. Since there are no further distinctions required, Revell/Germany is now simply Revell. Because of the bankruptcy issues earlier this year, many of the kits from Revell/Germany didn't make it over the US, and in the case of this P-51, a few made it over, but nowhere near the demand for this kit. Once Revell is ramped back up as a unified model company, we'll no-doubt see more of this release reappear on store shelves.
What's noteworthy about this kit, Revell stepped up to create their own version of the ultimate 1/32 P-51. While they already had a 1/32 P-51D among their molds from the old Monogram kit, Revell decided that it was time to put a modern take on this subject. I've heard a number of folks ask why Revell would release a 1/32 P-51D after Tamiya and Zoukei-Mura have released detailed kits of the subject (relatively) recently? The answer is simple, why does nearly every model company have one or more Bf 109 kits in their catalog? Okay, answering a question with a question is not right, but there are simply subjects that are essential to every model company. The P-51 is one of those subjects. Trumpeter has several, including in 1/32, as does DML. But with the Tamiya and Z-M kits doing very nicely, what does the Revell kit bring to the table? Let's take a look:
Molded in light gray styrene, this kit presented on nine parts trees, plus two trees of clear parts. The engineering of this kit is quite interesting as they've made key portions of the model modular which hints at other versions coming in our future. More on this later. What is different out of the gate is that this kit is the first of the new tools to replicate the early P-51D, the block 5 without the distinctive vertical stabilizer fillet of the later blocks. This opens the door to some famous subjects that previously required removal of that fillet on other kits to render.
Among the features and options in this kit:
Very nicely done color-printed instructions with inline painting instructions for parts/subassemblies
Very detailed cockpit
Choice of pilot's seats
Choice of instrument panel comings
Separately molded sidewall structural framing with separately molded details
Positionable canopy
Positionable landing gear
Choice of three cowling vents provided (check your references)
Accurately rendered main wheel wells
Positionable radiator flaps
Positionable landing flaps
Positionable ailerons
Positionable elevators
Positionable rudder
External stores options include:
2 x metal external fuel tanks
2 x paper external fuel tanks
2 x bombs
Markings are provided for two aircraft:
P-51D-5-NA, 44-13410, 375 FS/361 FG, Bottisham, UK, 1944, 'Lou IV/Atheline', as flown by the CO of 361 FG Colonel Thomas Christian Jr.
P-51D-5-NA, 44-13714, 363 FS/357 FG, Leiston, UK, 1944, 'Desert Rat', as flown by Capt Herschel Pascoe
The decals were designed by Roy Sutherland of Barracuda Studios and the sheet includes a set of his cockpit placards.
Notes:
The separately molded tail section and three cowl vent options hint at the later P-51D and perhaps P-51K with the addition of propeller and canopies added to the kit.
The instructions indicate that a number of holes in the underside of the wing require filling for this version, also hinting at later-block, rocket-armed options.
You might consider some aftermarket pilot restraints as none are portrayed in the kit.
One surprise in this kit is the amount of mold flash I found on some of the parts trees. The least bit of flash will cause fit problems, so you'll need to take extra time working with each part and doing dry-fitting of parts to ensure a smooth build. You'll also note that some of the exterior surfaces have a slight texture to them usually found in kits from new model companies. If you're doing a bare metal 'Lou IV' or other subject, you'll need to buff out that texture. Fortunately it isn't on all of the surfaces.
Speaking of 'Lou IV', the decals provided replicate the variety of images taken of this aircraft after D-Day, after the upper D-Day stripes were painted over. Lou IV has been the subject of many debates on whether the aircraft was painted green or blue on the upper surfaces. Barracuda Studios provides the decals and color profiles assuming green markings while Dana Bell (formerly of the National Air and Space Museum) has quoted a variety of witnesses who saw Lou IV with blue. One option you have (not covered by the instructions) is to render Lou IV prior to June 6th, still wearing the yellow nose on bare metal and carrying only the theater-standard single black wing/horizontal stabilizer bands. You can avoid the green/blue debate entirely!
This is indeed a nice-looking model and one that will look great straight out of the box (more or less). While there are a variety of aftermarket sets available for this kit available, I think you'll enjoy this model without all of the photo-etch hassles (except for pilot restraints).