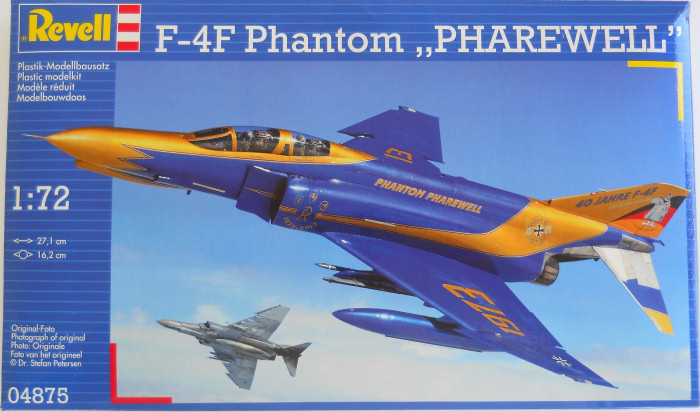 Revell 1/72 F-4F Phantom 'Pharewell' Kit First Look
| | | | |
| --- | --- | --- | --- |
| Date of Review | August 2014 | Manufacturer | Revell Germany |
| Subject | F-4F Phantom 'Pharewell' | Scale | 1/72 |
| Kit Number | 4875 | Primary Media | Styrene |
| Pros | Finely detailed cockpit | Cons | Old 1997 tool, some flash |
| Skill Level | Experienced | MSRP (USD) | $33.00 |
First Look
With the 'Phantom Pharewell' held at Wittmund air base on June 29, 2013, an era of German military aviation came to an end – an era, which had begun on May 18, 1973, with the first flight of the F-4F 37+01, serial 72-1111. Six days later on May 24, high-ranking officials including General Gunther Rall, Chief of Staff of the Luftwaffe, attended the official rollout of the aircraft in St. Louis, Missouri. Phantom 37+01 was the first F-4F completely built in the USA – All other 174 aircraft were assembled in St. Louis from parts that had been produced in Germany. The official inauguration took place with the handover of 37+01 to Feldwerth F-4 Schleuse at Jever on July 26, 1974. After thorough inspection and testing, the aircraft was operated by JaboG (re-designated JG 72 in 1993) at Rheine-Hopsten from November 3, 1975, to May 30, 2001.
In 1980, this particular Phantom underwent its first combat efficiency upgrade as part of the so-called 'Peace Rhein' program and a second upgrade in 2000 to KWS-LV standards . On May 31, 2001, the 37+01 became part of JG 74 'Molders' and was returned to Fluglehrzentrum F-4F (former JG 72) in Hopsten on December 20, 2005. With the disbandment of the successor of JG 72, 37+01 found its way back to JG 74 in Neuburg where the aircraft stayed until the first Eurofighter/Typhoons arrived in Bavaria in the summer of 2008. Since then , the first Luftwaffe Phantom had been part of Jagdgeschwader 71 'Richthofen', located in Eastern Friesland, Northern Germany. With about 7,400 flight hours MacAir ship 4330, serial 72-1111 and German tactical code 37+01 retired as a gate-guard at Wittmund air base's main gate in 2013.
The original tool for this subject dates back to 1965, since then it's been reboxed and marketed in different variants to include the German F-4F version. In 1997 Revell AG created a new tool then new parts for the F-4F version was created in 2000.
The kits parts are molded in dark blue plastic consisting of large sprues of parts and one separately bagged canopy parts. Fine recessed surface detail and the quality of the tooling is very good for a 18 year old tool. The cockpit instrument panels are well represented has some very fine details and no photo-etch or resin upgrades are recommended. The Martin-Baker Mk. H7 ejections seat are well represented and has the seat belt molded in. Detail for the rest of the kit is comprised of fine, crisp panel lines and delicate, recessed rivets that help to capture the lines and tough character of the Phantom II. There is a little flash present here and there, but that should only take a few minutes to clean up.
The fuselage is split into four parts; left and right halves, with a front/rear split just aft of the cockpit. The font undercarriage bay must be fitted into the front fuselage section before the two halves can be joined together. In common with other kits of the Phantom II, the lower wing is molded in one piece. The slatted outer wings of the F-4F are molded separately.
The intakes and splitter are nicely represented. The undercarriage is very nicely detailed, and the tires have nice, subtle bulges. Ordnance comprises of a full load out of AIM-9Ls and AIM-120 AMRAAMs, as well as three fuel tanks and an optional ALQ 119 ECM pod. The clear parts look fine, and are bagged separately for protection. As mentioned earlier, the canopy is divided into four parts so it can be posed open.
This kit offers the very nice Phantom Pharewell paint scheme researched and designed by Wingman Models. Semi-gloss gold finish special markings along with cockpit instrument and side panel decals and the Low Voltage formation light strips.