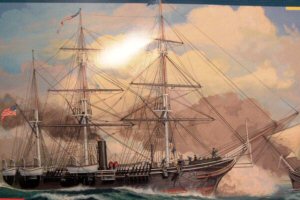 Revell 1/96 USS Kearsarge Kit First Look
| | | | |
| --- | --- | --- | --- |
| Date of Review | March 2005 | Manufacturer | Revell |
| Subject | USS Kearsarge | Scale | 1/96 |
| Kit Number | 5603 | Primary Media | Styrene |
| Pros | Relatively clean redo of the original kit from 1961, now provides double figure set and two kinds of chain | Cons | Some modelers will balk at paying 1200% markup over 1961 prices (BUT beats the eBay alternative!); new instructions are awful in regards to painting |
| Skill Level | Basic | MSRP (USD) | $89.99 |
First Look
I can recall the circumstances surrounding getting several very big and very unique Revell kits when I was a kid. I got the CSS Alabama as a reward for spending an entire Sunday cleaning up after a fire in a department store, and got the "coffee can" Space Station for moving from elementary school to junior high in 1960. The USS Kearsarge was one I did not get so lightly, and after finding one at the local department store (where as family we got a 33% discount on toys and models) I decided to earn the money for it.
My grandmother was more or less a "soft touch" and would give us small jobs to do around her house for a few bucks, but my grandfather was Alsatian German and would not put up with anything short of a full day's work. It took me a good six weeks to earn enough to buy the last remaining Kearsarge for a then princely sum of $6.65 so I was thrilled the day I got it. I put it together over the rest of the summer, but alas, the next year I dropped it and could never get it to look quite the same. After stripping off all of the "good bits" it went down in a local pond under a hailstorm of fire from a Daisy Model 111. I still have a few of them even after 42 years.
Needless to say I remember this kit fondly, and was delighted when Revell re-released the Alabama . But shortly thereafter, the word went out on numerous websites that the Kearsarge would not be joining it. Even the unofficial Revell biography ("Remembering Revell Model Kits" by Thomas Graham, Schiffer Publishing 2002) notes that in 1962 the same molds were used. But others indicated that the Kearsarge molds were modified to create the Alabama kit (and the reworking tooling can still be seen if you look closely inside the hull) and thus the Kearsarge was no more. As a result, prices for an unbuilt Kearsarge skyrocketed over the years, with some kits demanding well over $300 on the Internet. Even one half-build and rather gluey mess I saw about a year ago in a hobby shop went on consignment for $95.
Happily, Revell of Germany has now solved the problem and re-released the Kearsarge. I have heard several stories as to how they did this (one being they duplicated and then re-re-cut the Alabama molds, so there is now a set of each one in existence) but the result is the same, and other than some flash on this kit it looks very much the same as the original.
Now there are some differences to this kit, such as the fact that the number of parts and colors of plastic have changed and the hull no longer comes pre-coppered. Whereas the original kit came in four colors – black for the hull and metal work items (e.g. guns, anchors and stacks), white figures and mast details, reddish brown wooden parts, and a yellowish tan color for the decks and boat details, now it comes with only the hull halves in black, the figures in white, and the rest in the reddish brown color styrene. Also, the directions have been redone (were the originals lost?) in the rather insipid "point and stick" style of all other Revellogram kits, one thing I have never found very impressive. (One thing Revell seems to have forgotten is that many of us learned the basics of machines from their directions as all parts were called out by number AND name –makes it easy to remember which is the main, mizzen and foremast, and which yards are which. Very helpful when you're 13 and a lot more when you're 56!)
The parts come oddly bagged, with the hull haves doubled bagged in a separate insert that fits into a diagonal shelf inside the box. (Which is about 15 x 36 x 5, not a small object!) The rest of the parts are below the insert and all but the former yellow tan parts are in one big bag; those parts (e.g. the decks, boat floors, and some upper masts and yards) are in a separate bag inside the big bag. The thread and ratlines, as well as the two types of chain, are inside another separate bag.
I had forgotten how much different from the Alabama this kit was. Alabama's parts breakdown looked like this: 653 parts (2 in black styrene, 20 in creme styrene, 41 in white styrene, 570 in dark grey styrene, 10 vacuformed off-white sails, 6 pre-formed ratlines/shrouds, 1 section coarse brass chain, 1 section fine brass chain, 1 spool black cotton thread, 1 spool tan cotton thread, paper flag sheet. Revelll of Germany have faithfully fixed all of the changes, and the extra boats, foredeck, ladders, four-bladed screw, upper masts and yards, and foredeck gun are all back. Some have some more flash that perhaps they did back in 1961, but the kit is all there and looks good.
But overall the instructions are the kit's weak spot, as they are very hard to read and find the color flags for the various parts of the ship, and that lets it down. The boxtop art appears correct for the Civil War paint job on the ship (and matches the 1961 version of the kit) but the ones in this kit appear to be from a later date. Admittedly, at least one website notes the Kearsarge kit was done