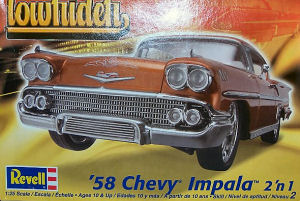 Revell 1/24 1958 Impala 2 in 1 Kit First Look
| | | | |
| --- | --- | --- | --- |
| Date of Review | July 2008 | Manufacturer | Revell |
| Subject | 1958 Impala 2 in 1 | Scale | 1/25 |
| Kit Number | 2073 | Primary Media | Styrene |
| Pros | Separately molded chrome trim – you'll only need one sheet of Bare Metal Foil! Plus an opening trunk and extra parts for a low rider or semi-custom. (Does that actually make it a 3 in 1?) | Cons | Non-steering front wheels and non-opening doors |
| Skill Level | Intermediate | MSRP (USD) | $19.99 |
First Look
In a model year in which every make but economy-minded Ram­bler lost ground, Chevy slipped the least relative to its '57 sales performance. As a result, it added more than 4.5 percentage points to its market share and returned to first place in the industry the year after a very rare runner-up finish to Ford.
Of course, it mattered immensely in the high-volume low-price field that the '58 Chevy was all-new, while rivals Ford and Plymouth were updates of their '57 models. (Motor Trend reported that General Motors devoted nearly a quarter-million dollars to the car's development.) The 1.2 million new Chev­rolets on the road that year were drastically changed from their cel­ebrated predecessors, bigger and heav­ier cars with fresh engineering and even new names.
Stylistically, they were one-year wonders, their look swept away in GM's frenzy for fins in 1959. But, led by the social-climbing Impala -- itself a totally new type of Chevy -- the '58s started the division on the road upmarket to solid sales success in the Sixties. (From Howstuffworks.com)
AMT began to produce a 58 Chevrolet in the early 60s and it was re-released numerous &times. It was a fairly sophisticated kit with opening doors and working steering. It built up into a very presentable kit—as long as you didn't spending hours with Bare Metal Foil. Many would have said we didn't need another one…
But Revell did and I think they hit a home run. It's a 2 in 1 kit, that can be built as a Lowrider or a stock Impala. It was originally engineered as a die cast, so some of it is unusual, such as the chrome trim which has locating pins which extend through the body. The parts count is phenomenal—there are a total of 6 chrome trees. There are period correct accessories such as a continental kit and fenderskirts--I don't know if these fenderskirts are OEM or aftermarket, but I have seen pictures of several 1:1s with fenderskirts in the exact same style.
Engine: The engine depicted in this kit was brand new for '58— a W head 348 cubic inch V8 with tri-power. Chevy had introduced its small block V8 only 3 years earlier, now it had another V8 nearly 100 cubic inches larger, and with 3-2 bbl carburetors, no less! There are over 20 pieces to this engine, including an extra set of chrome, ribbed valve covers. The carburetors are molded in one piece with a fuel line running to them. You have a choice of 3 small, chrome air cleaners or one huge "factory like" air cleaner—also in chrome. The transmission depicted appears to be a 3 speed manual.
Chassis: The chassis, is, in some ways, less sophisticated than that AMT kit, in that the front wheels are not steerable. The front suspension is one piece and does not include separate springs. The rear axle is one piece and includes separate springs and shock absorbers. Why they call this kit a lowrider is beyond me—there are no suspension options, other than where you put the axle pins in the front. The dual exhausts are molded in one piece (separate from the chassis) and include metal exhaust tips. Included is a radiator, complete with something that is often forgotten, a radiator shroud.
Interior: &&The interior is a platform style that builds atop a separate interior plate. This is much more realistic than a separate interior tub, allowing for a more accurate "depth" of the seats and door panels. Speaking of the door panels, they are highly detailed and include front and rear armrests which appear to be in scale. And a big plus in interior details comes from the decals, which include white and silver inserts for the seats and numerous decals for the dashboard.
Glass: The kit includes a separate windshield and backlight and also includes separate clear headlights.
Tires/wheels: There are two set of tires and wheels. First up is set of Firestone bias plies with wide-whitewall inserts. Those fit the OEM hubcaps and are very in-character for the upmarket Impala. Second is a set of rubber band tires which fit what looks to be a set of 22" aftermarket wheels. Personally, I wouldn't use them on this model, but to each his own.
Body: Not only does the hood open on this kit, the trunk does too. Undoubtedly this is so you can show off the batteries and oversized speakers that are included for the lowrider (but are not referred to in the instructions). Probably the best feature of this kit, which is a big improvement over the AMT kit is the body's chrome trim. Remember all that BMF you had to lay down to get an authentic looking AMT 58 Impala? Well, Revell has taken a lot of that tedious work away by including most of the body moldings on the numerous chrome trees.& And they have positive mounting points on the body; you just need to be careful in removing them from the trees as some appear to be fairly delicate.
One thing which you have to fiddle with to look more accurate is the spare tire carrier. On the 1:1 it hangs down below the passenger's side rear quarter panel. However, on the model, it hangs down too far. I am solving this by sanding the trunk insert on the spare tire side so the spare tire carrier doesn't hang down as much. I've also cut off the trunk piece of the interior insert, again, to lessen the amount the spare tire carrier hangs down below the fender.
Decals: In addition to the seat inserts and dash instrumentation, the decals include centers for the OEM hubcaps, V's for the hood and trunk, Chevrolet scripts, Impala symbols, a set of flames (in white), and three license plates, including one yellow letter black background California version.
This is a great kit! Thanks Revell! Our club is doing a "club build" of the 58 Impala in August. I should be able to do a follow up with building impressions at that time.