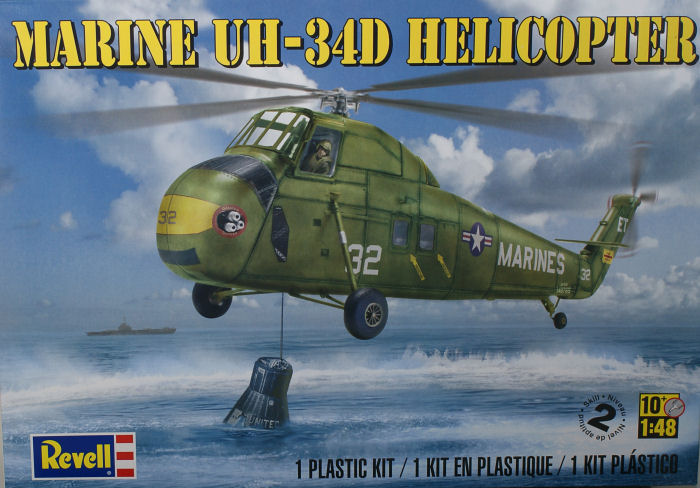 Revell 1/48 UH-34D Seahorse Kit First Look
| | | | |
| --- | --- | --- | --- |
| Date of Review | October 2012 | Manufacturer | Revell |
| Subject | UH-34D Seahorse | Scale | 1/48 |
| Kit Number | 5323 | Primary Media | Styrene |
| Pros | Back on the market after long absence | Cons | See text |
| Skill Level | Experienced | MSRP (USD) | $19.95 |
First Look
The H-34 was one of Sikorsky's most popular helicopters ever produced (next to the Blackhawk). The aircraft first flew in March 1954 and entered service with the US Army as the CH-34 Choctaw, the US Navy as the H-34 Seabat, the US Marines as the H-34 Seahorse and even into the US Coast Guard. The USAF acquired only a few H-34s to serve as an interim rescue aircraft well after Sikorsky production ended, and these were only retained a few years.
In addition to US military service, the H-34 was exported to numerous military branches around the world, and its civilian version, the S-58 saw global commercial service as well. By the time production ceased in early 1970, over 1,800 examples had been built.
The aircraft was typically powered by a Wright R1820 radial engine of 1,525 horsepower, and many were later re-engined with a turbine pack rated at 1,550 shp.
The aircraft was employed in a wide range of missions from passenger service, troop transport, medevac, supply, vertep, and more. The aircraft was rugged, versatile and adaptable for duty in a wide range of environmental and operational conditions.
For many years, the Revell 1/48 H-34 kit has been a much-sought-after subject as it has been out of production and gaining value on the collector's market. A little over six years ago, I had the privilege to obtain one of the last releases of the Revell H-34 from Fotios Rouch's collection, and that kit was released back in 1988 (the scary part is that 1988 doesn't seem that long ago - sigh...). Over the last ten years, many folks including myself have pulsed Revell about when they might re-issue this kit and the response was always the same - the tooling was either damaged or lost.
So imagine our surprise when Revell announced the release of an H-34 in 1/48 scale several months ago, shortly after Italeri announced their own first installment in the H-34 series. To make it even more interesting, the announced retail price from Revell was to be half of the Italeri kit. To complicate things further, Gallery Models announced their own H-34 in 1/48 scale and you know that Sherman Collings is behind this one, so it is going to be good though somewhat more expensive than the other two kits.
I recall reading some inputs from one of the online chat rooms that they'd seen test shots of this Revell 1/48 H-34 and it was new tool so of course we had to take a look. New tool? Not even close. Let's take a closer look:
The kit is molded on light gray styrene and presented on three parts trees plus a tree of clear parts. If you see four gray trees in these images, the largest tree was cut into two sections so it would fit in a smaller box than the original releases.
In this next set of images, the sprue trees out of the old Revell AG kit from 1988 are on the left side and the new sprues are on the right. You can see for yourself that with the exception of the parts that have fallen off of the old sprue trees, these kits are identical right down to the identification numbers. There is one difference and that is on the clear sprue - there are three new parts added to the existing sprue, but that is it.
Profiles and markings are included for two examples:
UH-34D, 148765, HMM-262, ET/32, USMC, aircraft used to attempt recovery of Gus Grissom's Mercury spacecraft, 1961
UH-34D, 148772, HMM-262, ET/37, USMC
The decal sheet has markings for both examples as well as the dorsal walkway and the engine grilles.
For someone that is looking for an inexpensive or nostalgic project, this kit is a great choice. However now that I've built the Italeri Wessex and I can see how outdated the Revell kit is by comparison, it is almost like having Aurora reissue their 1/48 (sort of) A-7 Corsair II to compete against Hasegawa's outstanding SLUF. Does that sound a little harsh? What would need to be done to bring this kit up-to-date?
Update the flight deck, especially those awful crew seats and add the missing details
Install a ceiling in the main cabin
Lose the sofas in the main cabin and replace with sling seating
Replace the decal grilles around the main rotor mast with open grilles and put a transmission down inside
Replace the decal grilles around the engine bay with photo-etched (or other) open grilles
Scribe the panel lines
Bow the main rotor blades
Of course the Wessex HU.5 was turbine-powered where the UH-34D is powered by an air-cooled radial engine that needs lots of open grillwork to stay cool. On the Revell kit this is replicated by decals. The Italeri kit is supposed to be photo-etch. The Gallery Models kit is supposed to be impressive.
I must say that I'm conflicted regarding the reissue of this kit. I'll be building one of these kits for fun, but I'll definitely be waiting for the next two H-34 kits to come along as we'll finally have some good options for a good scale model of this aircraft.
If Revell had reissued this kit ten years ago, there'd be lots of happy modelers out there including this one, but not so much now...
For a look at this kit built-up, look here.
References: