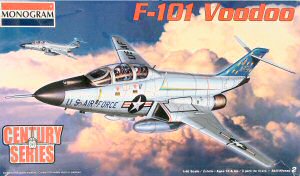 Monogram 1/48 F-101B Voodoo Kit First Look
| | | | |
| --- | --- | --- | --- |
| Date of Review | May 2007 | Manufacturer | Monogram |
| Subject | F-101B Voodoo | Scale | 1/48 |
| Kit Number | 5843 | Primary Media | Styrene |
| Pros | Best F-101 in any scale | Cons | |
| Skill Level | Basic | MSRP (USD) | Out of Production |
First Look
McDonnell Aircraft Corporation developed a new aircraft design in response to the USAAF's need for a high-speed bomber escort fighter. The resulting XF-88 had disappointing performance until the twin engines were fitted with afterburners. While the results were good, the program was cancelled. With the outbreak of the Korean War a year later in 1951, a new bomber escort fighter was requested and McDonnell submitted an enlarged XF-88. They won the competition and the aircraft was redesignated F-101 Voodoo.
The F-101 was a twin-engined fighter powered by the Pratt & Whitney J57 engine, the same powerplant that powered the Air Force's first supersonic fighter - the F-100 Super Sabre, as well as the Navy's first supersonic fighter, the F8U (F-8) Crusader. Unlike the Mach 1+ F-100, the F-101A fighter could reach Mach 2.25, with the F-101B interceptor capable of Mach 2.4.
The single-seat F-101A fighter was designed as a nuclear strike aircraft as a high-speed replacement for the F-84F Thunderstreak in Europe. When the F-101A was withdrawn from service in 1966, a number of them were converted into reconnaissance platforms - the RF-101G.
The F-101B was supposed to be an interim interceptor solution after it became apparent that Convair's F-102 Delta Dart was going to face extensive production delays. McDonnell added the more powerful J57-P-55 engines which resulted in the afterburner sections extending aft of the airframe by nearly eight feet, but the added thrust pushed the new interceptor to Mach 2.4. The nose was enlarged to house a two-place cockpit, an improved fire control radar, and a ground control intercept datalink. The aircraft was armed with four AIM-4 Falcon missiles and up to two Genie nuclear rockets in place of two of the Falcons.
As an Air Defense Command aircraft, the F-101B fortunately never fired a shot in anger, but it did continue its service as long as the aircraft that was supposed to replace it - the F-102. The only nation to operate the F-101 outside the US was Canada.
As I recall, Monogram first released this kit over 20 years ago. The current Revell brand (formerly Revell-Monogram) fortunately reissues this kit from time to time along with other members of their Century Series - the F-100D, F-102A, F-104C, F-104G, F-105D, F-105F, F-105G, and F-106A. Each of these kits are very detailed for their day and will still hold up nicely today. With the exception of the F-104s from Hasegawa, none of the other members of the Monogram Century Series have been superseded by more modern/better kits.
This kit is molded in light gray styrene and presented on four parts trees, plus a single tree of clear parts. As this is two-decades-old tooling, the panel lines are raised, not scribed, but this should not be a problem for most modelers.
I believe this is the first kit I remember building where the instructions have you assemble the fuselage before inserting the cockpit tub. This was also one of the first kits to come with intake trunking and engine faces.
The cockpit tub has both front and rear cockpits molded together. This kit comes with two nice ejection seats, a separate throttle (another advanced kit feature), pilot's control stick, radar operator's control stick, and two nice instrument panels. They even include the rear cockpit windscreen, a detail many kit companies leave out of many two-place jet aircraft kits.
Kit options include:
Optional crew figures
Positionable flaps
Positionable canopy
Positionable speed brakes
Rotating weapons bay with:

Two AIM-4 Falcons (GAR-1/GAR-2)
Two Genie rockets (AIR-2/MB-1)
External stores include:
As with other members of the Monogram Century Series, this kit is an easy build and is very detailed straight out of the box, even by today's standards.
Markings are provided for two aircraft:
F-101B-90-MC, 57-0320, 87 FIS, Lockbourne AFB OH
F-101B-105-MC, 58-0285, 136 FIS, NY ANG
This is still the only F-101B in 1/48th scale though it has been released by Revell, Monogram, and Revell-Monogram with different kit numbers and decal options. There is also an RF-101B produced by Monogram in 1/48, but that is all that has been done to date. Despite the kit's age, you're not compromising detail or fun with this project.