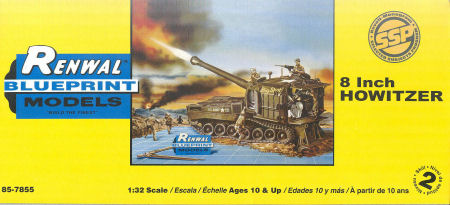 Revell 1/32 Renwal Blueprint Model 8 Inch Howitzer Kit First Look
| | | | |
| --- | --- | --- | --- |
| Date of Review | April 2011 | Manufacturer | Revell |
| Subject | Renwal Blueprint Model 8 Inch Howitzer | Scale | 1/32 |
| Kit Number | 7885 | Primary Media | 139 parts (133 in tan styrene, 2 black vinyl tracks) |
| Pros | Only kit of this vehicle ever produced in large scale plastic | Cons | Molding techniques are 50+ years old and show it |
| Skill Level | Basic | MSRP (USD) | $29.95 |
First Look
Back in the period right after WWII the US Army looked hard at its experience and decided it wanted most of its artillery to be armored and provided with overhead protection for future combat. Using the new vehicles coming on line as a basis (the M26 and M46 and their successor the M47) they began to work on a new series of fully armored artillery.
The first two pieces were the T97 armed with a lightweight 155mm gun and the T108 with a lightweight 8" (203mm) howitzer, designed to replace the serving M40 and M43 respectively. Prototypes appeared in 1952 and after only a few minor changes (elimination of the muzzle brake on each prototype) production orders were received for 30 T97 and 70 T108 guns, and these began to be built in late 1952. They were rushed and required a number of MWO (modification work orders) to be fully serviceable, but overall the production went well and more were produced until production ceased in 1955.
The 155mm was standardized as the M53 and the 8 inch as the M55, with both the US Army and USMC receiving them. The Army soon decided the 155 no longer met their needs, and converted theirs to M55 standard as needed. The Marines kept theirs and wound up using them in Vietnam.
The US Army soon developed a nuclear projectile for the M55 and as such eventually designed a nuclear fires delivery battalion for armored and mechanized divisions. This consisted of a battery of four M55 howitzers and two two-launcher Honest John tactical rocket launcher batteries to provide tactical nuclear weapons delivery. Both weapons went out of the inventory in the early 1960s (the HoJo was replaced by the much better Lance tactical missile, and the M55 by the lighter and more mobile M110 SP 203mm howitzer series)
In the late 1950s, as model companies were staking out their "turf" by scale, Renwal introduced an entire line of 1/32 scale "Blueprint" models to compete with 1/40 scale offerings from Revell and "3/8th Inch" (actually 1/35) kits from Monogram. These included an M50 Ontos, M41 Walker Bulldog, an M42 Twin 40mm Duster, an M47 Patton II, a HAWK missile launcher and radars, a Nike Ajax, a Lacrosse on a 2 ½ ton truck, the M51 75mm Skysweeper radar guided AA gun, an M62 five-ton wrecker, an M55 8 inch howitzer, and their top line model, the Atomic Cannon with transporters. (They later added a Mace missile on a Terracruzer launcher.) All were noted by using "invisible cement techniques" to hide assembly.
But as they were "children of the '50s" they emphasized working features over true scale and both parts and assemblies were simplified for easy assembly by kids. Even so, most of them had many working features such as suspensions, elevating and rotating guns, engine bays with engines, working spades and cranes, and the top feature – the turret crew of the M47 appeared out of their hatches when the gun barrel was depressed. Prices ranged from a dollar for the Ontos to a lofty $6.98 for the Atomic cannon, with the M55 coming in around $2.98.
As Revell-Monogram later bought Renwal's armor molds, they began re-releasing some of the kits in their SSP line. This kit was last released in 1982 according to the info on the hull belly plate.
The "Steam Shovel" (which is what the artillerymen of its day nicknamed it) has always been one of the most popular of the Renwal kits behind the Ontos.
Having no illusions about Renwal kits, this model did not disappoint. It is very much 1950s tech and that means hollow one-sided detail on most parts, shallow relief, and some really simplified parts. But at the end of the day, it does LOOK like an M55 and that is probably all that matters to most people.
There are some myths about both the vehicle and the kit. First off, as I noted in the history this weapon chassis was based on the M47 tank, NOT the M48. That translates to 23" T80E1 and T84E1 tracks, not the 28" tracks used on the M48. Apparently due to the scale difference a set of Tamiya M48 tracks will fit on this model, and while they will look marginally better they are not correct.
The model is 1/32 scale (with some deviations) and is way too big when placed up next to true 1/35 scale models.
What you do get is not bad, given its age, and with careful assembly and acceptance of the limited details it can be made into a nice model. But for reasons best known to themselves Revell-Monogram provides it with two sets of markings, white for an OD version and black for a four-color camouflaged one. Both only have stars and the curious "580" number (the box art uses the original Renwal kit number, 551, as a "serial" on it.) The actual guns did have some attractive schemes, and when I finally get around to building a 1/35 scale one (!) I plan to mark it as C Battery, 1/73 Field Artillery, 3rd Armored Division, Germany 1959. This has large red and white markings, a name, and black and yellow warning markings on the spade.
Overall this is a model that is what it is. Build it and enjoy it for that, as it takes a LOT of work to get it to look like a true scale model.
Sprue Layout:
51 Wheel pins, doors, muzzle brake, roof details
16 Outer road wheels, inner drivers
30 Inner road wheels, return rollers, gun barrel
20 Gun breech, shell hoist, road wheel arms
1 Upper hull
2 Lower hull, turret shell
1 Turret base
9 Crew, turret rear face
2 Lower hull sides
7 Spade, turret sides, rammer
2 Black vinyl track runs