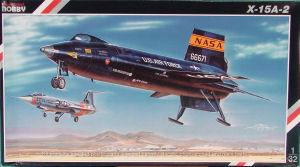 Special Hobby 1/32 X-15A-2 Kit First Look
| | | | |
| --- | --- | --- | --- |
| Date of Review | September 2007 | Manufacturer | Special Hobby |
| Subject | North American X-15A-2 | Scale | 1/32 |
| Kit Number | 32022 | Primary Media | Styrene, Resin, PE |
| Pros | Nice detailing inside and out | Cons | No external tanks included |
| Skill Level | Experienced | MSRP (USD) | $59.95 |
First Look
North American Aviation won the contract to design and build a high-speed research aircraft in 1955. This aircraft was essentially a large rocket motor bolted to the back of the pilot's seat and covered by a heat-resistent metal shell. Three airframes were built, initially powered by the XLR11 engine rated at 8,000 pounds of thrust. The XLR99 engine was target engine for all three aircraft and it had the distinction of being the first liquid-fueled engine that could be throttled and restarted in flight. The XLR99 could produce 57,000 pounds of thrust at full throttle, with fuel flow up to 10,000 pounds per minute.
Many folks mistakenly dismiss the X-15 as just another X-plane. This unique aircraft actually had many distinctions that led to significant advances in aerodynamics and spaceflight technology:
First manned spacecraft (suborbital)
First aircraft to transition from aerodynamic flight controls to reaction controls and back
First aircraft to fly at hypersonic airspeeds (greater than Mach 5)
Fastest manned flight prior to the Space Shuttle (Mach 6.7 flown by Pete Knight, 3 Oct 1967)
Highest wing-borne flight prior to the Space Shuttle (67 miles above the earth, flown by Joe Walker, 22 Aug 1963)
Successfully completed 199 test flights with three aircraft
To put these facts into perspective, the X-15 was more that twice as fast as Scaled Composites' SpaceShipOne and the SR-71 Blackbird. SpaceShipOne avoided the thermal issues of hypersonic flight by converting its thrust into vertical climb while staying around a target speed of Mach 3. On its final flight, SpaceShip broke through the X-15's altitude record reaching nearly 70 miles at apogee. The Space Shuttle by definition exceeds Mach 25 on ascent to achieve orbit. Of the aircraft cited here, only the SR-71 took off and landed under its own power. The X-15 and SpaceShipOne were carried aloft by motherships and dropped. The Space Shuttle is launched while connected to a huge external fuel tank and a pair of strap-on solid rocket boosters. The X-15, SpaceShipOne, and Space Shuttle have no engine power during landing, all must glide to the runway.
The X-15 program ended with the loss of one aircraft and a second one damaged. Air Force test pilot Major Michael Adams lost control of aircraft number three during 're-entry' and the aircraft entered a spin at high speed and disintegrated when forces exceeded 15g. Aircraft number 2 broke its back on landing and was rebuilt into the X-15A-2 configuration with a fuselage stretch of 2.4 feet and the capability of carrying external fuel tanks. The aircraft was also used to experiment with heat-resistant materials on the airframe. Today, X-15 #1 is on display at the National Air & Space Museum whilst #2 is on display at the United States Air Force Museum.
Special Hobby has released the X-15A-2 in 1/32 scale and evidently pushed to get this kit done in time for the 2007 IPMS/USA National Convention in California. A note in the kit identifies this kit as a 'first edition' which translates to "we couldn't get the clear styrene canopy done in time". I actually like the alternatives in this box - your choice of clear resin or vacuformed canopy, both included. Chances are your kit will have the styrene canopy.
The kit is molded in light gray styrene and presented on five parts trees, plus three small bags of resin parts and a small fret of photo-etched parts. That huge rocket motor is represented by a nicely cast shrouded engine bell that sits in the tail section. To get an idea of how that looks, check out our walk around of X-15 #1.
As with most aircraft projects, construction begins with the cockpit and there are quite a few parts that build up the cockpit tub. The nosewheel well assembly attaches to the front cockpit bulkhead.
The instrument panel and side consoles are represented by photo-etched parts. The instrument panel is augmented with an acetate sheet printed with the instrument faces.
The ejection seat is a complete model of its own with 22 parts dedicated for the job. I'm going to have to go back to the books on this seat 'cause this interestingly enough looks very similar to the ejection seats used in the Gemini spacecraft.
The airframe itself is simplicity. The fuselage is molded in top and bottom halves and split into forward and rear. I'm not certain, but it looks like Special Hobby has left in the option to release the shorter X-15s as well. I did measure this fuselage and it does scale out to the X-15A-2's stretched 52' 5" length.
While the kit is stretched for the A-2 configuration, the kit doesn't include the two ventral conformal external fuel tanks. The kit also does not include the complete ventral fin. The kit is designed to sit on its gear, so the lower half of the ventral fin would have been jettisoned.
Among the optional features of this kit:
Canopy can be displayed open or closed
Speed brakes can be displayed open or closed
Stabilators are positionable
Markings are provided for one example:
X-15A-2, 56-6671, as it appeared on 2 Nov 65, still in black
I really hope Special Hobby releases the X-15A-2 with the external tanks as well as the shorter airframe to render all three aircraft with either engine fit. Nonetheless, on the cool factor, we have this kit and it is a beauty. Sitting on the gear, you can almost hear that airframe still snapping and popping as it dissipates the heat build up from its latest test flight...
My sincere thanks to Fotios Rouch for picking this kit up for me while attending the IPMS/USA convention. MPM had a nice special running at the convention and I couldn't resist getting one!
Resources