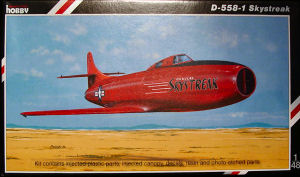 Special Hobby 48080 1/48 D-558-I Skystreak Kit First Look
| | | | |
| --- | --- | --- | --- |
| Date of Review | August 2008 | Manufacturer | Special Hobby |
| Subject | D-558-I Skystreak | Scale | 1/48 |
| Kit Number | 48080 | Primary Media | Styrene, Resin |
| Pros | Rare subject, nice resin | Cons | Sink marks, no location pins |
| Skill Level | Experienced | MSRP (USD) | $34.00 |
First Look
I am addicted to X Planes! I have always been attracted to the garish paint jobs and the exotic one of a kind shape purposefully built for one job. "To explore the edges of aviation technology". I had the pleasure to be assigned to Edwards AFB from 2000 to 2004. It was heaven for an X-Plane nut. I miss that place but not the drive, wind and heat.
Each time I see a new X-Plane on the market, I have to get it! This one was in my sights from day one! Special Hobby has made a habit of producing planes that no one else will touch. X-15A-2, XF-85, Sikorsky R-4B Helicopter are just a few in 1/48 scale that come to mind.
Towards the end of World War II Defense and the National Advisory Committee for Aeronautics and the different defense representatives got together for a joint project into high speed research aircraft. Eventually the research split into two camps. The USAAF went on to develop the X-1 Series aircraft in conjunction with NACA and the other camp went with the Navy and their darling design team at Douglas.
After many drawings the Navy ordered three straight wing D-558-1's and three D-558-2's for their high speed research program. NACA approved and assisted Douglas in their designs. Douglas named their straight wing aircraft the Sky Streak. It was of a more conventional low-wing design with a cylinder style fuselage stuffed with the new General Electric TG-180 jet engine. The 558-1 had many problems early in its career but eventually the second prototype flown by the very famous Major Marion Carl set a new speed record of 650.796 Mph.
The aircraft was not without its own tragedy when Test pilot H.C. Lilly lost his live when the engine came apart in flight. Lilly Drive that leads to the Dryden Flight Test Center at Edwards AFB is named after him. The D-558-1 was retired on June 10th 1953. You can still see the first prototype at the US Naval Aviation Museum at NAS Pensacola and the Third one is at the US Marine Corp museum at Quantico Virginia.
Directions are done in the exploded view with little verbiage to confuse International model builders. They are easy to understand with black arrows showing you where to attach each part and a simple painting guide to tell you what colors go where. I would depend on my research over the instructions on the painting schemes.
Construction looks straight forward. The plastic is molded in a medium gray with a slightly rough finish and petite panel lines. The real deal was very slick and smooth so I do not have any problems with the lightness of detail. The shape looks very good when bumped against photos and the excellent Specialty Press "Skystreak, Skyrocket, and Stiletto Douglas High-Speed X-Planes" by Scott Libis. There are no location lugs or tabs so you will have to use caution when gluing the fuselage and wings together.
Nose weights will have to be used and I found some sink marks on the landing gear well covers. They might be a bit tricky to clean up. Resin parts are done very well with the cockpit acting as part of the intake splitter plate also. This is a clever and unique casting from Special Hobby. Another anomaly with the D-558-1 is that it used the same nose wheel as its two main wheels. One of the few times I have ever seen this. You will also have to supply some micro-tube for the pitot tubes on the wings.
The photo-etch parts consist of the instrument panel, seat belts, rudder pedals, control yoke and oleo scissors. You also get two styles of canopies you can use. They are a bit on the thick side but are more than useable. The decals look very nice with the Skystreak being done in a dark blue and dead on as far as accuracy. I am a bit fearful at their opacity. With a plane painted such a bright red, I can see the white decals having a pink tone to them. I have had good experiences with Special Hobby on their X-15 kit decals. I hope for the same luck here.
I think you are getting a good kit for the price of a very unique aircraft. It should look great sitting next to the other X-Planes in my collection. Stay tuned for a progressive build in the near future.