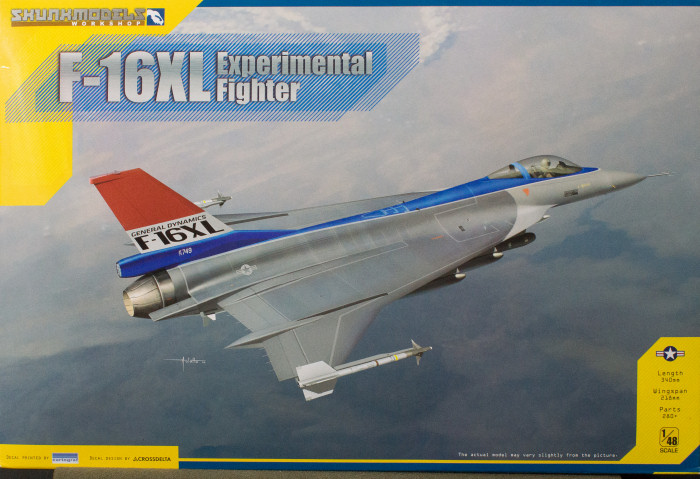 Skunk Models 1/48 F-16XL Kit First Look
| | | | |
| --- | --- | --- | --- |
| Date of Review | July 2015 | Manufacturer | Skunkmodels |
| Subject | F-16XL | Scale | 1/48 |
| Kit Number | 48026 | Primary Media | Styrene |
| Pros | Easy build, nice details | Cons | See text |
| Skill Level | Basic | MSRP (USD) | $39.99 |
First Look
General Dynamics began a research program in 1977 called SCAMP (Supersonic Cruise and Maneuver Prototype) which looked at how aerodynamic research for supersonic transports could be adapted to military aircraft. The Air Force provided the third and fifth F-16A production airframes for use in this research. The huge double delta wing plus a 40 inch fuselage stretch provided impressive performance improvements for the aircraft.
In 1981, the Air Force issued a requirement for a replacement for the F-111 using existing airframes under the Enhanced Tactical Fighter (ETF) banner. General Dynamics entered the F-16XL against McDonnell Douglas' modified F-15D. While the F-16XL demonstrated excellent capabilities, the Air Force selected the F-15 as the newly minted F-15E Strike Eagle as a lower risk as it only needed some new avionics, a redesigned crew station, and additional weapons stations whereas the F-16XL would have major airframe work required to put the new wing into production. The Air Force also cited the safety of two engines with the F-15E in a high-threat area... The two F-16XL demonstrators were returned to the Air Force and in turn, were turned over to NASA for flight test research.
Skunkmodels has finally released the much-anticipated F-16XL kit in 1/48 scale. When you first look at this kit, you can see this isn't a modified Kinetic Models F-16 kit. In fact, you might be interested to know that the folks who ran Kinetic in the early days with all of the variations of the F-16 produced are no longer there. Raymond Chung took over the company and also created Skunkmodels to highlight the higher quality and attention to detail that is now applied which may have been lacking in earlier kits. This release highlights that fact.
The kit is molded in light gray styrene and presented on 13 parts trees plus two trees of clear parts and one fret of photo-etched details. You won't see the textured surfaces on this kit that were present in the original Kinetic F-16 kits.
There were two F-16XLs, one single-seat airframe and one two-seater. This kit replicates the single seat version. There are many nice details and options in this release. Let's take a look:
Integral wings on fuselage halves make assembly/alignment easy
Nicely detailed cockpit and ACES II ejection seat
Positionable canopy
Updated radome with lightning protection
Nice NSI intake with Pratt F100 engine face at the end of the duct
Nice F100 afterburner section
Positionable rudder
Positionable leading edge flaps
Positionable trailing edge surfaces
Positionable landing gear
You'll remember that the F-16XL airframes were based upon F-16 Block 1 airframes so the demonstrator was powered by the Pratt and Whitney F100 using the narrow-mouth (NSI) intake. General Dynamics had not yet started on the F-16C series so they had not developed the capabilities for GE F110 power at that time. This kit has a very nice selection of armament included, some of which were used in the ETF competition, and some which are included as 'what-if' updates. These include:
2 x AIM-9L/M Sidewinder
2 x AIM-120B AMRAAM
2 x AGM-65 Maverick
2 x GBU-31 JDAM
2 x CBU-87 cluster bombs (labeled GBU-87 in the instructions)
2 x GBU-12 Paveway
1 x AAQ-113/AAQ-114 LANTIRN pods
Not mentioned in the instructions but worth noting:
2 x AIM-9X Sidewinder
2 x AIM-120C AMRAAM
2 x GBU-24 Paveway
12 x Mk.82 Snakeyes
Not included but were carried during flight test/evaluation:
The kit includes two sheets of decals which provide five options:
F-16XL, USAF prototype scheme, 1982
F-16XL, NASA 849, 1993
F-16XL, 90-0776, 75 FS/23 Wing, USAF 1995 (fictional)
F-16XL, 90-0708, 16 WS/57 Wing, USAF (fictional)
F-16XL, 512, 101 Squadron, Israeli AF (fictional)
The decals provide a nice set of airframe and weapons stencils for each of the subjects.
Which brings me to my only complaint about this kit - the color profiles. For whatever reason, all of the color call-outs in the color profiles use Ammo by Mig paints exclusively which aren't readily available in many areas. To make matters worse, there is a master paint chart at the beginning of the instructions which list applicable Humbrol, Italeri, Tamiya, GSI, and Vallejo colors in addition to Ammo by Mig. According to the table, the only one who makes the standard FS 595 colors used with these subjects is Ammo, which is incorrect. We'll post corrected color charts shortly.
Aside from the paint charts, this is a very nice kit, which I can see several in my future. The F-16XL concept would have been an excellent back-up or low-cost (relatively) supplemental platform for the F-35 if they weren't produced at the same factory. I hope that Skunkmodels will consider the two-seater F-16XL as well.
My sincere thanks to Lucky Model for this review sample!