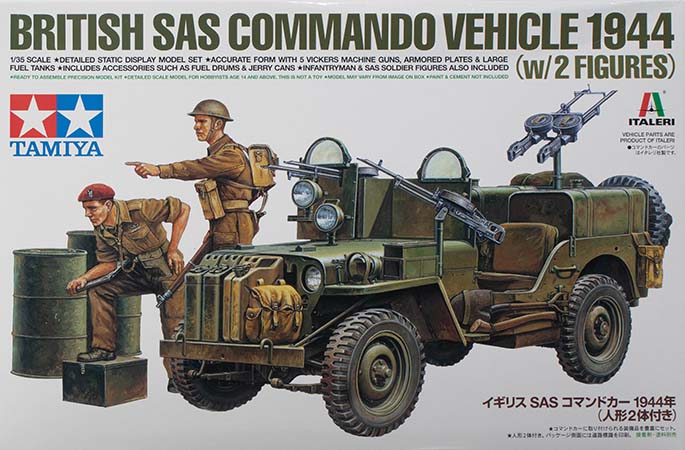 Tamiya 1/35 British SAS Commando Vehicle 1944 Kit First Look
| | | | |
| --- | --- | --- | --- |
| Date of Review | January 2022 | Manufacturer | Tamiya (not) |
| Subject | British SAS Commando Vehicle 1944 | Scale | 1/35 |
| Kit Number | 25152 | Primary Media | Styrene |
| Pros | Nice kit | Cons | See text |
| Skill Level | Experienced | MSRP (USD) | $37.00 |
First Look
I'm sure you've had one of those weeks when you seem to be overly gullible? I'm just finishing up a rather challenging build and want to have a nice and easy break before diving into the next few special projects. I happened to find a Tamiya 1/35 Willys MB Jeep in my stash along with some aftermarket items for two Jeeps, so I went online and found that the Tamiya kit is either out of production or stuck on a container ship somewhere. What I did find was this kit of the Jeep in a wartime SAS configuration, so I ordered one. Here's where the gullible part comes in - I thought (erroneously) that Tamiya made another version of their great Jeep kit. When the kit arrived, I was surprised to se the Italeri logo on the box, but this isn't the first time that Tamiya (and others) have used parts from other manufacturers to create a new version of one of their kits. Nope. On opening the box, this is Italeri's kit number 320 in which the main sprues date back to it's first release in 1976, when Italeri was still spelled Italaerei. The extra sprues in this kit were developed about a decade ago to create the SAS version, and Tamiya even released that kit back in 2012. So technically, Tamiya reissued their reboxing of the Italeri kit last year and put an MSRP of $37.00 on it (but Tamiya USA has this on sale now for $30). The online retailer I acquired this kit from neglected to mention anthing about Italeri kit in their description, but we'll chalk this up to a moment of caffeine deficiency.
So moving on, this kit really doesn't look bad out of the box. Comparing the kit to the 'real' Tamiya Jeep, one major difference is that Tamiya created a body shell (just like the full-scale vehicle) whereas Italeri has you build up the shell from several parts. Not a show-stopper, just different. I've built the Tamiya Jeep before, and this kit has some nice details in it, not counting the SAS updates. Among the features and options:
Basic Jeep body looks right
Engine compartment detail looks good but needs some updates
Chassis has solid plate under the engine bay, needs to be fixed
Nice drive train and suspension
Nice interior detail (basic Jeep)
Addition of long range fuel tanks
Jerry can rack with cans for fuel and water
Armor plating and armor glass for the driver and passenger front
Lewis gun mounts (single and twin mounts) plus ammo stowage
Crew stowage
Two dismounted crew figures
55 gallon drums and ammo crate included for diorama/vignette
As you can see, there is some promise with this (old) kit, so my project is going to go one of two ways. I'm going to build both Jeeps side-by-side and both are going to receive detail updated from DEF, Quinta Studio, and Anyz. If the Italeri vehicle doesn't come together as nice as the Tamiya kit, I'll set aside the Italeri Jeep and use that kit's SAS updates on the Tamiya kit instead. Hopefully Tamiya will have a supply of their basic Jeep kit available once again, but in the meantime, I've got what I need to kick off this project once my bench is cleared. Stay tuned.
Oh yes, if you want a copy of the SAS version of the Jeep, you can Google Italeri kit 320 - I found several outlets that have that kit in stock for less than $15.00 (not counting eBay). No wonder Tamiya USA has this on sale...