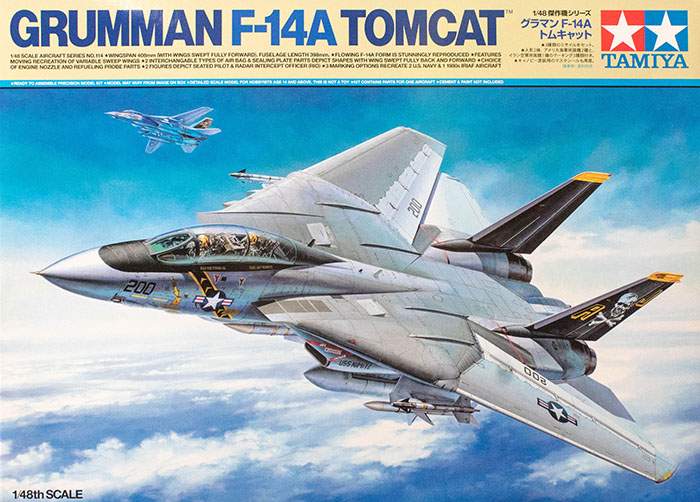 Tamiya 1/48 F-14A Tomcat Kit First Look
| | | | |
| --- | --- | --- | --- |
| Date of Review | October 2016 | Manufacturer | Tamiya |
| Subject | F-14A Tomcat | Scale | 1/48 |
| Kit Number | 61114 | Primary Media | Styrene |
| Pros | Nice kit, not over-engineered | Cons | See text |
| Skill Level | Experienced | MSRP (USD) | $115.00 |
First Look
There are quite a few good write-ups about the Tomcat out there and if you'd like to see mine, check out this first-look of the HobbyBoss 1/48 F-14A Tomcat here.
In the world of the 1/48 scale Tomcats, I had fallen for the Monogram F-14A kit when it was first released in 1981, simply because it was an easy build and the wing sweep system worked. As the years progressed, there were two noteworthy kits: the Hasegawa 1/48 F-14 series and the Academy 1/48 F-14A and A+ kits. Like the Monogram kit, the Academy F-14 was an easy build but it offered scribed details over Monogram's raised details. The builds were quick and painless and provided a nice platform for the variety of markings that were available. I've received lots of 'feedback' about the shape and detail issues of the Academy kit, but there was no other equivalent 'for fun'.
The Hasegawa kit has remained the industry standard for detailed Tomcats in 1/48 and for years was the best F-14 kit in any scale. These kits offer a wide variety of options including being the first to design the wings to display the flaps extended and the nosegear compressed for catapult launch. Of course the first one I built had the design flaw which had improperly designed engine trunks that simply would not fit. This was quickly fixed by Hasegawa in subsequent releases.
During the 1980s, Tamiya produced the F-14A in 1/32 scale, but the nose section was scribed and the rest of the airframe had raised details. Overall the kit is still nice, but Tamiya never progressed beyond that first release though it has been reissued a few times.
Today we have more choices for Tomcat in 1/48, but until now, my two go-to kits remained the Hasegawa kit for a super-detailed build and the Academy kit for a fun/easy build. Several months ago, Tamiya announced a new-tool F-14A in 1/48 scale that was oriented more towards the easy-to-build market since there were enough Tomcats in the super-detailed/over-engineered column. This new Tomcat was also tooled to render the complete F-14 family, unlike the Academy tooling.
Out of the box, the engineering is the usual Tamiya 'outstanding' and it is molded in gray styrene and presented on 11 parts trees plus one tree of clear parts (duplicate parts trees not shown). Among the features and options:
Nicely detailed cockpits
Nicely detailed GRU-7 ejection seats
Nice pilot/RIO figures
Optional crew restrains provided as decals should you opt to leave out the figures
Positionable boarding ladder
Molded-in details on the panels and side consoles are crisp and ready to paint
Panels, consoles, and sidewalls are molded separate of the cockpit tub so they can be replaced as needed for newer Tomcat variants
Positionable detailed canopy
Port side gun door molded separately (F-14A+/B/D used a different gun door vent arrangement)
Like the earlier Tomcat kits, this kit has synchronized movable wings
Unlike the earlier Tomcats, this kit also has exchangeable parts so wings can be displayed full forward or fully swept with no gaps in seals/airbags
Wing glove roots are provided separately to render proper detail differences (none in this case)
Positionable air refueling probe
Choice of TF30 afterburner nozzle positions (fully open, partially closed, closed)
Early ALQ-100 chin pod
Nicely detailed landing gear and wells
Positionable stabilators
AIM-54 pallets have blank insert plugs in this release so these are ready for Bombcat in future releases
Wing glove pylons can be configured for AIM-7 and AIM-9 or two AIM-9 on each pylon, no AIM-54 adaptor for pylon included
To put this kit into perspective, Tamiya is rendering this F-14 as it was configured just as it first entered service. This model does not reflect any of the updates in ECM or other systems that would incrementally enter operations like the IR sensor or TCS system under the nose. As far as external stores are offered in this kit:
4 x AIM-9G/H Sidewinder (4 x AIM-9L seekers are included but not called out in the instructions)
4 x AIM-7E Sparrow (six could be carried)
4 x AIM-54A Phoenix (six could be carried, but not from the ship due to weight)
2 x external tanks
When the F-14A was still entering service, so was the F-15A and both services were looking for a new generation of Sidewinder - the AIM-9L which was the first to offer head-on kill capability. Both aircraft were carrying the earlier Sidewinders while a test team was gathered at Nellis AFB for ACEVAL/AIMVAL, a study to develop the tactics and capabilities offered by the AIM-9L. Once cleared, the AIM-9L quickly replaced the earlier Sidewinders so you are correct to use the AIM-9G/H or AIM-9L seeker heads in your build.
The sprues actually have four AIM-7E and four AIM-7F/M on the sprues. For the early F-14A depicted before any of the various updates entered the fleet, you'll only want to use the AIM-7E as shown in the instructions. Save the AIM-7F/Ms for other projects.
Tamiya provides markings for three examples:
F-14A-95-GR, 160393, VF-84, AJ/200, USS Nimitz, 1979, CAG aircraft
F-14A-85-GR, 159635, VF-2, NK/201, USS Enterprise, 1976, Skipper's aircraft
F-14A-95-GR, 160377, 3-6075, Islamic Republic of Iran Air Force, 1980
Note that the beaver tail in this kit represents the later configuration with the light moved up to the vertical stabilizer. You can back-date this to an early block F-14A as initially delivered to VF-1 and VF-2 but you'll need to broaden/reshape the beaver tail as well as the speed brakes. Interesting that Tamiya didn't provide the equivalent 1970s markings for the Imperial Iranian Air Force. In any case, there are a wide variety of aftermarket decal offerings for the F-14A 'out there' and no doubt that more will be coming as Tamiya and at least one other manufacturer battle for supremacy in the world of the 1/48 F-14 Tomcat.
Some final observations/points on this kit:
Wings sweep full aft (flight position), not overswept (parked position)
Wing gloves are not positionable nor even separate parts
In the early days of the F-14, it was not unusual to see the forward portion of the radome in radome tan - check your references for your particular subject (ditto the missile radomes)
In the early days of the F-14, it was also not unusual for the aircraft to not carry the AIM-54 pallets. It may look odd, but it was 'normal' back then
You'll see additional sub-panels not used in the cockpit of this release which signals more versions of this kit coming
If you still want to do a low-visibility Tomcat out of this kit, the six AIMVAL/ACEVAL birds wore the Keith Ferris camouflage (as did a few other fleet aircraft). Again, check your references as these aircraft had the early TCS chin pods installed during the tests
The suggested retail price might give you pause as the price of new-tool kits continue to climb, but if you shop around the street price is in the mid $80s