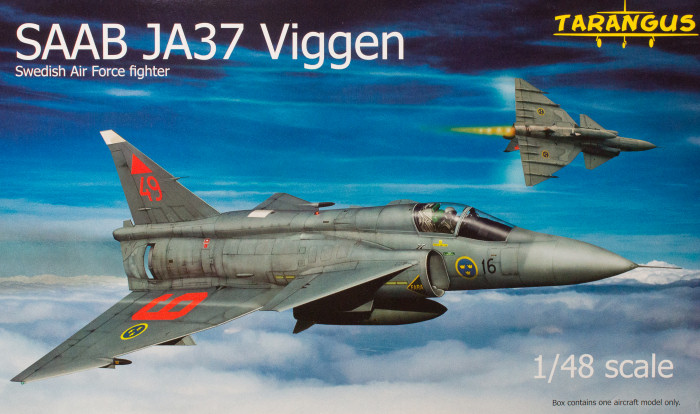 Tarangus 1/48 SAAB JA37 Viggen Kit First Look
Date of Review
January 2015
Updated November 2018
Manufacturer
Tarangus
Subject
SAAB JA37 Viggen
Scale
1/48
Kit Number
4803
Primary Media
Styrene
Pros
Nice kit, excellent subject
Cons
See text
Skill Level
Experienced
MSRP (USD)
$98.00
First Look
The SAAB 37 Viggen (Swedish for Thunderbolt) was a versatile airframe that was configured for fighter, fighter-bomber, reconnaissance, and maritime surveillance roles. The aircraft was to provide Mach 2 capability, supersonic flight at sea level, and operate from short runways that were special sections of highway for dispersal during wartime. Intended as a replacement for the SAAB 32 Lansen and SAAB 35 Draken, the Viggen's development was accelerated thanks to a 1960 agreement with the Eisenhower administration for technical support of the aircraft.
The aircraft was powered by a modified Pratt and Whitney JT8D (J52) engine with the addition of an afterburner and a thrust reverser. The Viggen would be the first of three operational aircraft that would be equipped with the combination afterburner and thrust reverser (with Concorde and Tornado being the other two).
Tarangus is a Swedish kit manufacturer that produces limited run kits of Swedish subjects (so far) and this latest release is most welcome. Previous subjects have included the J32 Lansen, A32 Lansen, and Safir in 1/48 scale plus the J29 Tunnan in 1/72 scale.
This kit is molded in light gray styrene and presented on eight parts trees plus one tree of clear parts. If you look at the parts layout, you can see a modular approach to the kit which hints at other Viggen variants coming in the future.
Among the features and options in this kit:
Nicely detailed ejection seat - needs crew restraints
Decent cockpit which can be enhanced with little effort
Nice intake ducts down to engine compressor face
Nice afterburner chamber
Positionable thrust reverser petals
Positionable canopy
Positionable speed brakes
Nicely detailed landing gear
Optional centerline fuel tank
One unfortunate omission from this kit are the six weapons pylons (two under the fuselage and four under the wings). As noted above, there is a centerline station with optional fuel tank included, but you're on your own to fabricate pylons and acquire weapons. The weapons are easy enough as the JA37 was typically armed with RB 71 (AIM-7E Sparrow/Skyflash), RB 24 (AIM-9 Sidewinder), and/or RB 99 (AIM-120 AMRAAM), all of which are available in Hasegawa weapons sets or in Eduard BigSin weapons sets.
The kit includes a nice set of decals with airframe stenciling. The subjects include:
JA 37, 37351, 39, F-17 Wing
JA 37, 37449, 49, F-16 Wing
JA 37, 37378, 38, F-4 Wing
This is the first new-tool kit of this subject in well over a decade with the only other options for the Viggen coming in 1/48 scale from the ESCI tooling that were since reissued by Airfix and Italeri. While the kit is an improvement over the older kit(s), the variety of aftermarket corrections and additions for this kit show that the Tarangus kit didn't quite hit the mark. I understand that Tarangus has since added another sprue tree to their Viggen kits to address some of the issues, but that really doesn't help all of us who have already purchased the original releases of their Viggen kits.
If you're going to do the splinter camouflage on the Viggen, here is our color profile and paint guide for this scheme.