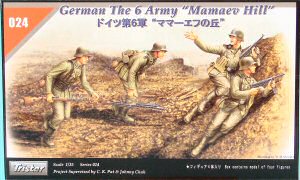 Tristar 1/35 German The 6th Army 'Mamaev Hill' Kit First Look
| | | | |
| --- | --- | --- | --- |
| Date of Review | November 2006 | Manufacturer | Tristar |
| Subject | German The 6th Army 'Mamaev Hill' | Scale | 1/35 |
| Kit Number | 35024 | Primary Media | 61 parts in tan styrene |
| Pros | Nice combat poses, great for complimenting tank kits | Cons | Too clean and "parade ground neat" for Stalingrad |
| Skill Level | Basic | MSRP (USD) | $14.50 |
First Look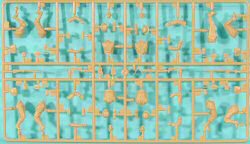 Stalingrad was by far the most brutal battle fought on the Soviet front. Both sides were chewed to ribbons in their dogged determination to either take or hold the namesake city of the USSR. For example, the Soviet 62nd Army under then General Chuykov (later a Marshal of the Soviet Union) took in more than 12 full infantry divisions plus augmentation units and attachments, but at the end of the battle could barely muster 33,000 troops (they should have had well over 120,000 by tabular strength.)
The centerpiece of their tenacious defense was a hill overlooking the Volga River called the Mamayev Kurgan. More soldiers on both sides died fighting for this hill than any other part of the city. Today, one of the premier monuments in Russia stands here – a 540-foot high statue of Mother Russia (the "Rodina" personified) wielding a sword.
Tristar now offers a new figure set of four German infantrymen which is labeled for the 6th Army (von Paulus') at Stalingrad. But having some knowledge of the actual battle and how grubby the area really was (think of the movie "Enemy at the Gates" which does not appear to be too far off with its presentation of how the soldiers on both sides actually looked, with only Ed Harris' German major appearing anything close to "parade ground" fresh) these four are too neat and too close to perfectly dressed to look the part.
That being said, they are nicely done and will work well in other environments or situations. Each figure follows conventional breakdown (two legs, torso, two arms and head plus accouterments) but they are well animated and sculpted. Two of them are leaning up against a berm or ditch (and designed that way) and two are running.
The two men against the berm are armed with MP40s, one of the running men has an MG42 and the other a Kar 98K. Oddly, while the running figures appear to be a matched set, the man with the rifle is not carrying an ammo can or two for the machine gun.
All figures carry the same kit, but as noted it looks more parade ground than combat solider. Each one has an M1935 helmet, bread bag, canteen, gas mask canister, poncho and entrenching tool. Other than the aforementioned machine gunner, each one wears appropriate ammo pouches for his weapon.
Overall, while these figures are nicely done people who do conversions or modify their figures will probably get more from them than anyone wanting to do a down-and-really-dirty Stalingrad vignette.
Thanks to MRC for the review sample.