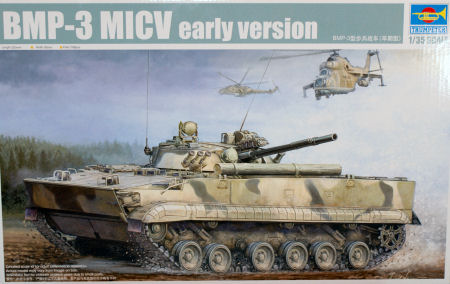 Trumpeter 1/35 BMP-3 MICV (Early) Kit First Look
| | | | |
| --- | --- | --- | --- |
| Date of Review | July 2010 | Manufacturer | Trumpeter |
| Subject | BMP-3 MICV (Early) | Scale | 1/35 |
| Kit Number | 0364 | Primary Media | Styrene/Photo-Etch |
| Pros | First kit of this subject in this scale; very nice detailing throughout | Cons | Nothing noted |
| Skill Level | Basic | MSRP (USD) | $49.95 |
First Look
The BMP-3 Mechanized Infantry Combat Vehicle (MICV) is the current operational version of a series of armored fighting vehicles that date back to 1966 with the debut of the BMP-1. BMP is the Russian acronym for Boevaya Mashina Pekhoty (translated 'fighting vehicle of the infantry') and each iteration builds upon the combat experiences of its predecessors.
The BMP-1 replaced a number of other tactical vehicles with a low-profile armored vehicle that was nuclear, biological, and chemical (NBC) protected, had great mobility on land and on the water, was well-armed to deal with whatever it encountered, and carried a squad of infantry aboard. After the BMP-1 saw combat in the Yom Kippur War in 1973 as well as early operations in Afghanistan, the weaknesses of the BMP-1 were addressed in the BMP-2. The BMP-1's major weakness was its vulnerability to .50 caliber machine gun fire.
BMP-2s entered combat in Angola in 1975 and in Afghanistan by 1979. The improvements in the BMP-2 did deal with the .50 caliber penetration issues, but the vehicle was still vulnerable to a variety of shape-charge warhead weapons from rocket-propelled grenades to anti-tank missiles as well as heavier caliber weapons including 20mm guns and larger.
The BMP-3 entered service in 1987 and provides greater armor protection while retaining the ability for amphibious operations. The BMP-3 is also the most heavily armed variant with a 100mm main gun/launch tube, a coaxial 30 cannon, a coaxial 7.62mm machine gun all in the turret, plus two additional bow-mounted 7.62 machine guns. The vehicle was initially powered by a 450 horsepower diesel engine, but this was updated to 500 horsepower in later production blocks. With all of this additional firepower, the vehicle can still transport an infantry squad around the battlefield.
Modern armor modelers have had a nice array of contemporary Soviet-era combat vehicles available in 1/35th scale including tanks, armored personnel carriers (APCs), fighting vehicles, and even support trucks. Whether your interest lies with Soviet Army, Warsaw Pact, Middle East, or other the forces of other client nations (or all of the above), this is a great time to be a modeler with so many good options.
DML produced the BMP-1 and BMP-2 a decade or so ago and these models were quite nice a for their time. Zvezda even produced the BMP-variant for the airborne forces, the BMD-1. Skif did produce the BMP-3 some years ago, but now we have a really nice alternative from Trumpeter.
Trumpeter has released their first installment of the BMP-3, the early production version, in 1/35 scale. This kit will be followed by the BMP-3M and the tailored BMP-3 built for the UAE. Looking this kit over, I am hoping that they'll release the BMP-1 and BMP-2 variants in the future, but not before they tackle the BTR series of wheeled APCs already on the schedule.
Molded in light tan styrene, this kit is presented on twelve parts trees, plus separately packaged upper and lower hull halves and turret. One tree of clear parts, one bag of track links, and one fret of photo-etched parts round out the kit. According to the specs, there are 768 parts in this kit. Why would there be so many parts for a vehicle this size? Yep, there is a nice interior in here.
As with most tracked vehicle projects, construction starts with the lower hull, suspension and wheels. And like most good armor kits, there aren't any difficulties apparent here. There are 168 track links per side and assembly looks easy enough given that there is no track sag on the upper track run so you can assemble the upper and lower runs on a flat surface or your favorite track jig.
With the underside of the lower hull completed, you flip this assembly over and start working on the crew compartment details. There is a nicely detailed interior here and will look great straight out of the box. AMS modelers will want to get a photo reference like the Wings & Wheels BMP-1 to get a sense of what these interiors look like in operational use. Things like radios, wiring, stowage, etc., will really bring this interior to life.
The upper hull is next and here you continue on the interior detailing by installing periscopes, interior panels, and other details to the underside. When that process is completed, you'll flip this assembly over and begin on the various hatches, snorkel stowage, ventilators, engine deck details, pioneering tools, etc. While the instructions show the various hatches installed closed, you can position any or all of them open to show off that interior detail.
Last, but definitely not least, is the turret. This kit provides a complete turret basket for the commander and gunner positions, main gun ammo stowage, ammo trays for the 30mm and machine guns, sights and controls, etc. The outside of the turret is equally detailed with smoke dischargers, antenna mounts, spot lights, sights, etc.
In short, this is the most detailed Soviet MICV/APC produced to date in this scale.
Markings and color guides are provided for two examples, an overall green machine typical of forward deployed forces in the Warsaw Pact countries, and camouflaged example typical of the Soviet forces in Afghanistan.
This kit is an impressive kit as it once again raises the bar on what we will expect in future kits of this sort. With all of the detailing in this kit, and some good Soviet/Russian army crew figures as well as a squad of infantry posed around this vehicle, you can have some very nice opportunities for dioramas and vignettes that weren't practical with the exterior-only DML BMP kits in the past. Nice job Trumpeter!
My sincere thanks to Stevens International for this review sample!