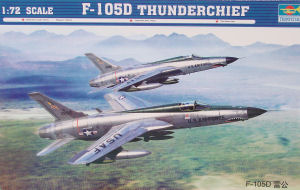 Trumpeter 1/72 F-105D Thunderchief Kit First Look
| | | | |
| --- | --- | --- | --- |
| Date of Review | September 2007 | Manufacturer | Trumpeter |
| Subject | F-105D Thunderchief | Scale | 1/72 |
| Kit Number | 1617 | Primary Media | Styrene |
| Pros | Nice detail, lots of options in this box | Cons | Awful work on the color profiles |
| Skill Level | Intermediate | MSRP (USD) | $29.95 |
First Look
During the 1950s, the USAF was turning its attention back to the role of nuclear deterrence through the design and procurement of radar-equipped supersonic interceptors to defend against nuclear bombers, as well as developing supersonic penetration strike aircraft to deliver nuclear payloads against selected targets. One procurement program led several companies to step forward with supersonic strike aircraft concepts to meet the Air Force's requirements. The two most noteworthy designs were North American's F-100B (redesignated F-107) which was an outgrowth of the Super Sabre series, and Republic's F-105, which was based upon the RF-84 Thunderflash.
Like the F-107 and other aircraft in that period of time, the early YF-105A suffered from engine development delays and transonic drag. Convair had solved the problem finally with the concept of the coke bottle-shaped 'area rule' fuselage design which significantly reduced transonic drag. The F-105B would enter production powered by the J75 engine which allowed the Thunderchief to achieve speeds above Mach 2.
When the Vietnam war broke out, the F-105 was pressed into conventional strike duties, carrying an impressive load of bombs externally, and using the space in its fuselage bomb bay to carry an additional fuel tank. One F-105 had over three times the bomb payload of a World War II B-17 Flying Fortress loaded for long range missions.
I remember seeing these sprue test shots last year at Trumpeter's display at the Chicago Hobby Show. They looked good then, but clearly they continued tweaking their tooling. This kit is comprised of five parts trees molded in Trumpeter light gray styrene, plus a single tree of clear parts. The clear tree has canopies for the single-seat F-105D as well the front and rear canopies for the F-105F/G. It is a safe bet we'll be seeing a two-seat Thud in our future.
I'll leave it to others to tell you if Trumpeter corrected some of the shape issues that were present in their 1/32 scale kits. On the sprues, this looks nice.
The cockpit looks simplistic with its five-part tub, but if you look at the side console and instrument panel decals on the sheet below, this pit is going to look really nice.
While there are limits on what you can do with injection-molded styrene in this scale, Trumpeter has really stepped up the details in here in comparison with other Thuds in this scale. Check out those nice landing gear struts compete with taxi lights!
Among the options Trumpeter provides out of the box:
Positionable air refueling probe
Positionable gun bay access doors (with a gun bay provided)
Positionable landing flaps
Positionable ailerons
Positionable stabilators
Positionable canopy
Positionable speed brake petals
Centerline fuel tank
Inboard wing tanks OR MERs w/4 Mk.82 slicks each
AGM-12 Bullpups on the outboards
Since the Thud could carry just about anything 'downtown', you might obtain a few of Hasegawa's weapons sets. The partial bomb load is realistic for periods of time during Vietnam when bombs were in short supply, but you can bomb up your Thud with 500lb Mk.82 slicks, Mk.82 w/fuse extenders, Mk.117 750lb bombs, AGM-45 Shrike, AIM-9 Sidewinder, ECM pods, and much more. Check your references and have some fun. What comes in the box is a good starting point.
I'm not sure who/what Trumpeter used for references, but they really need someone to check over their work! This is not at all good work.
The first aircraft represented is supposedly:
F-105D, 61-0183, 334 TFS/4 TFW, Sharkmouth
The aircraft is wearing the generic markings that took effect with "Operation Look-Alike", but retained the legacy sharkmouth worn by the aircraft of the 23rd TFW who descended from the 'Flying Tigers' in China. When the 23rd deployed to Vietnam in 1965, the aircraft were controlled by the 6441 TFW, therefore, this aircraft should really be:
F-105D-25-RE, 61-0183, 23 TFW, Sharkmouth, McConnell AFB KS, 1965; or
F-105D-25-RE, 61-0183, 6441 TFW, Sharkmouth, Takhli RTAFB, 1965
Marking option two is supposedly:
F-105D, 61-0132, 334 TFS/4 TFW, JJ, Double MiG Killer
When in fact, the aircraft is:
F-105D-20-RE, 61-0132, 34 TFS/388 TFW, JJ, Double MiG Killer, Korat RTAFB
There are plenty of references out there ( including those on Cybermodeler) that provide the correct data on these tailcodes.
Marking option three is supposedly:
F-105D, 62-4375, 466 TFS/419 TFW
The artwork reflects the correct serial number which in fact is one of my favorite Thuds, but once again they don't know how to use the tailcodes:
F-105D-6-RE, 59-1822, 44 TFS/355 TFW, RE, 'The Polish Glider' as flown by Major Don Kutyna 'Yankee Air Polack', Takhli RTAFB
The decals themselves aren't too bad, but the printing on Polish Glider's markings have been done better by Revell-Monogram. Trumpeter still can't match up the blue in the US national markings as these are still too light/bright. Trumpeter really needs to look for someone better to do their color profiles as these are awful. Conversely, did you notice the box art? That looks like the cover from one of Squadron/Signals 'In Action' books. Nice!
The kit looks nice to these eyes and should build up into a nice model of the Thud. The only down side to this kit were the color profiles which clearly shows that someone had photos to base their markings on, but didn't do a good job of researching these subjects. It doesn't really matter as most folks will opt for aftermarket decals for this kit and I hope someone does 'Polish Glider' properly.
My sincere thanks to Stevens International for this review sample!