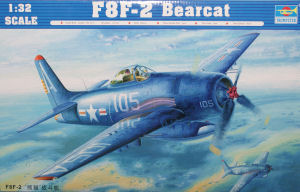 Trumpeter 1/32 F8F-2 Bearcat Kit First Look
| | | | |
| --- | --- | --- | --- |
| Date of Review | September 2008 | Manufacturer | Trumpeter |
| Subject | Grumman F8F-2 Bearcat | Scale | 1/32 |
| Kit Number | 2248 | Primary Media | Photo-Etch, Styrene |
| Pros | Nice cockpit, awesome engine, great options to choose from | Cons | |
| Skill Level | Intermediate | MSRP (USD) | $89.95 |
First Look
If you'd like to read a brief summary of the Bearcat's development, check out our review of the Trumpeter F8F-1 here.
To the uninitiated, all F8F Bearcats look alike, but there were definitive reasons for the variations in designation. The F8F-1 was the first production variant that was powered by the interim R2800-34W engine. The F8F-1B was the same aircraft but the wing guns were changed from four 50 caliber machine guns to four 20mm cannons, but the airframe was cleared for bombs and rockets for air-to-ground missions as well as its air-to-air agility. The F8F-1N was a -1 with a radar pod and a scope on the instrument panel.
The F8F-2 received the engine orignally intended for the -1 - the R2800-30W which had better supercharger performance at altitude. The -2 Bearcat retained the -1B 20mm guns and air-to-ground capabilities. The most distinctive feature of the F8F-2 was the vertical stabilizer and rudder - it was one foot taller on the -2 over the -1. The F8F-2N was the -2 with a radar pod. The F8F-2P was a -2 with only 2 20mm guns and cameras installed for the photo-reconnaissance mission.
Here is part two of Trumpeter's Bearcat story, the F8F-2. Like the previously released -1, this kit is every bit as awesome in detail and has several new parts trees to add the fuselage, new guns, wing access covers, ammo trays, rudder, etc. As with the first release, this kit is molded in light gray styrene and presented on 11 parts trees, plus two trees molded in clear styrene, one separately molded clear cowling, one fret of photo-etched details, and two rubber tires.
As before, I don't see any ejector pin marks that would be visible after assembly. The surface detail is finely scribed and there are rivet holes as well. Since this kit will be wearing dark colors, you'll be hard pressed to see them but they will be a good feature to use with a silver pencil to hlighlight selected panels that are frequently removed.
Among the nice features in this kit:
Nicely detailed cockpit with a choice of styrene or photo-etched instrument panels
Very detailed firewall with hoses and plumbing included in the details
Seriously detailed R2800 engine with a detailed supercharger
Clear cowling so you can optionally see all of that detail
Separately molded lower cowling panel that can be left off to expose the engine from underneath (should you paint your cowling)
Separately molded access panels to see inside the turbocharger bay
Separately molded and positionable elevators, ailerons, and rudder
Separately molded and positionable landing flaps
Choice of folded or extended wings (with nice wingfold details)
Detailed wing gun bays with removable access panels
Detailed main landing gear struts with separate oleo fork halves
Positionable canopy
Positionable cowl flaps
And what do we have for external stores?
2 x iron bombs
4 x rockets
1 x centerline drop tank
As with many of Trumpeter's releases, this kit's R2800 engine is a serious model of its own right. Like the P-47 Thunderbolts Trumpeter previously released, this kit's engine would be worth building and displaying separately together with the firewall, engine mounts, plumbing, ducting, supercharger, etc. Like the real aircraft, the model is clean and simple outside, but thank you Trumpeter for all of that detail inside. Not to mention the various options to show off all of that detail!
As with the first release, this kit provides the cowl flaps as separately molded parts, but do not indicate what they are nor are they shown to be installed open. You'll probably want to trim the edges of the kit cowl flaps as you'll see in the above image just how thin the full-scale flap edges are. You'll also need to fabricate your own actuators for the cowl flaps, especially if you leave off those access panels.
Remember the comment about using a silver pencil on the more used access panel 'rivet' holes? That photo above shows you how those details appear in real life.
The kit comes with a nice decal sheet that provides options for two aircraft:
F8F-2, BuNo 121730, VF-151, A/105, USS Boxer, 1951
F8F-2, BuNo 122637, USNR, F/98
The sheet also includes a set of maintenance stencils.
Update
I noted in the kit's color profile/painting instructions that the aircraft was finished in overall Mr.Color 365. I haven't seen this color released yet, but what they're really trying to say is that this aircraft is painted overall Glossy Sea Blue ANA 623/FS 15042. You can see the kit profile and available paints for this job here. Also note that the wheel wells in the color profiles are shown as interior green. While they may have come out of the factory in a chromate or bronze green, the aircraft in our walk around (link below) had gloss white wheel wells, so check your references for the aircraft you're building.
It is hard not to say this with many of Trumpeter's kits, but WOW! What a beautiful kit. This is also a bit of the obvious, but this kit is still the best Bearcat kit ever released in any scale. Trumpeter has one more version of this aircraft coming - the F8F-1B.
My sincere thanks to Stevens International for this review sample!
Resources