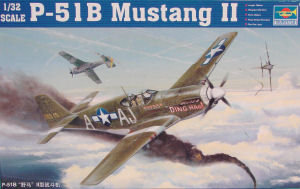 Trumpeter 1/32 P-51B Mustang II Kit First Look
| | | | |
| --- | --- | --- | --- |
| Date of Review | January 2008 | Manufacturer | Trumpeter |
| Subject | P-51B Mustang II | Scale | 1/32 |
| Kit Number | 2274 | Primary Media | Styrene, Photo-Etch |
| Pros | Superdetailed and superbly engineered | Cons | Rivets on the wings, a few detail glitches, but nothing difficult |
| Skill Level | Intermediate | MSRP (USD) | $94.95 |
First Look
As most Mustang-lovers know, this aircraft was designed and paid for by the British government. Delegates from Great Britain came to the US to acquire combat aircraft (among other things) to stave off the oncoming Nazi threat. While the US was still neutral, its production lines were made available. Having signed a production deal with Curtiss for the P-40, the delegates came to North American Aviation to enlist them to co-produce the P-40. Instead, North American designers convinced the delegates that they'd have a superior aircraft ready to fly in less than a year, and so Mustang I was born. It was powered by the Allison V-1710 engine. While these were great at low level, they could not carry the fight up to medium altitudes due to the limitations of the Allison's mechanical supercharger.
The RAF took one of their Mustang Is and hung a Merlin 61 on the nose. They were astonished at the vast improvement in performance of the aircraft in low and medium altitudes, and even able to reach 40,000 feet. North American transitioned production to incorporate the license-built Packard Merlin V-1650 engine, and the P-51B/C were born.
The only choice a modeler had for a 1/32 P-51B/C Mustang was Revell's classic kit. In fact, early Mustangs were simply not available in this scale. Thankfully, the popularity of 1/32 scale had drawn the attention of numerous hobby companies and we're getting more up-to-date kits to choose from. In the case of the first Packard-Merlin-powered Mustangs, the Revell kit has held up over the decades and is still a reasonable model for beginning modeler.
Trumpeter has released their much anticipated 1/32 kit and it follows nicely in the same path as their magnificent 1/32 P-47 Thunderbolts. The kit is molded in standard Trumpeter light gray styrene and presented on 11 parts trees. In addition to one tree of clear parts for the canopy options and windscreen, Trumpeter also ran clear styrene through the fuselage molds and rendered a duplicate tree in clear should you want to show off the interior of your model. The kit is rounded out with a pair of photo-etched frets with finer details, plus some nice decals.
The detailing on the kit's surfaces is finely scribed and include lots of rivet details. While this will be more visible on bare metal schemes, they will significantly subdued with standard camouflage colors. Like most of the 'other' Mustang releases, this kit has rivet details on the wings which is incorrect as North American delivered a sealed and smooth laminar flow wing to achieve the performance that made this aircraft famous. But you know what? I've seen some of the DML 1/32 P-51D kits with the larger rivets molded in the wing surfaces and the completed models still look nice.
No model company has ever made the perfect model and the P-51 is one that few have come close to getting right. Even so, I've enjoyed building these models because they still look like Mustangs and I enjoy the paint schemes as much as the details.
This P-51B kit captures the look of the Packard Merlin though the AMS modeler will have an opportunity to add their own details like ignition wiring and additional plumbing. Is the engine the right scale size? I've seen some discussion on this and the answer is simple - who cares? Unless you're going to pull the engine out of the aircraft, this engine is sized to fit under that hood.
So what will you see if you build the model with the clear fuselage halves? Besides a nicely detailed engine, you have a good view into the cockpit, the ventral coolant radiators, the main fuselage fuel cell and radio tray, the oxygen storage cylinders, and the tail wheel well. If Trumpeter had put the wings and tail through the clear molds as well, you'd have a nice companion to Monogram's famous 1/32 Phantom Mustang (P-51D).
One thing very nice about this kit, Trumpeter has not reverted back to those awful photo-etch flight control hinges. The kit provides positionable flight control surfaces. In fact, the kit has a number of nice features:
A better attempt at the main wheel wells than some
Four .50 caliber machine guns and ammo trays (you'll need to create shell ejector chutes under the wings)
Overwing gun access panels
Positionable ailerons, rudder and elevators
Positionable flaps
Detailed Packard Merlin right down to the ventral ductwork
Removable dorsal engine access panel
Photo-etched seatbelts/shoulder harness
Choice of styrene or PE/acetate instrument panel
Choice of open or closed standard hood
Optional Malcolm hood
Rubber tires
As for external stores:
2 x metal drop tanks
2 x paper drop tanks
2 x bazooka rocket launchers
2 x bombs
The sprues have additional rockets included that are not used in this version.
For markings, the kit has one of my all-time favorite P-51B schemes - 'Ding Hao' that I remember on Monogram's early 1/48 P-51B Mustang kit decades ago. There are two schemes in this kit:
P-51B-5-NA, 43-6315, 365 FS/345 FG/9 AF, AJ-A, 'Ding Hao' (Very Good in Chinese), as flown by Major James Howard, 365 FS CO who was also awarded the Medal of Honor
P-51B-15-NA, 43-24857, 319 FS/325 FG, 90, 'Sweet Clara II'
I like this kit. I've seen some of the criticisms of the model posted online, but many of these issues can be dealt with. The model is far and away a better starting point for my next AMS project than the Revell kit I had acquired, and I may even steal a few parts out of that model to complete the project as well. We shall see!
So now you have two choices for a styrene-based P-51B/C in 1/32 scale. As complex as this model will be to build, I would still recommend the Revell kit to younger modelers, but here is some nice raw material to achieve that P-51B/C you've wanted.
My sincere thanks to Stevens International for this review sample!