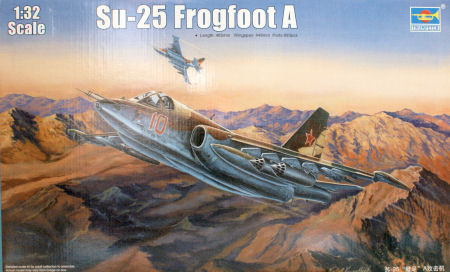 Trumpeter 1/32 Su-25 Frogfoot A Kit First Look
| | | | |
| --- | --- | --- | --- |
| Date of Review | November 2010 | Manufacturer | Trumpeter |
| Subject | Su-25 Frogfoot A | Scale | 1/32 |
| Kit Number | 2276 | Primary Media | Styrene, photo-etch, white metal |
| Pros | First styrene kit of this subject in this scale; very nice detailing throughout | Cons | See text |
| Skill Level | Experienced | MSRP (USD) | $229.95 |
First Look
In the early 1970s, the Soviet Union observed as the US Air Force developed a new generation of close air support (CAS) aircraft under the AX program. Two contenders emerged in the competition - the Northrop A-9 and the Fairchild A-10. The A-10 with its tank-busting 30mm GAU-8 Avenger gun and the capability of carrying a wide range of armament under its 11 pylons would win the AX program and serve with distinction through numerous conflicts through present day.
The Sukhoi OKB (experimental design bureau) developed its own concept for a CAS aircraft, it ironically resembled the Northrop A-9. Powered by a pair of non-afterburning R13-300 engines (same engine core as the MiG-21), the Su-25 was armed with its own twin-barrel 30mm gun and ten underwing pylons for weapons and external fuel. The aircraft was codenamed Frogfoot by NATO and entered service in the early 1980s.
Where the A-10's pedigree dates back to the rugged P-47 Thunderbolt staffing the Wehrmacht across Europe, the Su-25 had its own pedigree - the Il-2 Shturmovik. The Il-2 not only pushed that very same Wehrmacht out of the Russian landscape, it also chewed up a significant amount of German armor in the process.
Designed to counter the combined forces of NATO, the Su-25 received its baptism of fire over Afghanistan. Even in these harsh operating conditions, the Su-25 functioned well in the CAS role, though at that time, it was not adequately equipped with infrared countermeasures to counter the shoulder-fired Stinger SAM missile. Like many other aircraft that fell prey to the Stinger, Su-25 crews applied field modifications and employed hard-learned defensive tactics to support the troops on the ground. While codenamed Frogfoot by NATO, the Su-25 earned its true nickname through its own combat record - Shturmovik.
Trumpeter surprised many folks (including me) when they announced the Su-25 in 1/32 scale. Well folks, the wait is over, the kit is arriving in hobby shops around the world as you read this article. At present, I'm building two of Trumpeter's 1/32 MiG-23 kits (look here) and am enjoying every minute. Trumpeter has really improved its engineering and while a few glitches do show up in these kits, I have yet to see a perfect kit from anyone. From the looks of this kit, it is going to be a fun project. Let's take a closer look:
Molded in light gray styrene, this kit is presented on 35 (!!!) parts trees plus separately packaged fuselage halves, separately packaged engine nacelle halves, six trees of clear styrene parts, one set of rubber tires, one fret of photo-etched details, one set of white metal landing gear strut cores, and a handful of separately packaged gray styrene parts. Many of the parts trees in this box have appeared in previous 1/32 Soviet subjects, namely the weapons. More on this later. According to the specs, there are 893 parts in this box.
So let's get to the features/options:
Nicely detailed K-36D ejection seat w/photo-etched shoulder harness
Nice looking cockpit that captures the shape and layout of the front office
Positionable canopy
Nose gear strut effectively captures the details of the full-scale strut down to the water shields
Intake ducts back to the engine face
Two detailed R-195 engines
Ventral engine bay access panels to show off the R-195 details
Detailed avionics bays in the nose with positionable access panels
Positionable leading edge and trailing edge flaps
Positionable ailerons
Positionable stabilators
Positionable rudder
Positionable speed brakes
Positionable boarding ladder
Nicely detailed landing gear
Very nicely detailed GSh-30 gun with positionable access doors
Positionable drogue chute door in tail cone
Missing outboard weapons pylons for stations 1 and 10
One of the other major features also in this box is the array of armament. In fact, there are more parts trees for armament than aircraft in this release. Given that there are ten hard points under the Su-25, you won't lack for external stores! The stores options include:
8 x R-60 (AA-8 Aphid) IR-guided missiles
8 x R-77 (AA-12)
2 x Kh-25MP
2 x Kh-25ML
4 x Kh-29L
2 x Kh-29T
2 x FAB-100 bombs
4 x FAB-250
2 x FAB-500
2 x ZB-500
4 x B-17L rocket pods
4 x UB-32-57 rocket pods
4 x B8M1 rocket pods
4 x S-24 240mm rockets
4 x S-25 rockets w/three warhead options each
4 x UPK-23/250 gun pods
2 x KMGU-2
2 x PTB-1150 drop tanks
2 x KAB-500L LGBs
2 x KAB-500Kr
2 x 8-shot 9M120 missile launchers
With this armament line-up, you can easily represent this Su-25 in any tactical mission configuration. There are still several stores not listed here that are not used on the Su-25 that will go into your spares box, but even a number of the weapons listed above will also go into the spares given that even with 10 pylons, the Su-25 can't carry all of that at once.
The kit provides markings for four distinctive subjects:
Su-25, Bort 9015, Czech AF, distinctive 'Frogfoot' markings
Su-25, Bort 12, Russian AF, sharkmouth
Su-25, Bort 10, Russian AF, noseart
Su-25, Bort 6019, Czech AF, noseart
The first of five sheets of decals has most of the distinctive markings for all four subjects. The second sheet has the colorful nose and tail artwork. The third set has the cockpit instruments and console details. The fourth sheet contains the airframe stencils for the Su-25, and the huge fifth sheet has the stenciling for all of the weapons in this box.
Until now, the only decent Su-25 kit available is the Kopro kit in 1/48th scale (the Monogram kit while nicely done represents at best a pre-production prototype). There are a few offerings in 1/72 scale, but none really noteworthy. Now we have not only a detailed rendering of the Su-25, it is also huge in 1/32 scale. Even with all of the details, the aircraft isn't that complex of a build as many of the parts are in the weapons array.
If you're looking for a contemporary mud-mover that has an interesting array of color schemes to make it interesting, your wait is over. With an assembled length of over 19 inches and a wingspan of over 17 inches, the kit scales up in dimension with it's full-sized counterpart. I can't wait to get this on the bench!
My sincere thanks to Stevens International for this review sample!