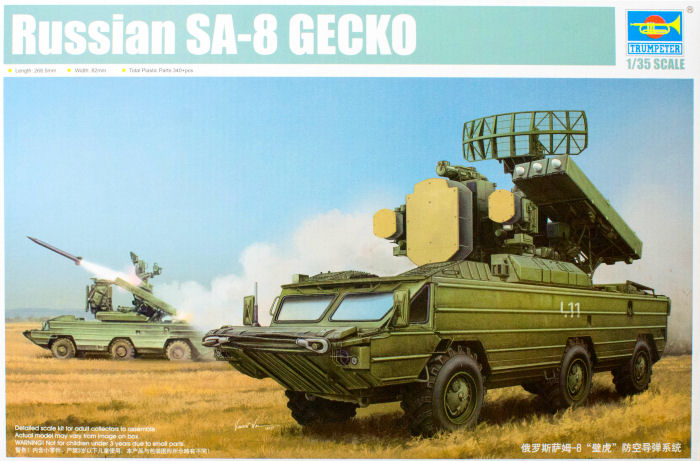 Trumpeter 1/35 SA-8 Gecko (9K33 Osa) Kit First Look
| | | | |
| --- | --- | --- | --- |
| Date of Review | November 2015 | Manufacturer | Trumpeter |
| Subject | SA-8 Gecko (9K33 Osa) Kit | Scale | 1/35 |
| Kit Number | 5597 | Primary Media | Styrene, Photo-Etch |
| Pros | Fantastic details! | Cons | Nothing noted |
| Skill Level | Experienced | MSRP (USD) | $149.95 |
First Look
Soviet Air Defense (PVO) was divided into two major entities: PVO Strany (Air Defense of the Nation) and PVO Voisk (Air Defense of the Forces). While air defense of the nation was handled with a combination of interceptors and surface-to-air missile (SAM) systems, protecting ground forces on the move and in forward-deployed locations was more challenging. The solution was the development of an integrated air defense system (IADS) which combined a robust early warning (EW) radar network with a variety of SAM and anti-aircraft artillery (AAA) systems assigned to different echelons on the battlefield.
During Vietnam, an early version of IADS was employed combining radar-directed S-60 AAA guns and SA-2 Guideline SAMS with an EW radar network and MiG interceptors. US losses to this early IADS were not insignificant. In the 1973 Yom Kippur War, the Israeli Air Force was introduced to two new players in the IADS system deployed to Egypt - the ZSU-23-4 Shilka AAA system and the SA-6 Gainful with devastating results. Meanwhile in Europe, Soviet forces were strengthening their own multi-tiered IADS with the ZSU-23-4 and SA-9 Gaskin at the lower echelons, the SA-6 Gainful at the mid-echelons, and the SA-4 Ganef at the higher echelons.
The problem at mid-echelon was the dependency upon a centralized target acquisition and tracking radar with the SA-6 as the individual transporter/erector/launchers (TELs) were unable to fire their missiles without that radar, a weakness quickly discovered by the Israelis over Egypt. Transitioning the SA-6 from mobile to operational took time. The solution to that came later with the SA-11 (Buk) Gadfly which added a tracking radar to the TEL and would become noteworthy with the downing of MH17 in eastern Ukraine.
Another solution developed for the mobile battlefield was the 9K33 Osa (SA-8 Gecko) system. Unlike the SA-6, the SA-8 was not only mobile, it was amphibious, and it was completely self-contained. The six-wheeled vehicle had a plinth-mounted platform which carried an acquisition radar, tracking radar, two missile-guidance systems, TV tracking system, and six missiles. Early SA-8 transporter/erector/launcher/and radar (TELAR) had rail-mounted missiles, but these were replaced with six missile canisters which could be quickly swapped out on the battlefield. Inside the vehicle hull was a small operations center and auxiliary power unit (APU) to power this system. With several of these TELARS per SAM battery and several batteries per unit, the SA-8 system would play havoc upon NATO aircraft attempting high-speed/low-altitude penetration of Soviet lines. This deadly system was also adapted for shipboard use and designated as SA-N-4.
Trumpeter has released several air defense system kits over the years in 1/35 scale including the SA-2 Guideline (transporter and launcher), SA-6 Gainful TEL, SA-8 Gecko (this release), and soon the Patriot (transporter, radar, launcher). Even DML is releasing parts of the Patriot missile system as well. Add these to the DML SA-9 Gaskin, ZSU-23-4 Shilka (plus several new-tooled versions of the Shilka coming from other companies soon), the 2S6 Tunguska from Panda Hobby, and the SA-13 Gopher from Skif, air defense modelers are enjoying some subject variety.
In this release, Trumpeter did some really nice work. This kit features a nice interior and a positionable overhead hatch to allow you to see some of that. The kit is molded in light gray styrene and is presented on six parts trees plus upper and lower main hull, canister halves, and electronics box. In addition, the kit includes one tree of clear parts, one fret of photo-etched details, and one set of rubber (vinyl) tires. According to the kit specifications, there are over 340 parts that make up this model.
Among the features and options of this kit:
Full interior for driver and mission operations areas
Detailed driver's station
Detailed commander's station
Detailed radar operators' stations with lots of decals for placards, dials and such
Positionable overhead crew hatch
Detailed hull
Detailed suspension
Positionable APU exhaust door
Detailed plinth and frame structure
Detailed missile canisters
Photo-etched reflector on acquisition radar
Acquisition radar is positionable up (operating) or down (stowed)
Detailed tracking radar/guidance system modules
The operators' stations/equipment racks are very nicely done, and there is lots to see in there if you face the IPMS judge with a mirror and flashlight. The only thing not provided in this kit is an engine compartment along with the jet drives for amphibious propulsion. With those nice large windshields and hatch, you'll have a good opportunity to show off that interior.
Markings are provided, as mentioned above, to replicate the faces of the radar sets, equipment dials/meters, and placards. While this kit doesn't provide placards for the exterior of the vehicle (and there are quite a few on the full-scale machine), these can be easily replicated with placards out of your spares/leftovers. The kit does provide generic tactical numbering so you can portray whatever vehicle number you can find in photos. The decals also provide Russian flags as well as traditional Guards emblems for parade machines. Soviet SA-8s didn't usually carry national markings though members of the Warsaw Pact did add them to their machines.
This kit fills another niche in the scale Soviet air defense line-up. Frankly this is one of the nicest kits I've seen from Trumpeter and I'm looking forward to getting this on the bench!
My sincere thanks to Stevens International for this review sample!
References: