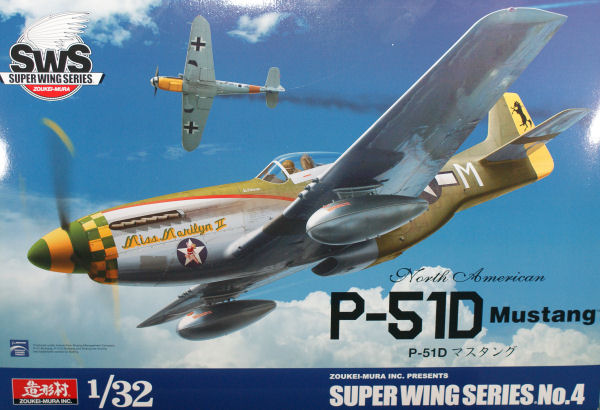 Zoukei-Mura Inc. 1/32 P-51D Mustang Kit First Look
| | | | |
| --- | --- | --- | --- |
| Date of Review | July 2012 | Manufacturer | Zoukei-Mura Inc. |
| Subject | P-51D Mustang | Scale | 1/32 |
| Kit Number | 32004 | Primary Media | Styrene |
| Pros | Beautiful molding, excellent detail | Cons | See text |
| Skill Level | Experienced | MSRP (USD) | $99.00 |
First Look
North American's Mustang fighter was a huge success once the Allison engine of the early Mustangs was replaced by the license-built Packard Merlin. The P-51B/C Mustangs were a formidable threat to the Luftwaffe. Like most fighters of the early war, the P-51B/C had the standard hood design of the day which was more of a greenhouse type that was streamlined into the rear fuselage. Aerodynamically, this wasn't a bad thing, but combat experience with this type of cockpit enclosure revealed a fatal rear aspect blind spot. The Americans, British, and Germans all set to work on the problem.
North American addressed this visibility issue with the next version of the Mustang, the P-51D. The rear fuselage was cut down and the canopy enclosure replaced with a teardrop canopy. Additional improvements included the addition of two more 50 caliber machine guns, bringing up the total to six, additional fuel tanks, and a new gunsight.
The P-51D became the principal fighter for the US Army Air Force and could hold its own against the Luftwaffe until the advent of the next generation of Luftwaffe fighters including the Ta 152, Me 262, etc. Even then, the Mustangs (and other allied types) outnumbered what was left of the Luftwaffe and retained air superiority over the continent. The P-51 was the first fighter that had sufficient range (with external tanks) to escort bombers all the way to Berlin and back.
If you are a large-scale aircraft modeler (1/32 and larger) and you haven't yet heard of Zoukei-Mura, I certainly hope you had a good rest living under those rocks. Their first three kits were the J7W1 Shinden, Ta 152H-1 and A-1H Skyraider, all in 1/32 scale. Each of these kits are masterpieces of engineering and detail, and each have filled a void in the 1/32nd scale hobby.
When Zoukei-Mura announced the P-51D Mustang in 1/32 scale, the news was initially welcome as many folks were not happy with the previous releases of the P-51D from a variety of companies. That all changed when Tamiya announced their own P-51D Mustang entry into the 1/32 market and when that kit arrived last year, the Tamiya kit had all previous Mustang kits in this scale easily beat. At last the world has a great model of the P-51D Mustang in 1/32 scale that also became the best kit of the Mustang in any scale (except 1/1). Surely Zoukei-Mura would cut their losses and move on to another subject, right? Wrong!
Here is Zoukei-Mura's brand new P-51D Mustang kit in 1/32 scale. There are some similarities between this new kit and Tamiya's P-51D and some interesting differences. We'll discuss this later. The kit is molded in styrene - no photo-etch or metal marts - and presented on six parts trees molded in light gray styrene, two parts trees molded in black styrene, two parts trees molded in silver styrene, and two parts trees molded in clear styrene.
The instruction book is printed to resemble the USAAF flight manual for the P-51D though it is issued from Headquarters ZM Air Forces. As with the previous three releases, the instruction book is well-illustrated with color photos and CAD drawings with text printed in Japanese and English. Painting instructions are provided using Vallejo acrylic paints.
Let's look at the features and options:
Super-detailed Packard Merlin engine
Nice Hamilton Standard propeller
Lots of detail firewall forward so you'll want to be able to look upon this detail after assembly
Choice of closed or open cowling
Beautifully detailed cockpit right down to wiring harnesses
Choice of pilot's seat with and without belts/harness detail
Choice of three canopy types
Choice of two gunsights
Positionable canopy
Super detailing aft of cockpit including O2 cylinders
Super detailing under cockpit for radiator and coolant plumbing
Positionable radiator flap
Positionable rudder
Positionable elevators
Positionable ailerons
Positionable flaps
Detailed wing rib/spar structure
Wing fuel cells
Correct main landing gear well design
Beautifully detailed landing gear
Detailed gun bays
Gun bay doors can be open or closed
Canopy masks
When you look at the assembly instructions for the Packard Merlin engine, this kit suddenly makes sense. The assembly starts with the crankcase and oil pan. The tops of the crankcase have holes for each of the twelve pistons. The two cylinder heads are next and these have those twelve pistons with pushrods and those are covered by the valve covers. The intake manifold goes on next followed by the gearbox and header tank on the front, supercharger and carburetor on the back, and so on.
While Tamiya's engine is nicely done, this kit's engine could be called over-engineered. The rest of the airframe is equally super-detailed and if you recall the criticisms of Trumpeter for adding details into areas that can't be seen after assembly, those efforts pale in comparison to what Zoukei-Mura has produced here. Conversely, the Zoukei-Mura kit is a highly detailed model whereas the Tamiya kit, just like the Spitfire and Zero kits before it, have working features to make it more of an expensive toy. This isn't a criticism of Tamiya, those features in the kit bring along greater appeal for the kit in the broader market.
Regardless of the market appeal, you see many of those working features being removed from the Tamiya P-51D by many of the aftermarket detail sets that have followed to render the detail accuracy that was lost to allow for those working features. I really dislike the photo-etched flight control hinges in the Tamiya kit that were also used for a time on 1/32 (and larger) Trumpeter kits before they heeded the outcry. The Zoukei-Mura kit does not have those issues in this box.
But as I said above, looking at that engine I now understand what they are doing with this kit. Remember Pocher car kits? These were 1/8 scale models of classic European cars that were so detailed, you literally built the engines from the crankcase out complete with pistons, pushrods, and lots of working features. While the Zoukei-Mura engine doesn't render individual pistons (which would be cumbersome in 1/32 scale), they've approached this kit much like the Shinden making this kit the Pocher-like kit of the P-51D. While Pocher kits are long out of production, they are still the gold standard that no other car kit maker has ever come close to matching. I dare say that this kit has raised that bar above Tamiya as well.
As for all of those details inside the fuselage, look closer at those parts trees. You don't see fuselage halves there, do you? The fuselage is built up from a number of panels that enclose the fuselage skeleton that runs from the engine to the rear fuselage. While the instructions don't mention this, it wouldn't be difficult to leave one or more of the panels off of one side of the model to provide a cutaway perspective on the interior details after completion.
Markings are included for three aircraft:
P-51D-5-NA, 44-13837, 343 FS/55 FG, CY-M, 'Miss Marilyn II' as flown by Capt. Robert Welch
P-51D-10-NA, 44-14450, 363 FS/357 FG, B6-S, 'Old Crow' as flown by Capt. Bud Anderson
P-51D-25-NA, 44-73108, 334 FS/4 FG, QP-O, 'Red Dog XII' as flown by Maj. Louis Norley
Decals are provided on two large sheets and include all of the national, unit, distinctive markings plus ID stripes and a thorough set of maintenance stencils.
So is this kit worth acquiring? Absolutely. While the Tamiya kit is nicely detailed and offers some working features, AMS modelers will spend even more money to get those features removed and replaced with accurate details. With an MSRP of around $150.00 USD, the Tamiya kit is not a bad value but gets more expensive when adding those detail and correction sets. Here is a very detailed model that has an MSRP of under $100.00 USD and won't need those corrections. The kit offers some really interesting display possibilities to show off all of that extra detailing yet it isn't over-engineered with hundreds of tiny parts that you might find in some armor kits. What's more, with all of the decals and color photo-etch sets that have been released for the Tamiya kit on the market, you won't lack for resources for this kit should you want to try something different. I definitely have a few ideas of my own that you will be seeing in the near future.
At first, you get the feeling that this kit is simply over-engineered but as you look closer at the work in this model, you begin to see that Zoukei-Mura has provided the best scale model of the P-51D Mustang ever produced. There are none of the working gimmicks that are part of Tamiya's current generation of 1/32 scale aircraft and despite all of this extra detail, the price is 1/3 cheaper than that Tamiya kit. If this kit builds as nicely as it looks, I believe we have a new 'best kit of the P-51D in any scale (except 1/1)'.
One last observation: the layout of this kit hints of a number of Mustang variants to follow from Zoukei-Mura. The separate tail may hint at an early-block P-51D (sans filet). The separate leading edge wheel well fairings hint as a possible P-51B/C as well. The modularity of the kit leaves a number of possibilities open for future releases from this core tooling. Stay tuned!
Resources