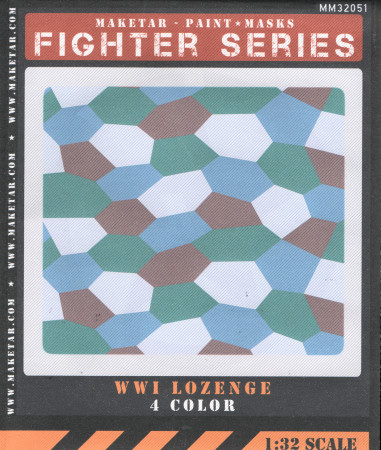 Maketar 1/32 WWI Four-Color Lozenge Paint Mask Set First Look
Date of Review
February 2015
Manufacturer
Maketar
Subject
WWI Four-Color Lozenge Paint Mask Set
Scale
1/32
Kit Number
32051
Media
Die-Cut Vinyl or Kabuki Tape Masks
Pros
Simple solution for camouflage patterns
Cons
Nothing noted
Skill Level
Intermediate
MSRP (GBP)
£13.99 (Vinyl)
£15.99 (Kabuki)
First Look
Maketar produces a series of paint masks which provide a nice alternative to using decals, especially with this set. In this release, Maketar has engineered an interesting masking approach for World War I German Four-Color Lozenge wing camouflage.
This set provides 12 sheets of masks with each sheet containing four masks. Following the instructions above, you simply apply the base color and let dry. Apply the 'A' masks in strips with the wing leading edge indexed as shown, apply the second color, and let dry. Remove the first set of masks and apply the second set using the same index points and apply the third color. Repeat with the third set of masks and fourth color and you have the lozenge pattern applied to your wings without the worry of decals drying and peeling at some future date. You have your choice of vinyl or Kabuki-tape mask materials and as you can see, the instructions walk you through the process nicely.
With the variety of WingNut Wings kits as well as German subjects in 1/32 scale from other manufacturers, this camouflage pattern approach will give you the tools to take your masterpiece to the next level. Hopefully Maketar will offer the five-color lozenge paint masks soon as well!
My sincere thanks to Maketar for this review sample.