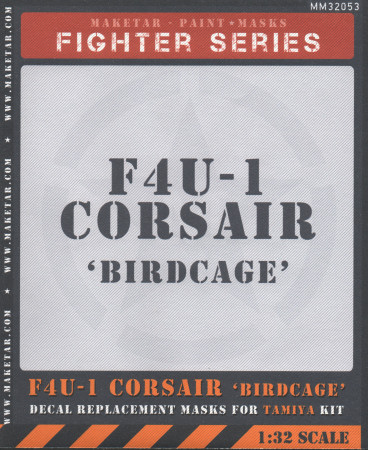 Maketar 1/32 F4U-1 Birdcage Corsair Paint Mask Set First Look
Date of Review
March 2015
Manufacturer
Maketar
Subject
F4U-1 Birdcage Corsair Paint Mask Set
Scale
1/32
Kit Number
32053
Media
Die-Cut Vinyl or Kabuki Tape Masks
Pros
Excellent alternative to decals
Cons
Nothing noted
Skill Level
Intermediate
MSRP (GBP)
£7.99 (Vinyl)
£9.99 (Kabuki)
First Look
Maketar produces a series of paint masks which provide a nice alternative to using decals, especially with this set. In this release, Maketar has engineered a nice set of markings for two subjects sized for the HK Models' 1/32 F4U-1 Birdcage Corsair glass nose kit.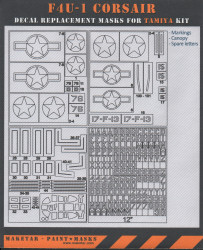 This set provides window and wheel masks as well as masks for national and distinctive airframe markings for at least one subject:
This set includes masks for the early-war US roundel, the red-surround star and bar, and the later white star and bar national markings. In addition, this set provides a nice array of generic letters and numbers to replicate a wide range of US Navy or Marine Corps markings. There are even masks for the forward fuel cell sealing tape that usually appears as white ahead of the windscreen.
These masks will render the major markings on the airframe in paint which makes the job of aging and weathering the markings as well as the airframe far easier/more consistent whithout the problem of washes flowing around the edges of your decal film. Give these a try!
My sincere thanks to Maketar for this review sample.