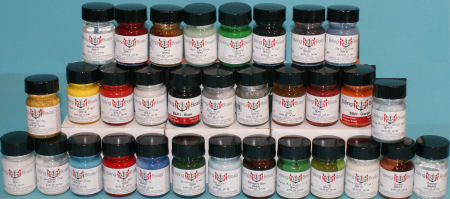 Billing Boats Paint Line First Look
| | | | |
| --- | --- | --- | --- |
| Date of Review | April 2011 | Manufacturer | Billing Boats |
| Subject | Hobby Paint Line | Product Number | - |
| Pros | Solid coverage, good adhesion | Cons | Thins/Cleans w/Acetone |
| Skill Level | Basic | MSRP (USD) | $3.29/bottle |
First Look
Billing Boats USA recently sent us a set of their hobby paints to try out. We not only tried them out, we've added their colors to our color database, and I'll get to that shortly.
These are 1/2 ounce (14.7ml) bottles with 32 releases in the series so far. As you might imagine, these are good colors for the wooden and ABS plastic boat kits also produced by Billing Boats, but there are a few colors in the line that hint at other markets (like ours).
The paint in the series include:
BB01 White
BB02 Duck Egg Blue
BB03 Emerald Green
BB04 Orange
BB05 Tan
BB06 Hull Red
BB07 Sea Blue
BB08 Brunswick Green
BB09 Bright Red
BB10 Matt Lemon
BB11 Black
BB12 Pale Gray
BB13 Trainer Yellow
BB14 Matt White
BB15 Silver
BB16 Gold
BB17 Clear Poly (Gloss Coat)
BB18 Mediterranean Blue
BB19 Matt Aircraft Blue
BB20 Satin Brown
BB21 Crimson
BB22 Flat Black
BB23 Copper
BB30 Dark Ad Gray
BB32 Lime
BB33 Matt Mid Green
BB35 Signal Red
BB36 Mahogany Stain
BB37 Navy Cool Gray
BB38 Cobalt Blue
BB39 Primer
BB40 Thinner
I shot every one of these colors through my Iwata airbrush with a .3mm (fine) needle without thinning. Each one went through without problem and coverage was quite impressive. I shot the Duck Egg Blue over Black and didn't require a second coat to hide the black underneath. The paint applies very smoothly to the surface, dries smooth and fast, and stays put afterwards. I haven't tried using this paint over/under acrylic or enamel paints yet, but that is coming soon.
One of the reasons I shot each color was to create paint chips to measure the color values for our online color database. While many of the usual hobby paint sources produce similar colors as everyone else (RLM, selected FS595, etc.), I am interested when there are colors that go outside those bounds. When I ran these colors through the VVS (Soviet Air Force) database, I found one of the greens to be a near-perfect match for the green used for wheel hubs as well as radomes on 1970/80/90s fighters. The Matt White matches up with the dielectric white for radomes/antenna fairings. The orange is perfect for the Eduard MiG-21MF in Egyptian colors. We'll be matching these paints to other standards to see what other gaps we can fill.
What is somewhat unusual is that these paints are thinned or can be cleaned using Acetone. There are now odorless acetones available now as this paint shares its chemistry and ruggedness with a different paint usage - finger nails! As many of you married modelers know (and have smelled), finger nail polish/colors are also acetone-based. What I found interesting was when I cleaned the airbrush between colors, I simply dropped acetone into the paint cup and watched the paint dissolve. Enamel-based paints don't clean that effortlessly or quickly. I clean acrylics with Windex (with Ammonia) and acrylics dissolve about as quickly as the Billing paints do in acetone. The only exception to the acetone cleaning solution is BB36 Mahogany Stain. It is much thinner and oil-based (as I understand) so it is perfect for wood surfaces.
If you're looking for some new colors or rugged colors that will stick to a wide variety of surfaces, give the Billing Boats paints a try!
My sincere thanks to Billing Boats for these review samples!