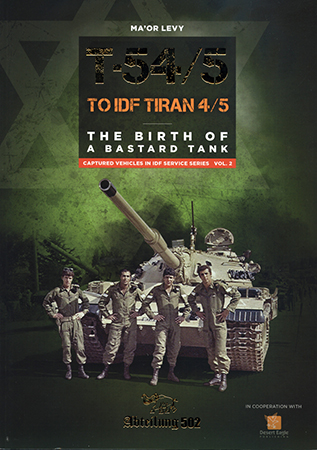 T-54/5 To IDF Tiran 4/5: The Birth Of A Bastard Tank Book Review
| | | | |
| --- | --- | --- | --- |
| Date of Review | January 2022 | Title | T-54/5 To IDF Tiran 4/5: The Birth Of A Bastard Tank |
| Author | Ma'or Levy | Publisher | Abteilung 502 |
| Published | 2021 | ISBN | n/a |
| Format | 88 pages, softbound | MSRP (Euro) | €19.00 |
Review
Ma'or Levy recaps the terrific tale of Israel's integration of captured Arab T-54 and T-55 tanks into the IDF after 1967's Six Day War in T-54/5 To IDF Tiran 4/5 The Birth Of A Bastard Tank from Abteilung 502 – an affiliate of AK Interactive in cooperation with Desert Eagle Publishing.
Levy reports that, at war's end, the Jewish state seized "some 860 enemy tanks" – of which 280 comprised Egyptian and Syrian T-54s and T-55s.
"Those tanks are ours," IDF Chief of General Staff Israel Talik averred, claiming that "this could be one of our best tanks, if only we could convert it to IDF specs."
And that's exactly what the Jewish state did.
Integrating those spoils of war proved daunting and complex – but actually made economic sense, Levy reveals.
The IDF General Staff estimated that upgrading "one Tiran tank would cost 35,000 Israeli pounds (about 10,000 [US] dollars at the time)." This contrasts to acquiring just one Centurion at 440,000 Israeli pounds – and one M48A3 Patton at 582,000 Israeli pounds.
Gestation, though, proved more complicated than expected. But over the next two years, Israel distilled 280 captured T-54s and T-55s into 146 operational vehicles.
Respectively rechristened Tiran 4s and 5s, initial examples served in reserve formations after Israel retired over 300 older, second-line AMX-13s and Shermans.
But as the IDF refined its conversion and integration efforts, Tirans ultimately saw dedicated service with the IDF's 274th Brigade – notably in 1969's Operation Raviv, Israel's largest, combined arms action during the "War of Attrition".
Photos, drawings, archival images, and extended, explanatory captions season this superb study.
Revelations also fly thick and fast. But in the end, I found myself seeking more. Exactly why, for instance, did the IDF's 274th Brigade prefer Tiran 4s (T-54s) to Tiran 5s (T-55s)?
Maybe Abteilung 502 will also favor us with an equally illuminating sequel on Tiran use during the October 1973 war – and in Lebanese internecine fighting!
From concept through development to execution, the Tiran saga simply proved spellbinding. Get Levy's engrossing account.
Recommended!