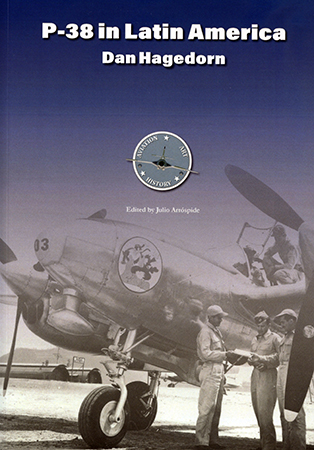 P-38 in Latin America Book Review
| | | | |
| --- | --- | --- | --- |
| Date of Review | August 2022 | Title | P-38 in Latin America |
| Author | Dan Hagedorn | Publisher | AviationArtHistory.com |
| Published | 2022 | ISBN | 9798838761699 |
| Format | 266 pages, softbound | MSRP (USD) | $39.12 |
Review
Let's cut to the chase: P-38 In Latin America belongs in the library of every Lockheed Lightning historian and hobbyist.
After introductory notes, author Dan Hagedorn kick-starts the impressively illustrated contents with three fact-packed chapters – 107 pages total – on USAAF Lightnings serving in Panama and the Caribbean.
There, Sixth Air Force hemispheric training efforts effectively ensured, as Hagedorn notes, "collateral exposure of the P-38 series" to fledgling Latin American military aviators.
His Lockheed Lightning saga then continues – country-by-country, civilian and
military – across 15 more chapters:
Argentina
Bolivia
Chile
Costa Rica
Cuba
Dominican Republic
Guatemala
Honduras
Mexico
Nicaragua
Panama
Paraguay
El Salvador
Uruguay
Venezuela
"Not a single P-38 reached Latin America via any form of formal U.S. aid program," Hagedorn reveals. "In fact," he adds, "the fielding of P-38s in the region came about via an entirely different set of circumstances."
All of which the author expertly and authoritatively illumines. The politically and financially byzantine tale of Bolivian Lightnings proved particularly intriguing.
Dozens of rare photos – both color and B&W – season the study. And 22 color profiles and unit art survey the swath of P-38 heraldry in Latin America.
Extended, explanatory captions further delineate image details. And footnotes amplify Hagedorn's incandescent and compelling commentary.
But I wish some of those annotations included sources for some curious comments.
Who claims, for instance, that the "two brothers" who ran "a little [air]field near El Monte" were the "sons of [publisher] William Randolph Hearst and [actress] Marion Davis [sic: Davies]"?
Contents conclude 18 pages of tables summarizing Lightnings serving in Latin America.
What a ripping read! I simply couldn't put P-38 In Latin America down. Looking for colorful, unique modeling inspiration? You'll find it here.
Robustly recommended!
One final note: The Caribbean Legion and its Mercenary Air Forces 1947–1950 by Hagedorn and Guatemalan historian Mario Overall (ISBN: 9780995604360) was published in 2021 by Lime Tree Press – not by Helion.
With thanks to AviationArtHistory.com for the review copy!