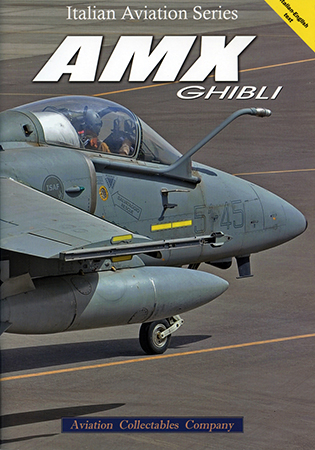 AMX Ghibli Book Review
| | | | |
| --- | --- | --- | --- |
| Date of Review | January 2022 | Title | AMX Ghibli |
| Author | Federico Anselmino | Publisher | Aviation Collectables |
| Published | 2012 | ISBN | 9788890523120 |
| Format | 68 pages, softbound | MSRP (USD) | $24.95 |
Review
Available for the first time in North America from Casemate, the lavishly illustrated AMX Ghibli tells the Italian-Brazilian warplane's total tale in just 68 pages – including covers.
Design. Development. Deployment. And disposition. In peace and war.
Writing in both Italian and English, authors Federico Anselmino and Giancarlo Gastaldi include intriguing minutiae, too.
The nickname "Ghibli", for instance, never proved popular. But with a pointed nose and bulging intakes, the aircraft's distinctive frontal aspect suggested a rodent face and ears. So with those theriomorphic cues, Italian aviators soon dubbed the AMX "Rat".
Modelers will especially appreciate this slim, 68-page study.
IAS' picture-packed monograph sports dozens of beautiful color images – photos and profiles. And coverage includes a mouth-watering selection of standard, special, and commemorative AMX schemes.
Text also reveals the official Italian and FS spec for "Grigio Cielo n. 16" ("Sky Gray no. 16") – the aircraft's principal warpaint. Detail shots also survey the trim little warplane – inside and out. And color plates recap Ghibli unit and special heraldry.
How about that intricately stunning WWII "Savoia-Marchetti S.79" warpaint on 32-01, MM7147?
Seeking authoritative airframe and paint references for that 1:48-scale Kinetic or Hobby Boss AMX? Grab this cool, compact chronicle.
With thanks to Casemate Publishing for the review copy!